This vegetable-bean soup with mushrooms is a great, healthy option for hot winter soup. Rich and satisfying, the soup has the slightly sweet flavor of roasted parsnip and carrots. The beans and mushrooms in the soup make the dish filling, and will keep your energy high and your spirits up on cold winter days. We love the vegetable-bean soup as a lunch or dinner option, especially served with toasted rye bread.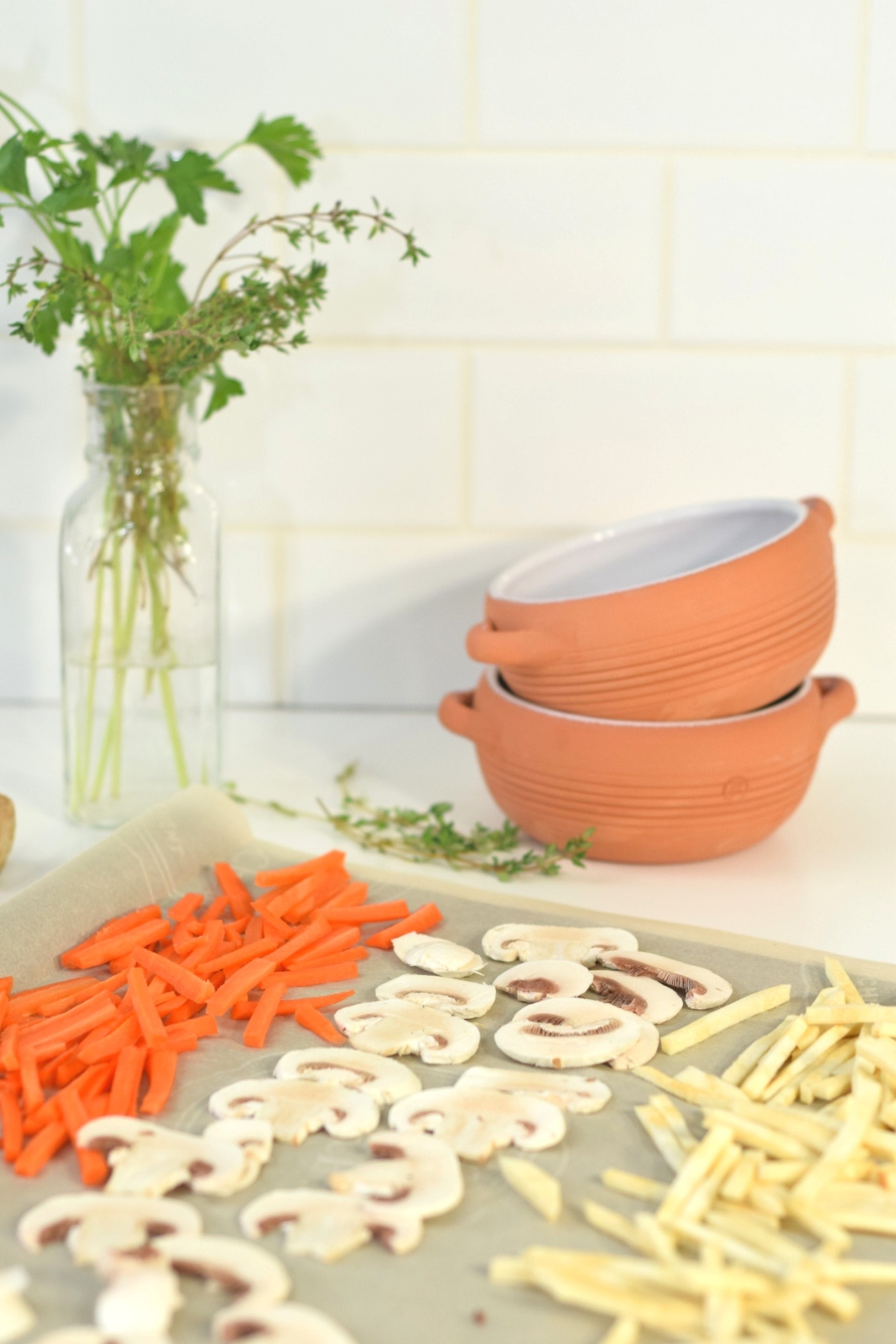 This is how to cook beans, if you want to do it yourself… The process is a little tricky, and requires planning ahead and preparation. First, you need to soak the beans. Cover the beans with cold water and leave them on the countertop overnight. As a second step, drain the beans and place them in a large saucepan. Cover with lots of fresh cold water, bring to a boil, and keep boiling over low heat for 10 minutes. Drain the beans again. At this step, we normally add herbs and some vegetables to enrich the flavor. Our list of choice includes a whole onion stuck with cloves, a whole peeled carrot and one or two sage sprigs. Finally, add boiling water so that the beans are at least an inch deep in water, cover with lid and simmer over low heat for 45 minutes. Discard the vegetables and sage when the beans are ready.
Obviously, an easier and a readily available alternative are canned beans. This will save you a lot of time, but canned beans tend to be softer and slightly mashed. When it comes to bean types, cannellini, navy or pinto beans work best with this vegetable-bean soup. In any case, opt for white or slightly colored varieties. Although black beans taste similarly, their pigment will color the soup unexpectedly.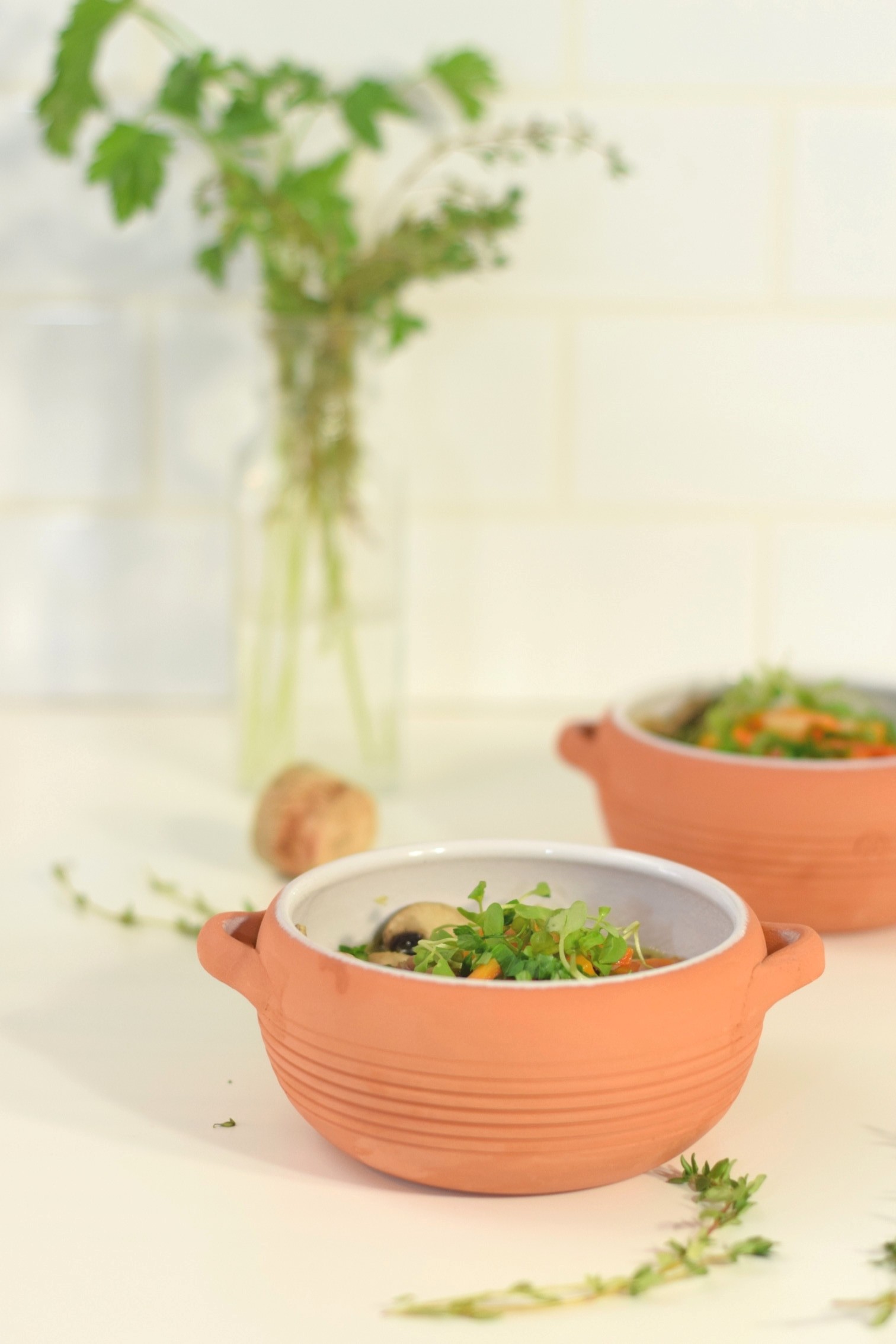 Enjoy the soup garnished with fresh parsley or micro greens such as arugula. Their fresh flavor and crispiness blends nicely with the rich sweet flavor of baked parsnip and carrot.
P.S. If you are interested in more nutritious and healthy soup options, take a look at our Scandinavian Salmon Soup with Vegetables.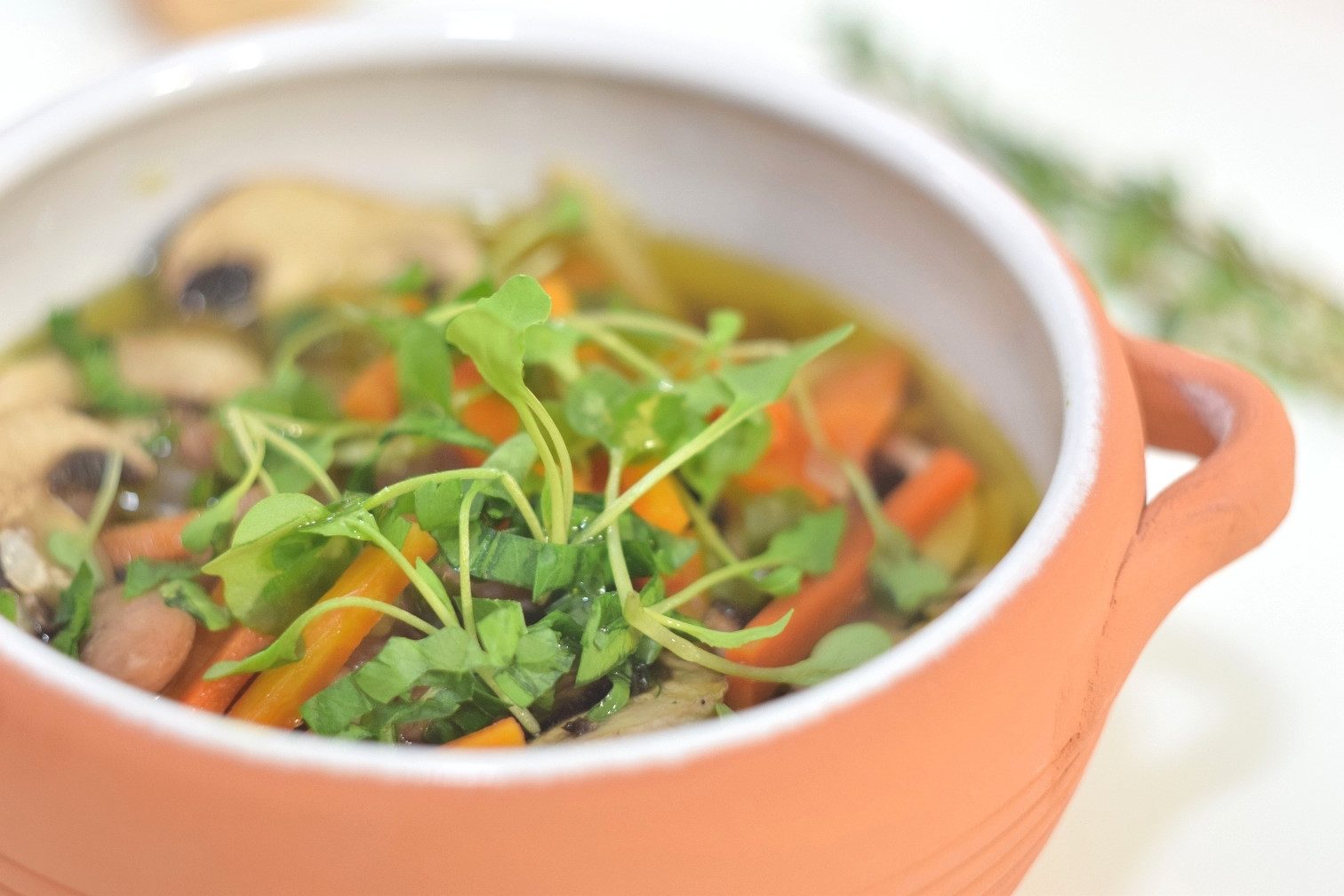 Vegetable-Bean Soup with Mushrooms Recipe: serves 8
1 medium parsnip, peeled and sliced into thin strips
2-3 carrots, peeled and sliced into thin strips
400g (1lb) mushrooms, sliced
2 medium onions, chopped
2 garlic cloves
2 cups cooked beans (cannellini, navy, or pinto)
2 fresh thyme sprigs (optional)
1.5L (6 cups) boiling water (or vegetable stock)
2-3 tablespoons olive oil
sea salt, black pepper
For garnishing:
Italian parsley, finely chopped
micro greens (optional)
How to make:
Preheat oven to 200 ºC (375ºF).
Place the sliced vegetables in a bowl, add 1 tablespoon of olive oil and toss well. Drizzle sliced mushrooms with olive oil, but don't toss them because they are fragile and easy to crush.
Place the vegetables and mushrooms on a parchment-covered baking sheet and bake them for approximately 15 minutes. The vegetables should acquire a slight golden tint.
Meanwhile, warm the olive oil in a frying pan over medium heat. Add chopped onion and sautéfor 5-7 minutes stirring occasionally, until the onion begins to change colour. Add crushed garlic, sauté for another 1-2 minutes and remove from the heat.
Place sautéed onions, thyme sprigs, baked vegetables and mushrooms in a pot and add boiling water (or broth/ stock). It is important that the water is boiling when you add it.
Reduce the heat to low, cover with lid and simmer the soup for 10 minutes.
Discard the thyme sprigs and season the soup with black pepper and sea salt to taste.
Add cooked beans and simmer for another 5 minutes, so the flavour can blend better.
When serving, generously garnish with fresh parsley and micro greens. Toasted rye bread goes great with the soup. Enjoy!
Cheers,
Natalie and Petr,
the Natural to Kitchen Island team