Serve up some of these decadent sweet pink crepes for someone special this Valentine's Day! Falling on a Sunday, this year's Valentine's Day is the perfect opportunity for a unique, very-much-Valentine breakfast in addition to any other plans you have. The crepes are delicately sweet and a beautiful shade of pink, contributing to the atmosphere of the most romantic day of the year. Since we are against any artificial coloring, our pink crepes recipe is 100% natural. This beautiful dessert is guaranteed to be popular, and is sure to make your loved ones feel special.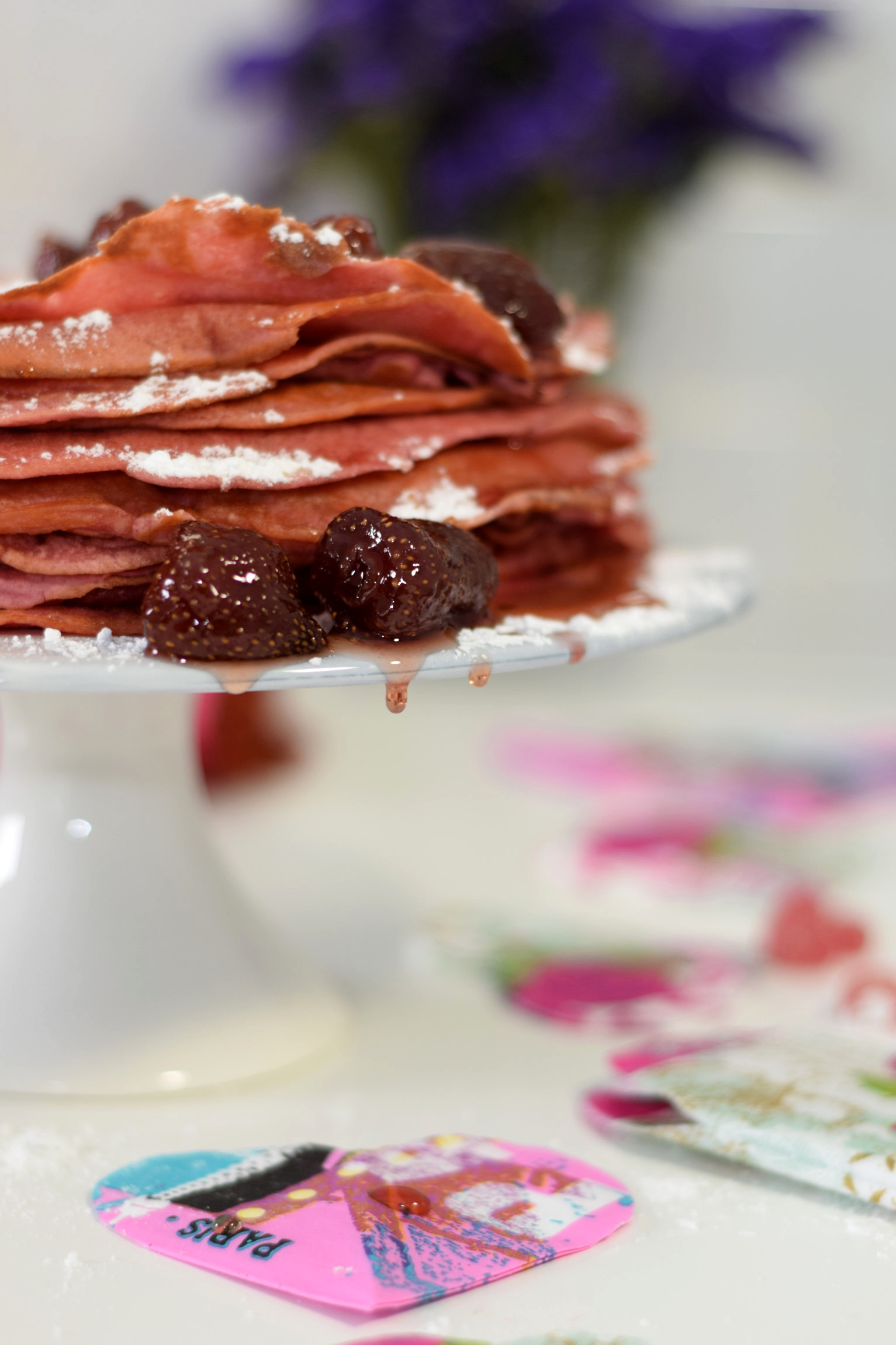 Personally, we love crepes of any type, with any garnishes and for any occasion! The problem is that we don't make them that often. While it's not the most difficult recipe (it's actually fairly straightforward), it requires attention and dedication. For us crepes are more of a treat for special occasions, so we decided to make these pink crepes on the Valentine's Day weekend. We set out some time to enjoy the process and to make a sizable stack.
The first step is to make sure that the batter is flowing, uniform and completely free of solid bits. It's a little easier to start with the flour and egg and gradually add milk to the batter. Using a whisk or a fork go through the entire mixture, scrape the sides of the bowl and make sure to mix it very thoroughly.
We obtain the beautiful shade of pink without any kind of artificial coloring. What we use is freshly squeezed beetroot juice which is potent, perfectly healthy and natural. It is a deep shade of red, or burgundy so you only need a little to achieve this ideal color in your sweet pink crepes.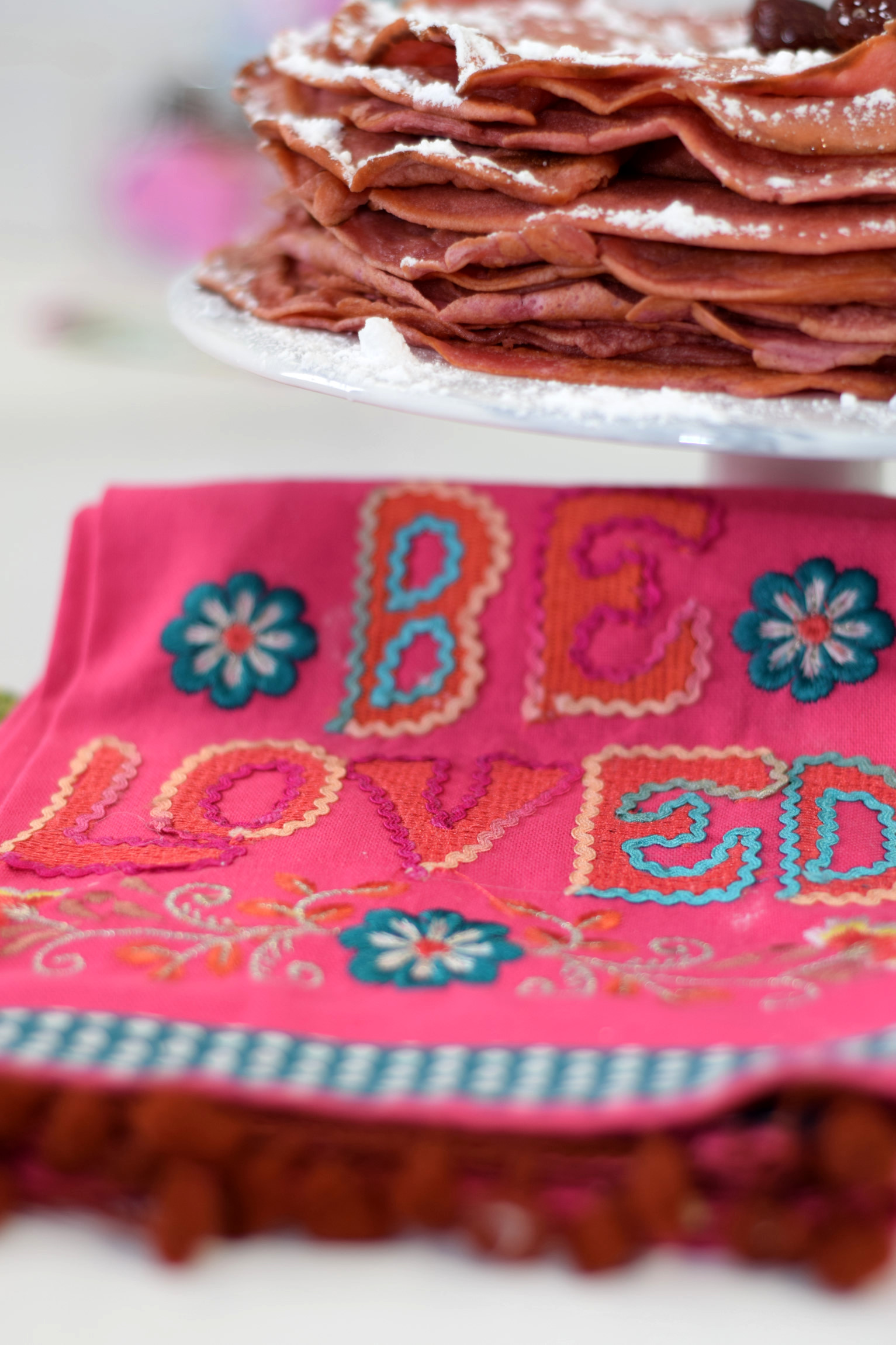 Although frying crepes takes some skill, you can get used to it fairly quickly. Make sure the crepe pan is covered entirely by a film of butter, but a very thin one. Pour the batter onto a preheated pan, never on a cold one. Once you pour it, the batter will start setting, so roll the pan around quickly to get the batter spread out evenly along the bottom. Throwing the crepes up to flip them is fine skill. We can't honestly say we mastered it, so we suggest using a flexible spatula to flip them. Rub a little bit of butter on the crepes when stacking them so that they don't stick together. Serve these sweet pink crepes fresh (we love strawberry jam with them!) and enjoy!
Sweet Pink Crepes for Valentine's Day Recipe: serves 2
30 ml (1 oz.) beetroot juice
100 g (1 cup) white flour
1 cup milk
1 egg, and 3 egg whites
4 tbsp sugar
butter
sea salt to taste
How to make:
Juice one small beetroot. It is best to do it in a juicer, or grate the beetroot finely and squeeze the juice. You should have 30 ml, or 1 ounce of fresh beetroot juice.
In a bowl, combine flour, milk, 1 egg and sea salt. Whisk thoroughly, until the batter is flowing and uniform, free of solid parts.
Add the sugar and beetroot juice to the batter, and mix well. The batter should be an even, glossy pink color.
Whip up 3 egg whites in a food processor, until they form thick, solid foam that can hold its shape.
Carefully add the whipped egg whites into the batter, and stir them in gently.
Preheat the crepes pan over medium heat. Melt a little butter, just to have the pan covered with a thin film.
Pour the batter onto the pan and roll it around to form a thin layer. You'll have to pour the batter quickly, because it will start setting almost as soon as it touches the pan.
Fry for about 2 minutes on each side. Flip it over carefully with a flexible spatula.
Stack the ready crepes onto a plate, and rub each layer with a stick of butter. This will prevent the crepes from sticking together. Serve while still hot with jams, creme fraiche, mascarpone, or any other garnish of your choice. Enjoy!
Cheers,
Natalie and Petr,
the Natural to Kitchen Island team