If you are looking for a party platter option, this stuffed tomato appetizer with feta and fresh aromatic herbs is our favorite. We love it for the juicy refreshing taste of the tomatoes, combined with the richness of feta and pleasant herbal accents. The stuffed tomato appetizer is a variation on a classic Mediterranean tomato and feta cheese salad, presented in a festive, party-friendly form.
You can experiment with different sizes and types of tomatoes. As a general rule, the smaller tomatoes (like cherry or grape varieties) tend to be sweeter. The drawback is that they are more challenging to deal with, especially the stuffing. If you choose these varieties, we recommend using a culinary piping bag to stuff them. Campari tomatoes are easy to deal with, but look too large for an appetizer.
Our favorite pick are strawberry tomatoes. They are just the right size for an appetizer, look festive on a platter and have a great sweet taste. More importantly, they are "stuffing-friendly" and can be stuffed with a small spoon.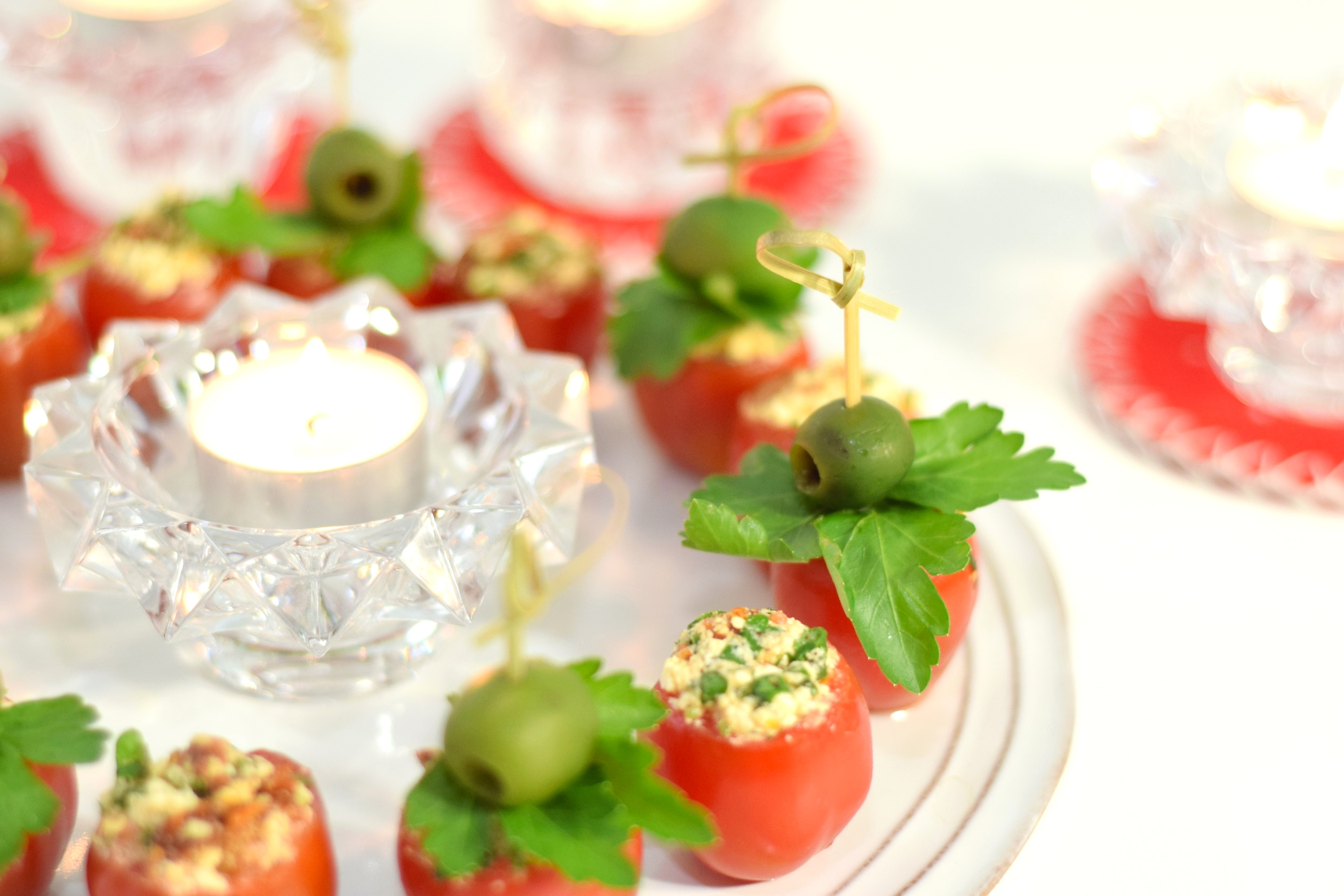 Speaking of stuffing, there are two options: more textured or paste-like. That depends on the mixing technique. A fork works better for a more textured stuffing. Just put the feta, tomato bits and chopped herbs in a bowl and mash them together. The textured stuffing will be a little more crumbly, with tiny bits of feta, tomatoes and herbs. If you use a food processor, the mixture will be more homogeneous and paste-like.
In terms of garnishing, we use Castelvetrano olives for their bright green color and whole parsley leaves. The colorful display of bright red tomatoes and green leaves brings a holiday spirit to the table. As a finishing touch, hold the olives and parsley leaves in place with toothpicks or sandwich picks.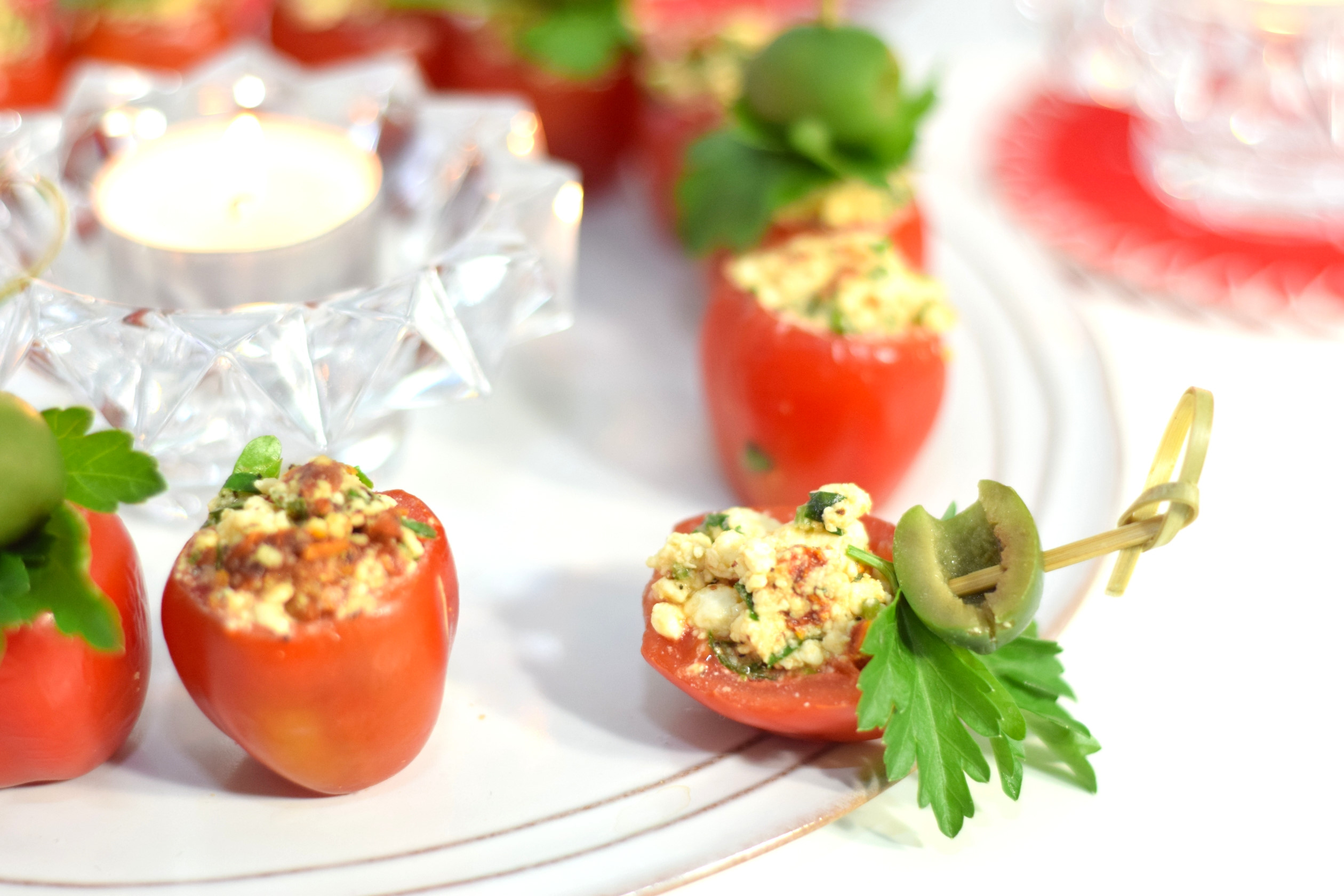 Stuffed Tomato Appetizer Recipe: makes 20 pieces
2 boxes of strawberry tomatoes (approximately 20 pieces)
100 g feta cheese (any type you like)
parsley, finely chopped (a few leaves)
basil, finely chopped (a few leaves)
2-3 sun-dried tomatoes (optional), chopped into small bits
1 tablespoon olive oil
black pepper, sea salt
For garnishing:
parsley, whole leaves
20 green olives (Castelvetrano or any other type)
How to make:
Slice off a thin layer from the tomato top. If the tomatoes don't stand trim the bottom slightly, without cutting through.
From the top, scoop out the seeds and the fleshy part of the tomato with a teaspoon or a fruit knife, and reserve it to use later. You should have an empty shell of the tomato as a result.
Lightly salt and pepper each tomato on the inside.
Drain off the fleshy tomato bits and chop them finely.
In a bowl, combine the feta cheese, fleshy tomato bits, sun-dried tomatoes (if you use them), parsley and basil. Season with olive oil, black pepper and sea salt, and mash together thoroughly. Use a fork if you want to see more texture in the stuffing, or a food processor for it to be more paste-like.
Fill the tomato shells with the feta stuffing, and garnish with parsley and olives. Enjoy!
Cheers,
Natalie and Petr
the Natural to Kitchen Island team