This Spaghetti squash soup puree is another one of our cozy winter time favourites. We love it for its rich, spiced aroma. This soup is thoroughly spiced with ginger, cinnamon, black pepper and a pinch of cayenne. It is warming and energizing, and perfect for winter time. The soup is made entirely of vegetables, including Spaghetti squash, tomatoes, onion, carrots and garlic. For this reason, it fits a vegetarian or vegan diet well. The soup is also great for a paleo diet, as the recipe doesn't contain any dairy, grains or legumes. If you are looking for a light but nutritious vegetable-based soup this is a great, delicious option!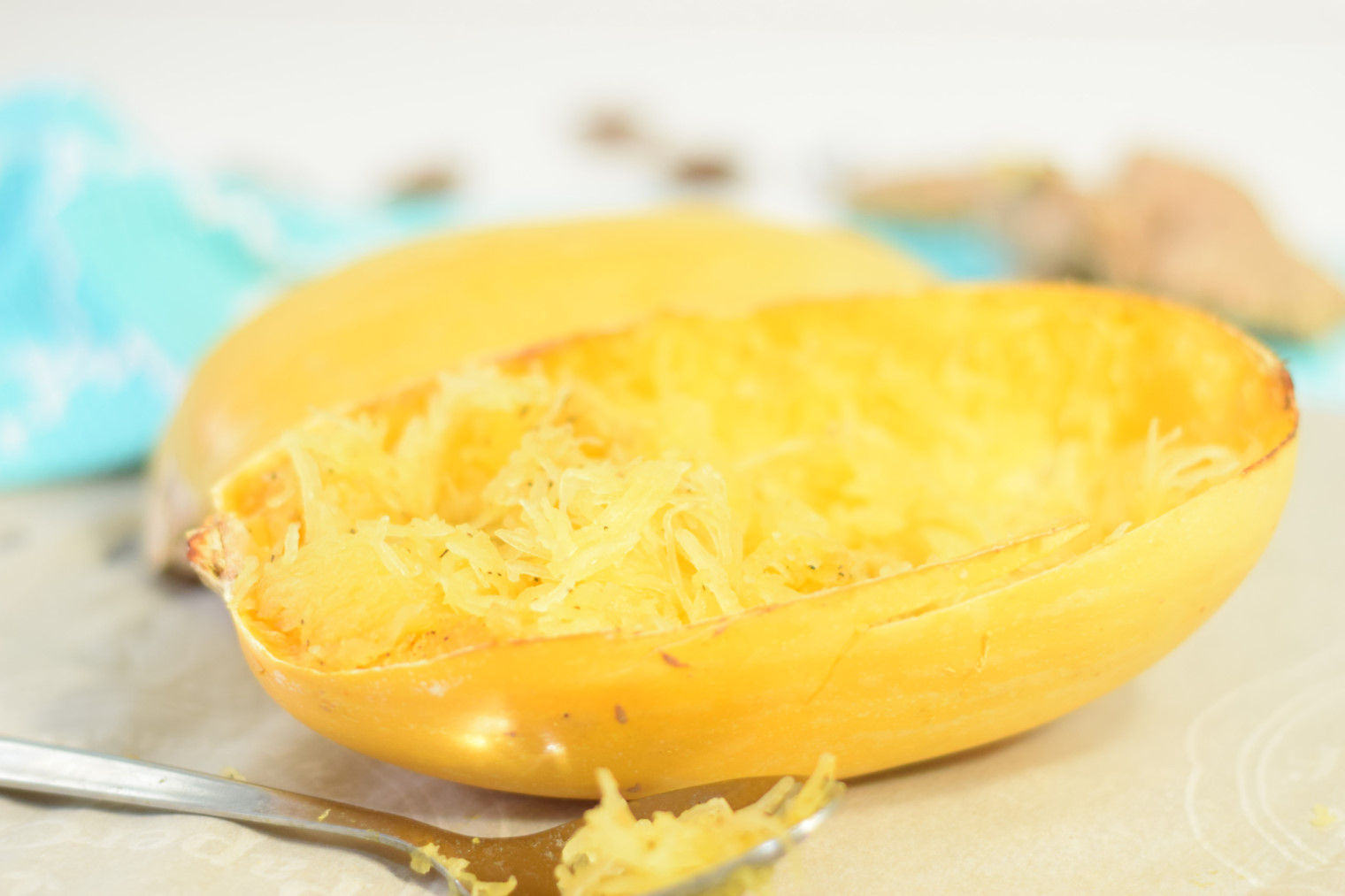 We make the Spaghetti squash soup puree in several stages. First, we bake the vegetables. Baking is a great way to thoroughly prepare vegetables, as it highlights and enhances their natural richness of flavor. The baking process does not need much attention once started which frees up your time. This is invaluable when you are trying to get a lot done. We usually just set a timer when the vegetables bake and focus on something else around the house.
Then we combine the vegetables and simmer the soup over low heat. Peeling the fresh tomatoes can be a little tricky. The easiest way to do it is pouring boiling water over them, so that the skin cracks and begins peeling. If you need more details, take a look at our Eggplant Spread recipe. As a last step we blend the soup into a smooth puree.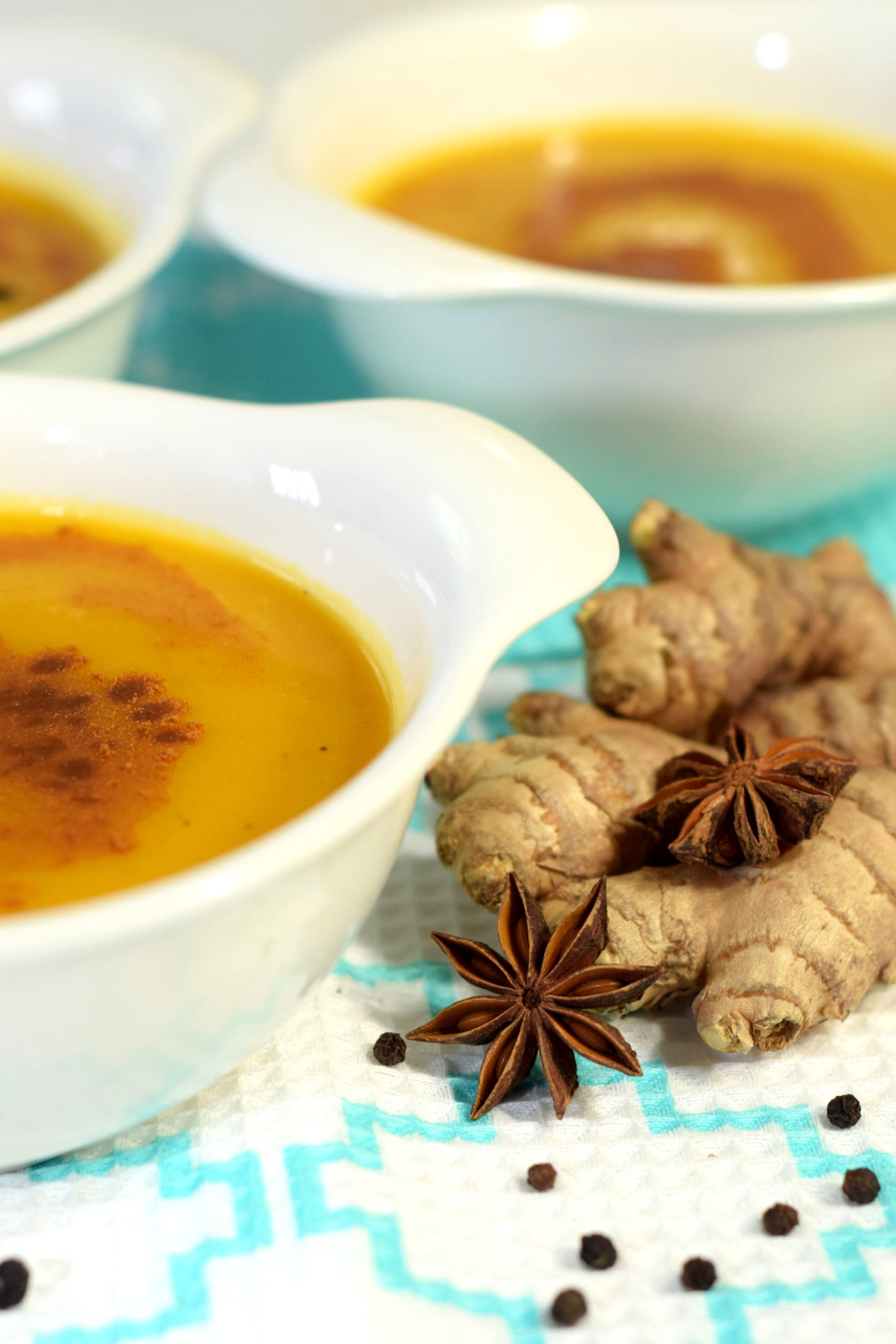 Lots of spices go into the Spaghetti squash soup puree, giving the dish a distinct appetizing aroma and taste. Fresh, raw ginger root is the best. It retains much more of its naturally bold flavour compared to ginger powder. Fresh ginger has a very powerful taste, so consider your tolerance for spices. If you don't enjoy spicy food, don't add more than 2 cm of ginger root. It is interesting that spices are thermogenic, which means that they boost energy level and speed up metabolism. Because of this quality, spicy food can, for example, contribute to weight loss. We love spices, so we season with a pinch of cayenne pepper once the soup is ready. In any case, top the Spaghetti squash soup puree with cinnamon. It blends nicely with the taste of squash and adds a distinct, appetizing aroma. Enjoy!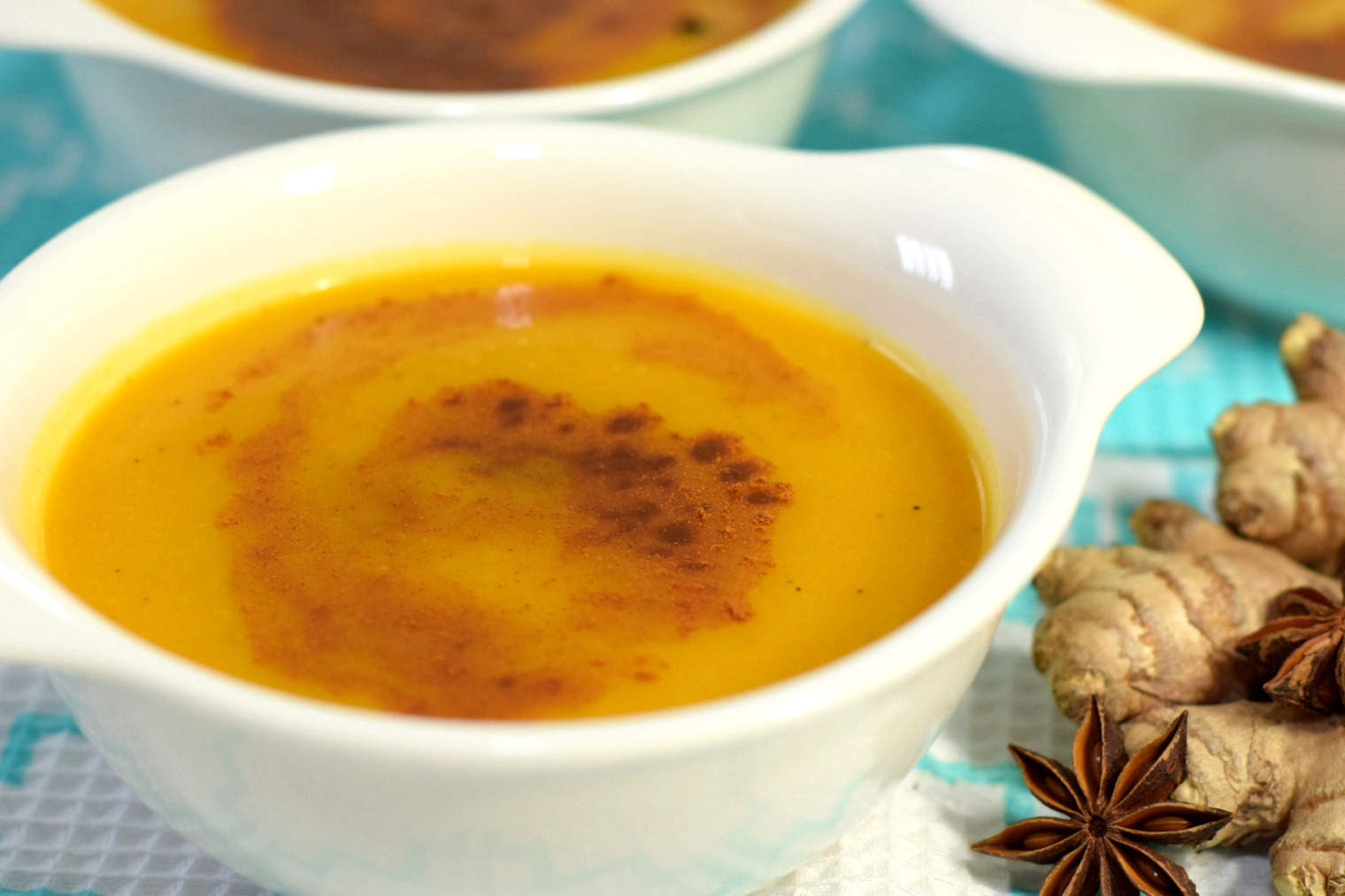 Spaghetti Squash Soup Puree Recipe: serves 8
1 small Spaghetti squash (2-3 lbs), cut in half and seeded
2 carrots
1 head of garlic
3 medium-sized tomatoes, peeled
1 onion, finely chopped
2-4 cm (1-1½") ginger root, finely grated
1 teaspoon turmeric
1-2 tablespoons olive oil
cinnamon, black pepper and sea salt to taste
cayenne pepper (optional)
How to make:
Preheat oven to 200 ºC (375 ºF).
Salt and pepper the squash halves, and place them upside down on a parchment-covered baking sheet. Also place unpeeled carrots and a head of garlic on the baking sheet. Bake the vegetables for approximately 30 minutes.
Meanwhile, warm up olive oil in a frying pan on medium heat. Sauté chopped onion until it starts to change color, stirring it occasionally.
When the vegetables are baked, let them cool and scoop out the spaghetti squash flesh with a spoon. Peel the carrots and garlic.
In a pot, combine together all baked vegetables, sautéed onions, peeled tomatoes and grated ginger. Add 1 teaspoon of turmeric and 1.5 liters (6 cups) of boiling water. It is important that the water is boiling when you add it. Simmer the soup over low heat for approximately 15 minutes.
Remove the soup from the heat and allow it to cool slightly. Puree the soup to a velvety uniform texture. We find a hand-held blender works best, but a food processor will be great as well.
Top the soup with cinnamon generously. If you like spicy food, add a pinch of cayenne pepper. Enjoy!
Cheers,
Natalie and Petr,
the Natural to Kitchen Island team