As soon as berries appear locally, one of the first things we make is seasonal berry clafoutis. It is an incredible dessert that we absolutely cannot wait for, so we decided to make it now! The major ingredients are juicy seasonal berries, with the least amount of flour and sugar to hold it together. Because of that, seasonal berry clafoutis is definitely a healthier choice, compared to fruit tarts. Exquisite and flavourful, this easy to make dessert is impossible to resist.
Typically, we prefer fresh berries from farmers' markets, where local growers bring their seasonal fruits and berries. Farmers' markets are the best places to buy fresh fruits and vegetables, both quality and price-wise. Our closest one will open in just a few weeks now, in early May. We make it a habit to go every weekend, and buy lots and lots of fresh delicious produce for the entire week. Until then, we just decided to get a few boxes from the local store, for "practice" before the berry season.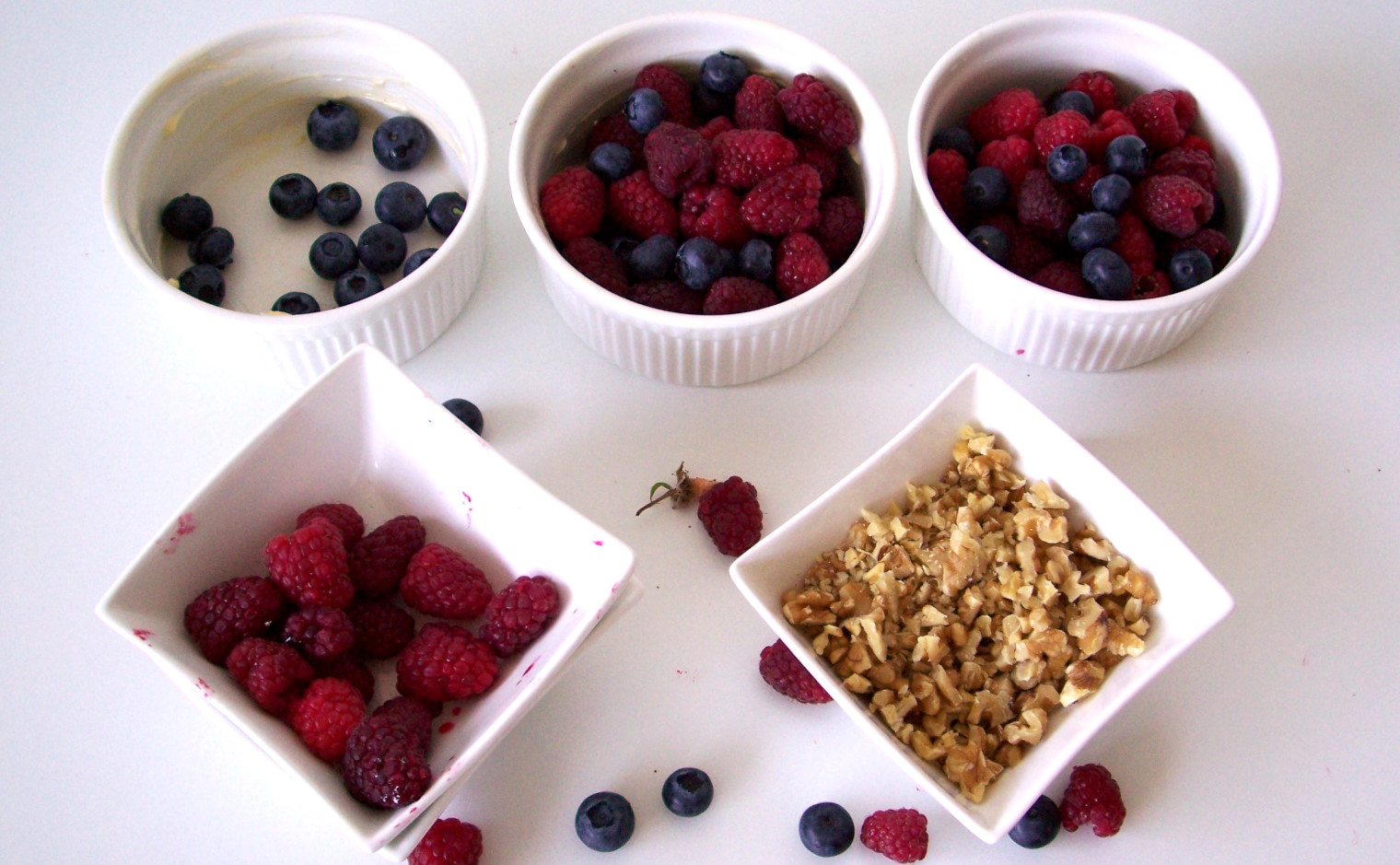 Berry clafoutis (or clafouti), which is a classic French recipe, is a delicate fruit dessert. If you are looking for a more health-focused dessert, this is a valid, delicious option. First, and most importantly, the recipe includes a minimal amount of sugar and white flour, just to hold it together. You will only need about 1 oz of flour, and you can substitute it for almond flour to make a gluten-free version. Additionally, any kind of nut milk will work great in this recipe instead of regular milk.
The major ingredients are berries and walnuts. Together with a rich spectrum of flavors, the berries also bring a potent dose of anti-oxidants and vitamins. Any seasonal berries work well in this recipe. If you use raspberries and blueberries, just use them as is. We usually avoid blackberries just because they will color everything violet. For strawberries, slice them into thin segments first.
In terms of serving, we like making clafoutis in small pudding forms, to serve it directly in them afterwards. Make sure to serve it when it's still warm from baking!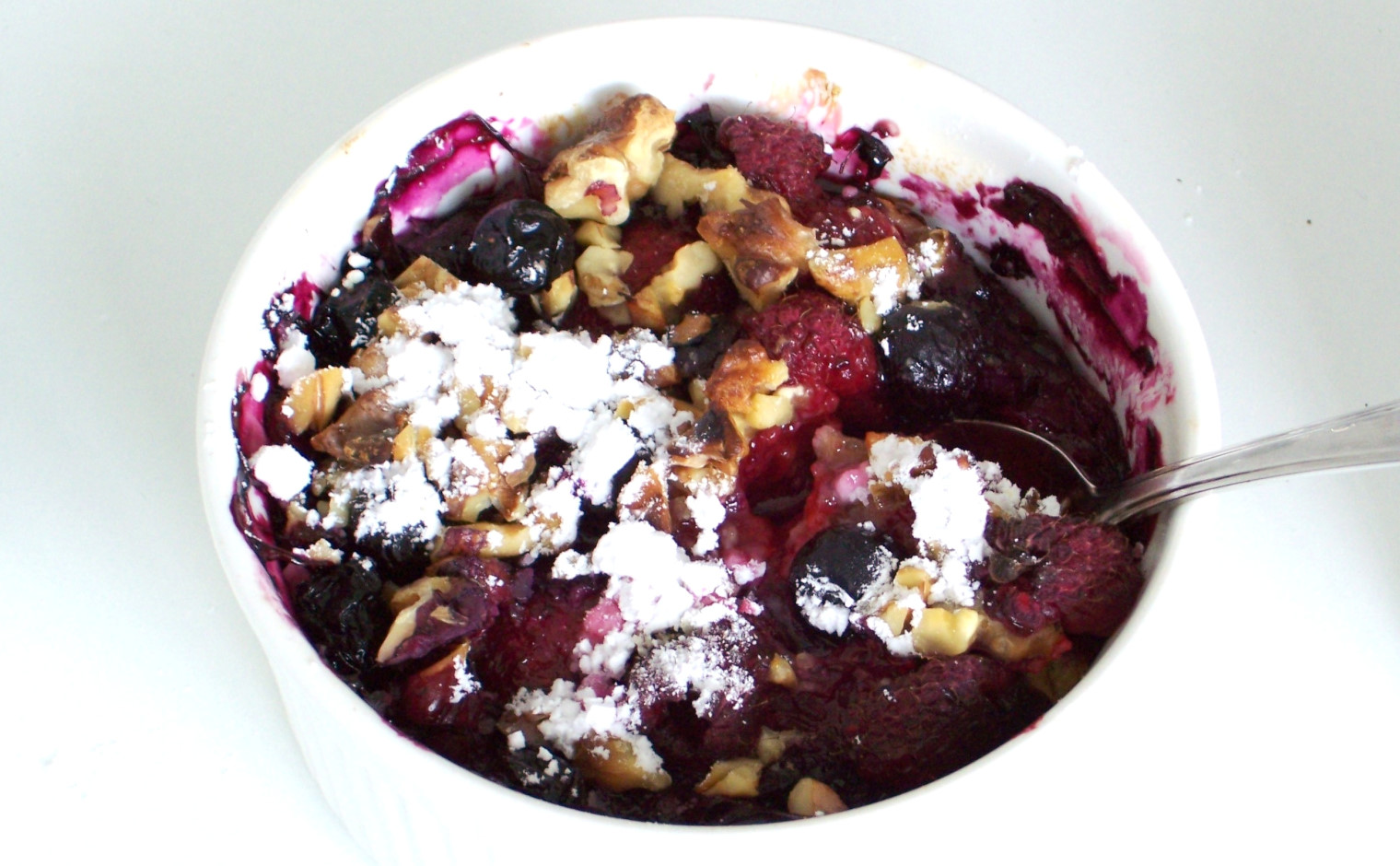 Seasonal Berry Clafoutis Recipe: serves 3
500 g (1 lb) fresh berries
40 g (1/6 cup) sugar
25 g (1 oz) white flour
125 mL (1/2 cup) milk or nut milk
1 whole egg
1 separated egg yolk
1 handful of chopped walnuts
few drops of vanilla extract
icing sugar to taste (optional)
 How to make:
Preheat your oven to 350 °F (180 °C) and lightly butter the inside of 3 small pudding forms (8-12 oz).
In a bowl, whisk together 1 whole egg, 1 egg yolk, sugar and a few drops of vanilla.
3. Continue mixing gently while gradually adding flour, and afterwards, milk.
In the pudding forms, arrange raspberries and blueberries, and top with chopped walnuts.
Pour batter to cover the berries, and immediately place them in the oven. Bake clafoutis for approximately 45 minutes, until the batter forms a golden crust.
Sprinkle icing sugar to taste, and serve right in the pudding forms while still warm!
Cheers,
Natalie and Petr
the Natural to Kitchen Island Team