Seared scallops avocado tomato salad – just the name of it makes us crave it. Although it's called salad, don't let the name fool you. It is a whole satisfying dinner, very Mediterranean and ideal for summer. Creamy scallops, slightly pungent arugula, silky and buttery avocado, and ripe, sweet tomatoes – a truly amazing combination.
Here is what we love this seared scallop salad for. It is:
Fresh and vibrant
Delicious
Light, but filling
Amazingly nutritious
Super easy to make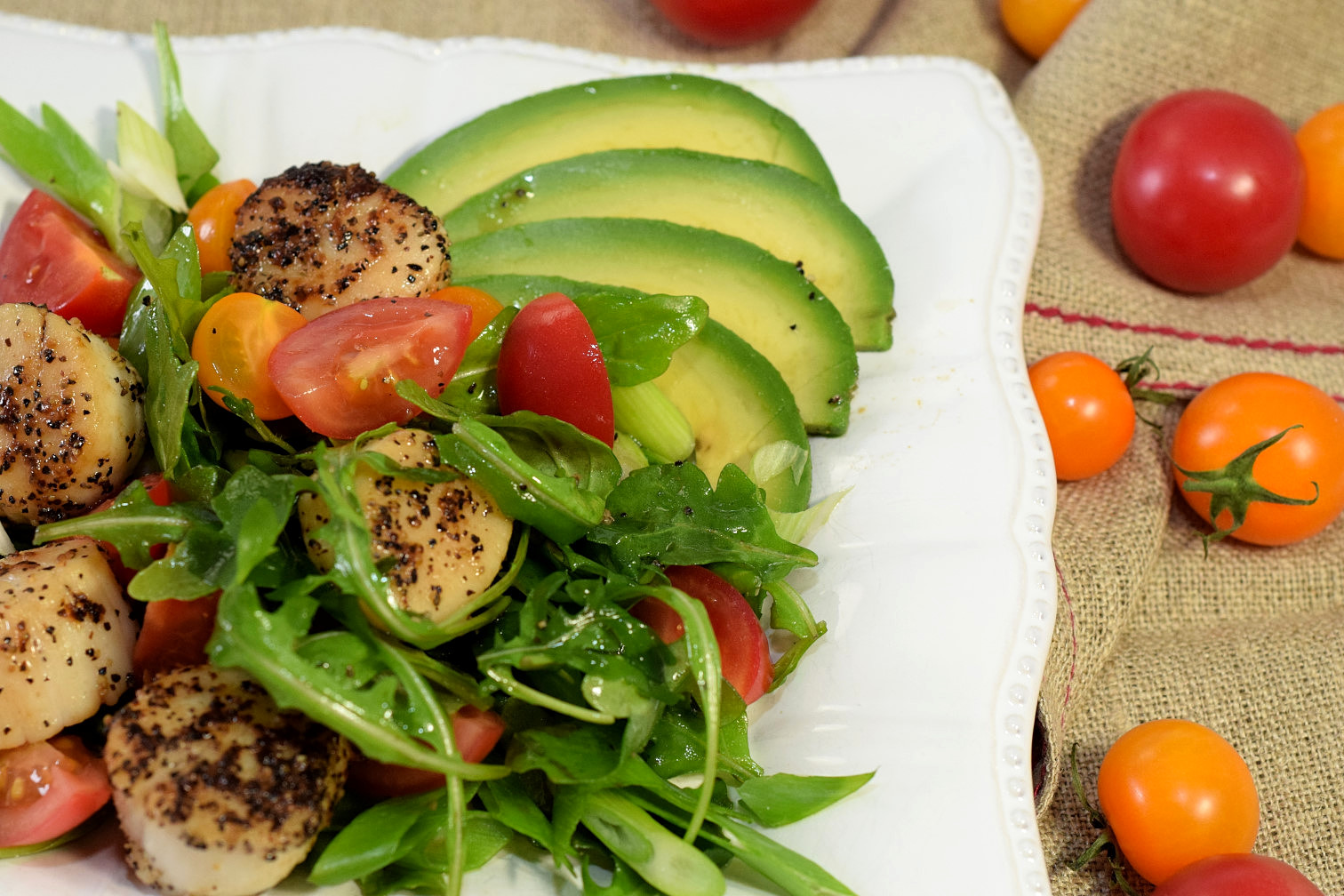 With this particular recipe, there is minimum cooking required, which is what really makes it shine. It is ideal when you want something fresh, vegetable-packed and simple. All ingredients are essentially raw, which preserves the full spectrum of all their nutrients. Besides, the nutritional profile of the salad is absolutely extraordinary. It is loaded with healthy leafy greens, antioxidants from tomatoes, good fats from avocado, and scallops – a great source of protein and minerals like any seafood.
While it's simple, it is important to follow the procedure carefully. We perfected this salad through practice. Here is what we do… Combine the arugula with avocado and with the dressing, and mix well. Make sure the arugula is well-coated with the sauce. Now it's time to add sliced tomatoes, but mix gently. At this point we set the almost-ready salad aside, and focus on making the seared scallops. As soon as the scallops are ready, hot and juicy, top the salad with them and serve.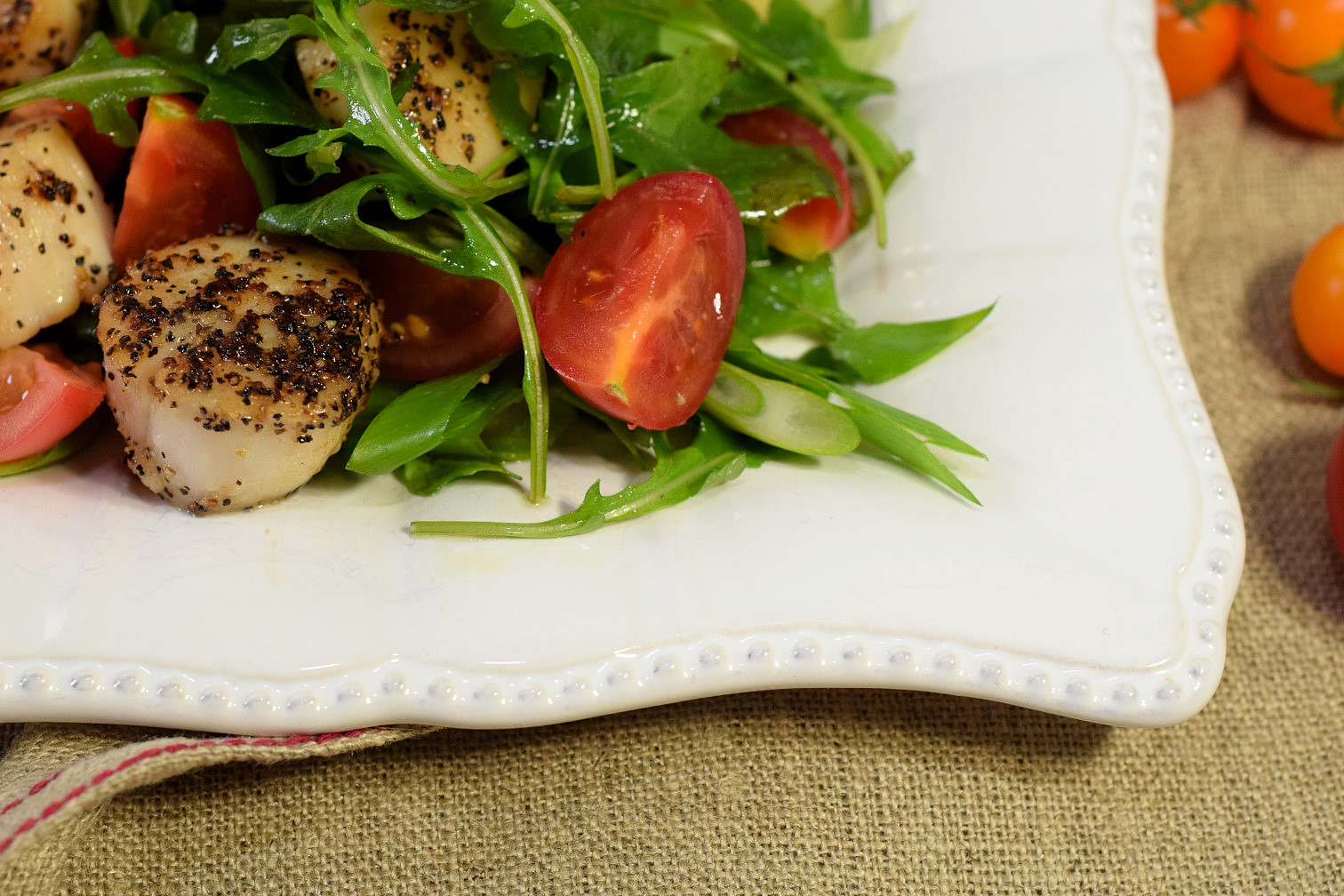 A few words about seared scallops:
It is critical that scallops are not overcooked. If they are, they become rubbery and tasteless. We always start by dabbing the scallops thoroughly with paper towel to remove excess fluid. Now, we make sure that the oil is pre-heated. Always, always, always put scallops into pre-heated oil, otherwise they will lose all of their juice. Scallops sear pretty quickly – just about a minute or two, depending on size. As soon as you see the scallops turning opaque, with a slightly golden crust on them, flip them over. Then sear on the other side for another minute or two.
P.S. Just in case… never cover the scallops up while searing them.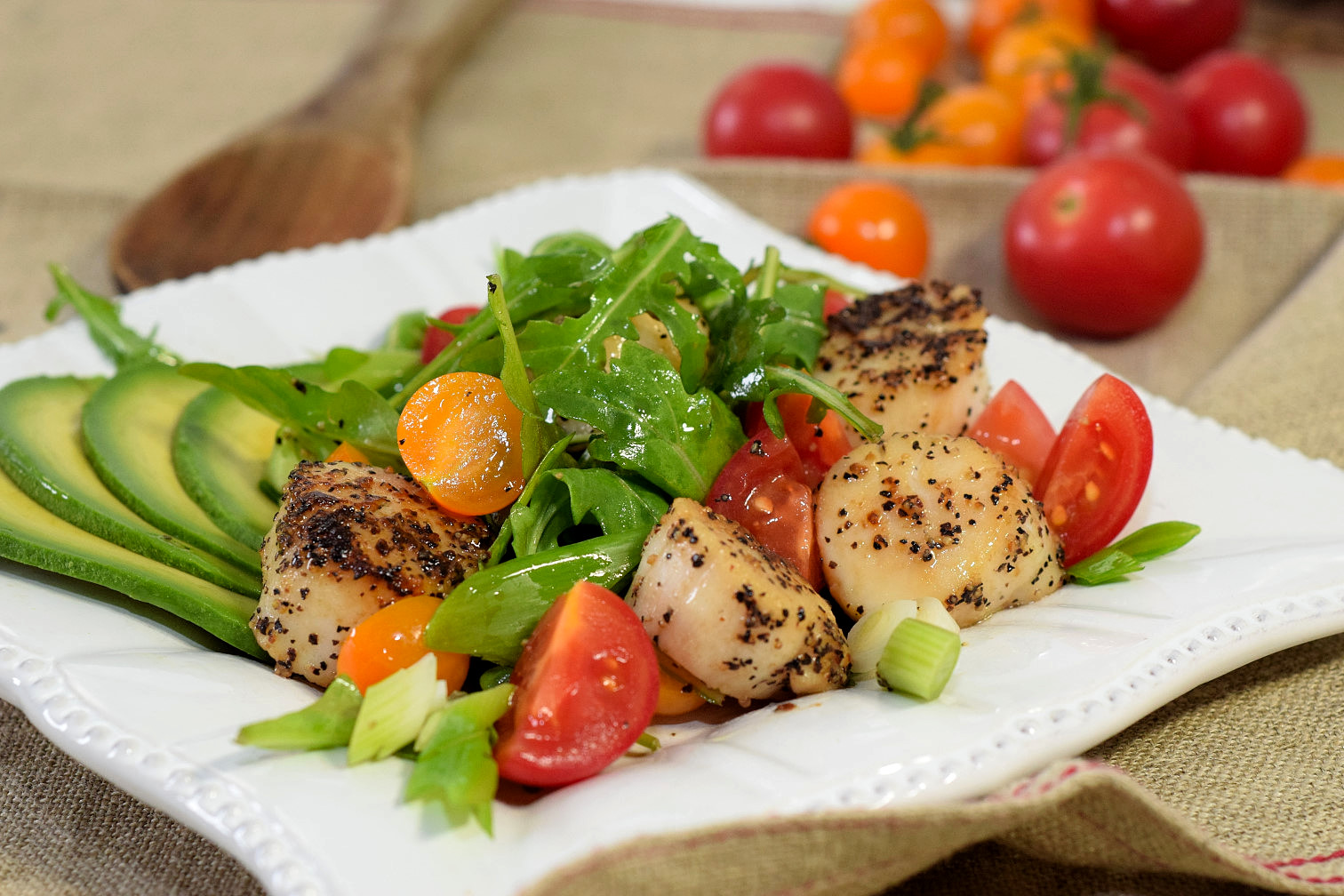 Seared Scallops Avocado Tomato Salad Recipe: serves 3
200 g wild-caught scallops
200 g fresh arugula
2-3 medium-sized ripe tomatoes, sliced thin
1 avocado, sliced into thin strips or diced
3 tablespoons olive oil
½ tablespoon balsamic vinegar
sea salt and black pepper to taste
How to make:
To make the dressing, whisk 2 tablespoons of olive oil with balsamic vinegar, a pinch of salt and black pepper.
Place the arugula and avocado into a salad bowl, pour over with the dressing and mix well. Add sliced tomatoes and mix carefully.
Before cooking the scallops, gently dab them with paper towel to remove excess fluids. Now, sprinkle them with salt and black pepper to taste. Preheat 1 tablespoon of olive oil in a frying pan. Place the scallops in the hot oil and sear them for about a minute or two, then flip them over with a fork and repeat the same on the other side.
Lay out the seared scallops on the salad and serve immediately while the scallops are still warm. Enjoy!
Cheers,
Natalie and Petr,
the Natural to Kitchen Island team