The Scandinavian salmon soup with vegetables is a highly nutritious soup with a genuine wintery feel. Now that we are past the holiday season, it is time to substitute the indulgence of rich holiday meals with more health-centered options. Salmon and vegetables are a winning combination. This recipe is well-balanced, and fuels the body with essential nutrients. Salmon is an excellent source of lean protein, and is rich in essential fatty acids. A diverse palate of vegetables provides various vitamins and microelements. This Scandinavian salmon soup recipe fits in well with a New Year's resolution towards a healthier diet.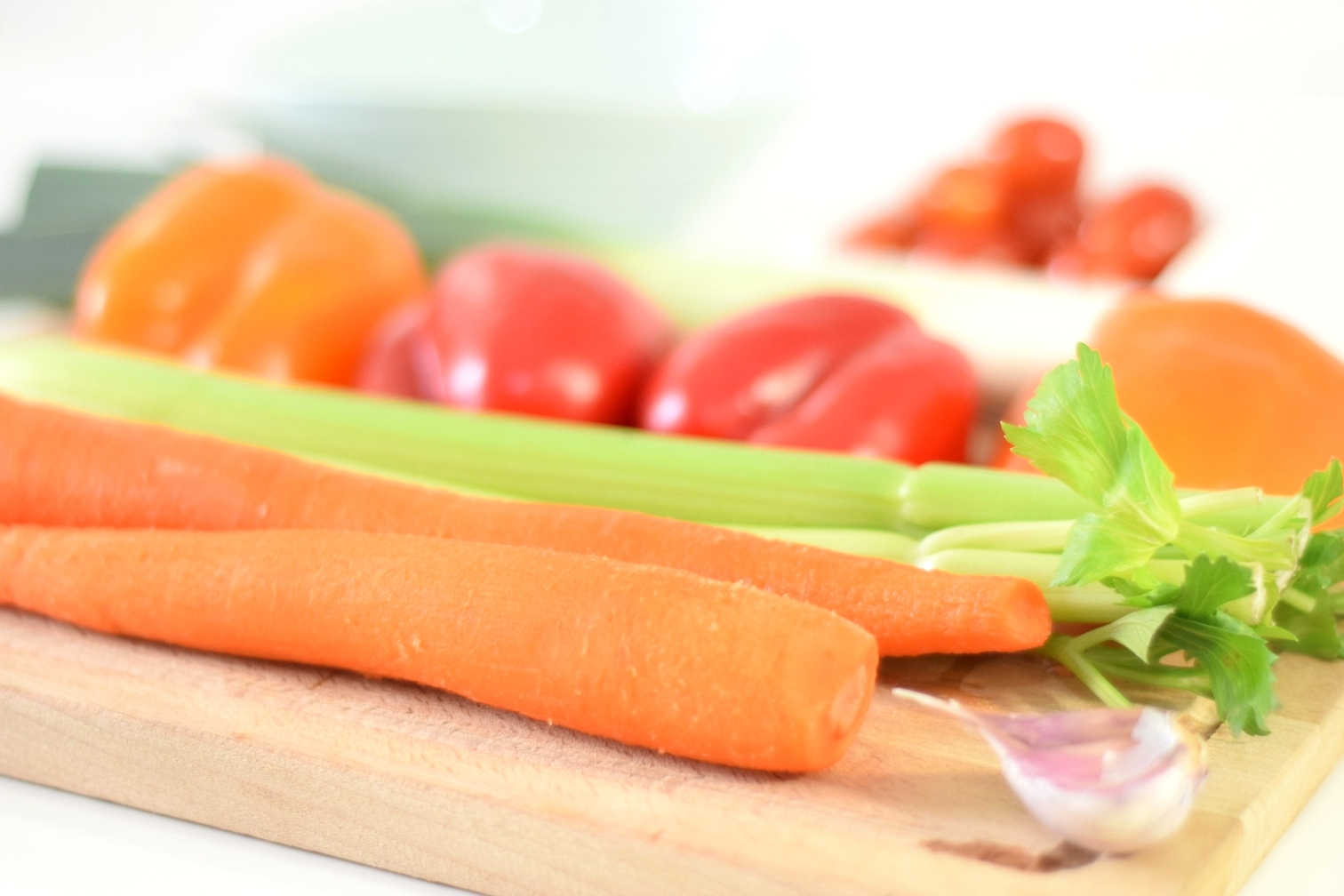 There is an impressive list of vegetables which can look somewhat complicated and overwhelming. Here is a tip – you can stick to a list of basics. We prepared it in both a full and a shortened version, depending on the status of our fridge. Although the full version is very rich in flavor, the shortened version of the Scandinavian salmon soup does not sacrifice much. The main rule to go by is that you should have an equal weight of vegetables and salmon.
The must-have ingredients are: carrots, leeks, bell peppers, and a clove of garlic. Leeks can be substituted with regular yellow onions. Tomatoes and celery are nice to have as they enrich the flavor and add new, more complex notes. Small quartered tomatoes also look great in a serving bowl. If you don't have these at hand, it is fine to skip them.
When we sauté vegetables for the Scandinavian salmon soup, the order is crucial to the process. We start with coarsely grated carrot because it needs more time to soften. When the carrot acquires a slight golden tint, we add leeks. Bell peppers are usually last. Crushed garlic should be added a minute or two before removing from the heat. This softens the garlic's harshness, but preserves the aroma. If you decide to add tomatoes, add them directly to the pot. We don't stir the soup afterwards to avoid crushing the tomatoes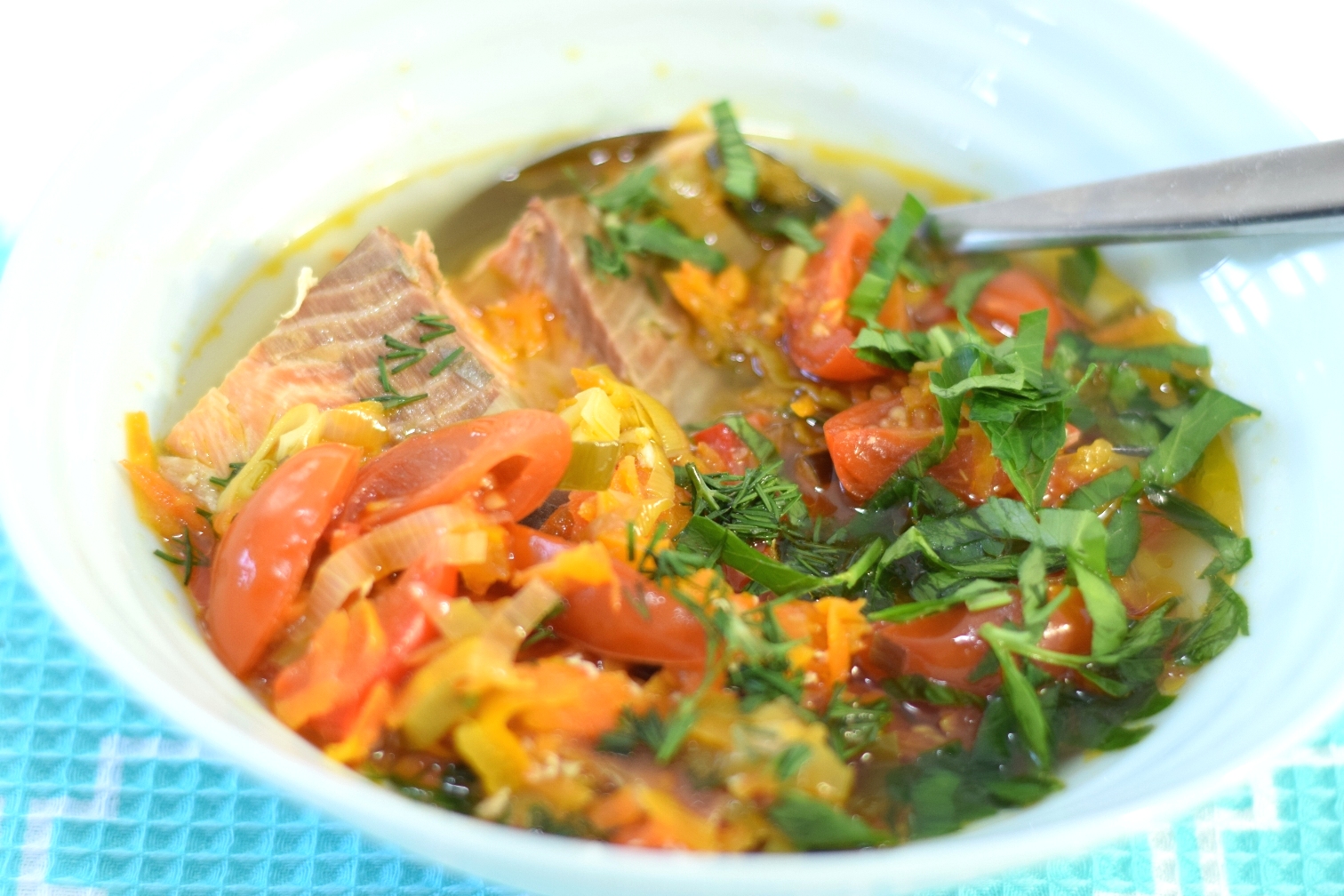 Scandinavian Salmon Soup with Vegetables Recipe: serves 6
800 g fresh salmon
2 large carrots, coarsely grated
1 medium-sized leek, sliced into thin rings
2 medium-sized bell peppers, thinly sliced
2-3 celery stalks, sliced (optional)
10-12 cherry or grape tomatoes, cut into quarters (optional)
1 garlic clove
2 bay leaves
5-7 black peppercorns
2 tablespoons olive oil
Sea salt, ground black pepper and cayenne pepper to taste
For garnishing:
Italian parsley, finely chopped
How to make:
Place the salmon, bay leaves and peppercorns into a pot with approximately 2 L of water. Bring to a boil, then reduce heat and simmer until salmon is ready (approximately 30 minutes).
While you wait, warm up olive oil in a skillet, and sauté the vegetables, adding them one by one and stirring continuously. Start with the coarsely grated carrot, when it starts to turn slightly more golden, add the sliced leek. When the leek becomes softer, add sliced bell peppers and celery. When, in turn, the bell peppers soften, add crushed garlic. Sauté together for another minute or two, and remove from the heat.
Take out the cooked salmon, skin it and remove bones (if necessary). Place the salmon back into the boiling fish stock.
Add the sautéed vegetables to the pot, top with quartered cherry tomatoes. Cover with lid, and simmer over low heat for 10 minutes. Do not stir the soup at this point, to avoid crushing the tomatoes.
Portion the salmon, and serve in soup bowls. Season with sea salt, black pepper and cayenne pepper to taste. Garnish with finely chopped parsley. Enjoy!
Cheers,
Natalie and Petr,
the Natural to Kitchen Island team