This roasted beetroot salad gives a nice vitamin boost in the winter time, when we need it most. It is highly nutritious and rich in fiber. Most vegetables are abundant in the summer and fall, leaving few seasonal options for winter time. This salad is a nice exception, as its ingredients are right in season in the middle of winter. Endives and citrus fruits have been around since late fall and although beets are harvested in the fall, they store well throughout winter.
We love the slightly bitter and tangy taste of Belgian endive, which balances the rich sweetness of roasted beetroots and juicy oranges. Their crispiness is a nice addition to the roasted beetroot salad's texture, and is great in combination with juicy orange wedges. When peeling the oranges, make sure to remove the white membranes as best as you can. This will make the orange wedges more delicate.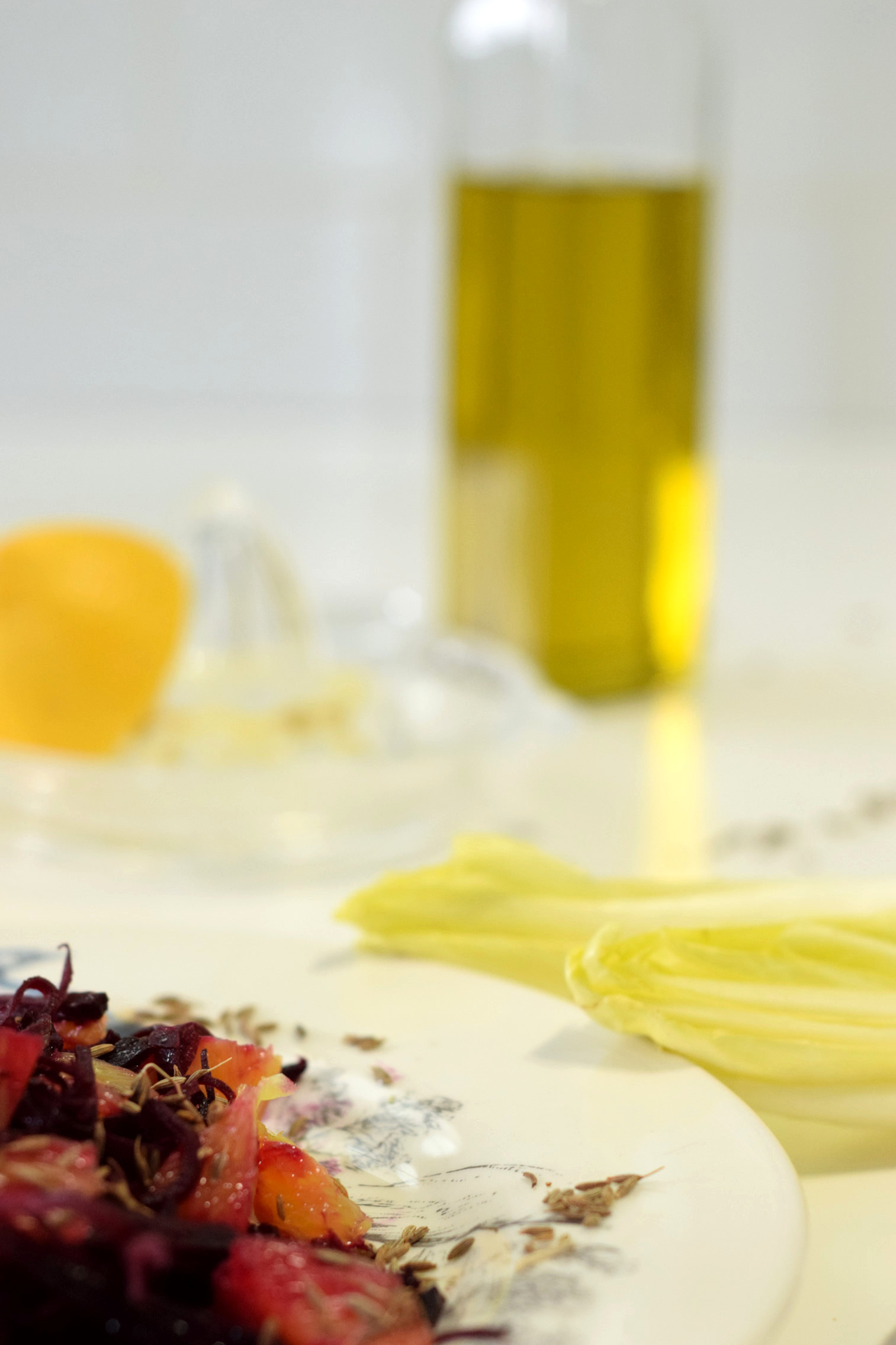 To highlight the beets' natural flavor, we roasted them. When prepared this way, they become tender and their concentrated sweetness is accentuated. Another option of cooking beets is boiling them. Place unpeeled beets into a pot of water, bring it to a boil and simmer. Boiling takes about an hour as well. Once the beets are cooked, make sure to drain them immediately or they become too watery.
The dressing for the roasted beetroot salad is made from equal parts orange and lemon juice, and then whisked with olive oil and sea salt. We found that plain lemon juice tends to be a little too sour. Orange juice softens the flavor and adds a mild citrusy sweetness. If you like spicy food, add a clove of garlic as it complements the beetroot taste perfectly. As a finishing touch, cumin seeds add a very appetizing aroma and a nutty, peppery flavor to this great salad. We love the salad on its own with toasted rye bread, or as a delicious side dish for roast beef.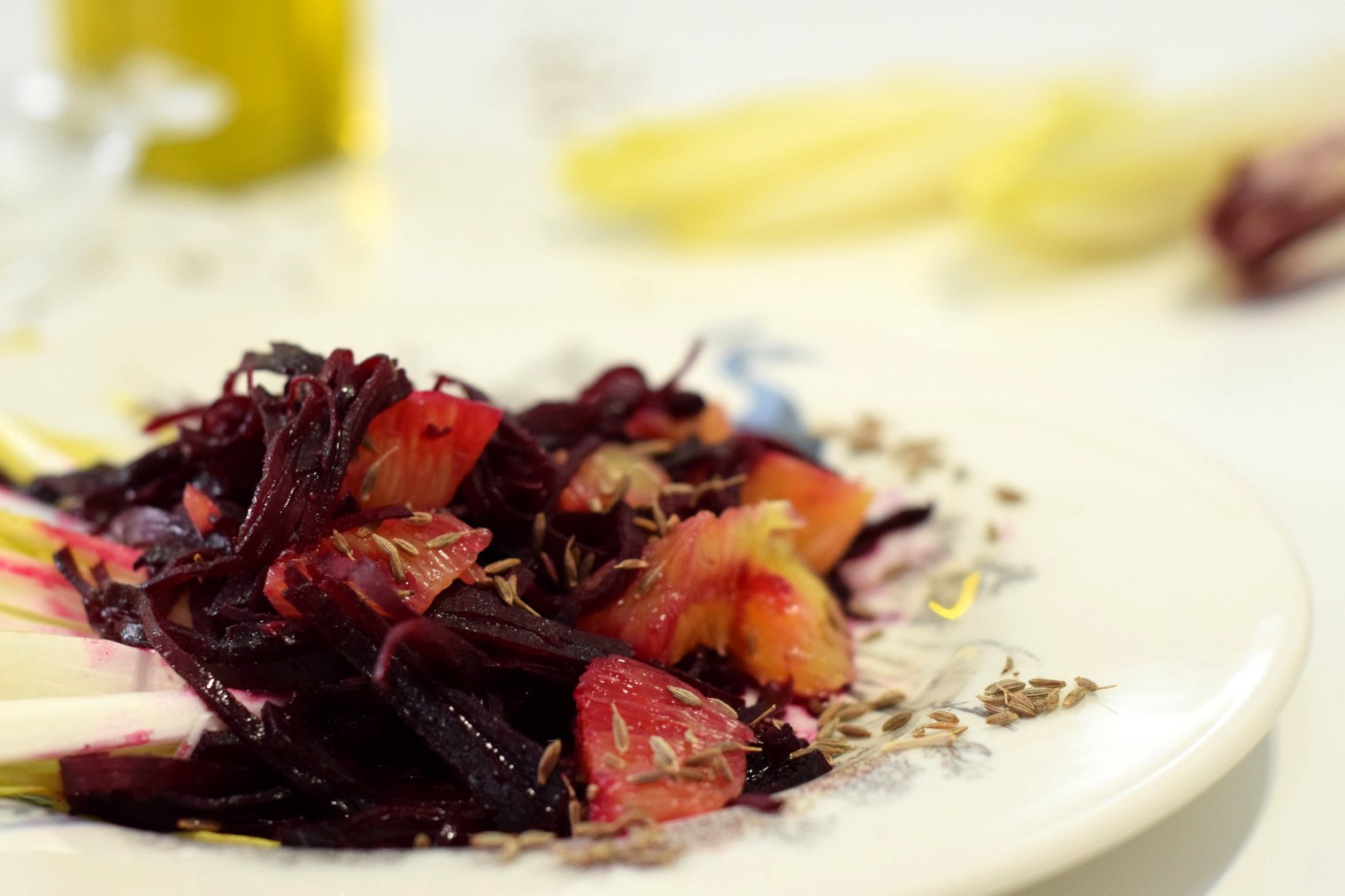 Roasted Beetroot Salad Recipe: serves 4
2-3 small beetroots, roasted, cut into long stripes
2 Belgian endives, cut into long stripes
2 oranges, peeled and sliced
1 teaspoon cumin seeds
1 garlic clove, crushed (optional)
juice of ½ lemon
juice of ½ orange
2 tablespoons olive oil
sea salt
How to make:
Preheat the oven to 200 ºC (375 ºF). Roast beetroot for approximately 45 minutes, until it is tender. Check on it periodically with a fork.
Allow the roasted beetroots to cool. Peel the beets and cut into long, thin stripes.
For the dressing, whisk together the juice of ½ lemon, ½ orange, olive oil and sea salt. Pour the dressing over the cut beetroot and toss thoroughly. If you use garlic, add it at the same time as the dressing.
In a serving bowl, combine beetroots, sliced endives and peeled orange wedges. Mix carefully, as the beets have a tendency to color everything in burgundy.
Top with cumin seeds generously. Enjoy!
Cheers,
Natalie and Petr,
the Natural to Kitchen Island team