We are counting down to the holidays, which bring family and friends all together. The holidays are all about parties, music, gifts and celebration and, of course, the Christmas dinner. This pumpkin, pomegranate and arugula salad fits the festive table just right, by itself and as a complement to the main course. The combination of bright green arugula, golden cubes of pumpkin and ruby-red pomegranate seeds brings a joyous mood, both in colour and in taste.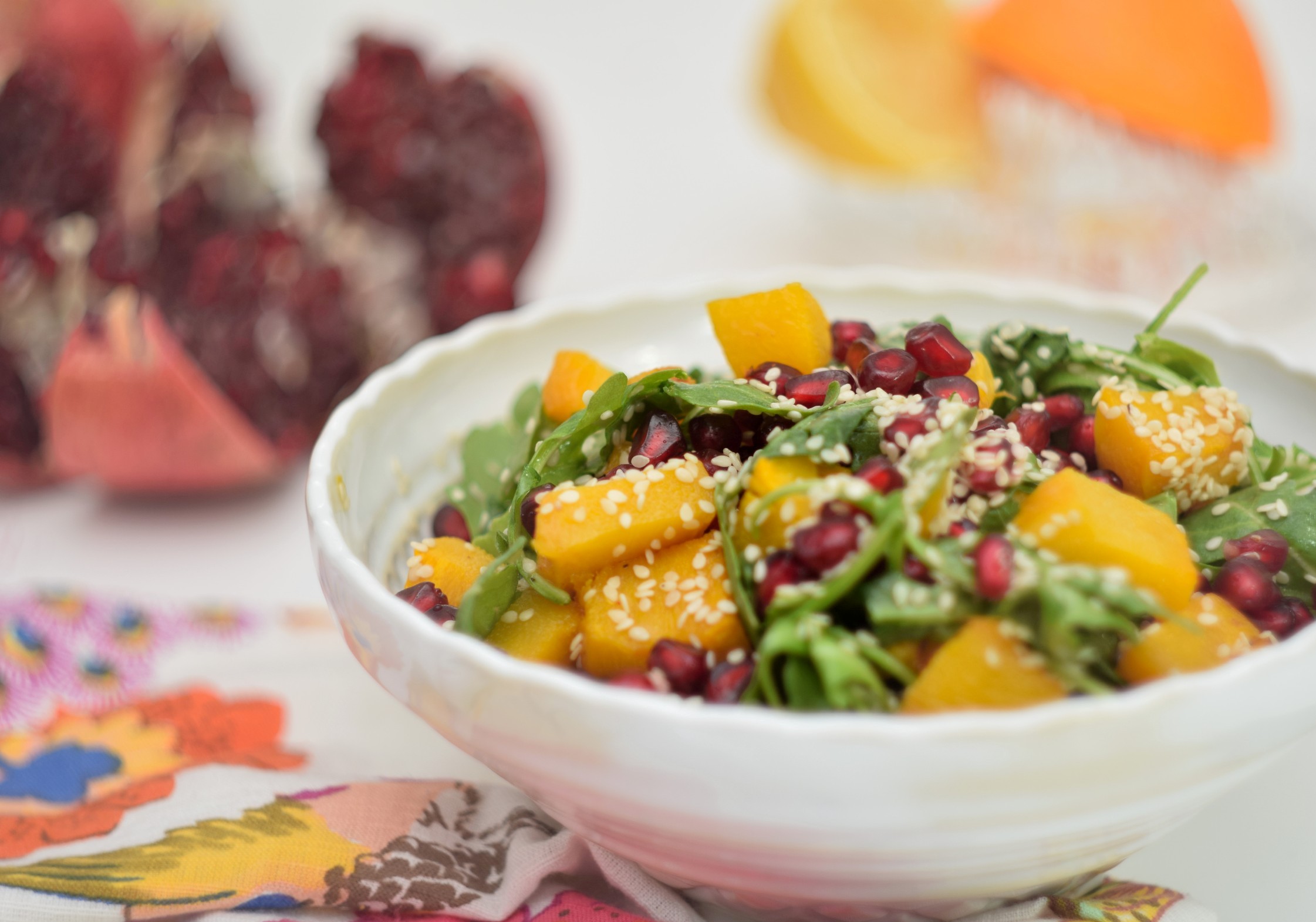 When it comes to pumpkin, spices are of the greatest importance. They add excitement to the rather plain pumpkin taste, and accentuate its delicate, sweet flavour. Without doubt, this salad requires an aromatic pumpkin spice mix, any type of your liking. Our minimum list includes ground cinnamon and allspice. Feel free to add ginger, nutmeg or cloves, or use any other pumpkin spice mix that you are in love with.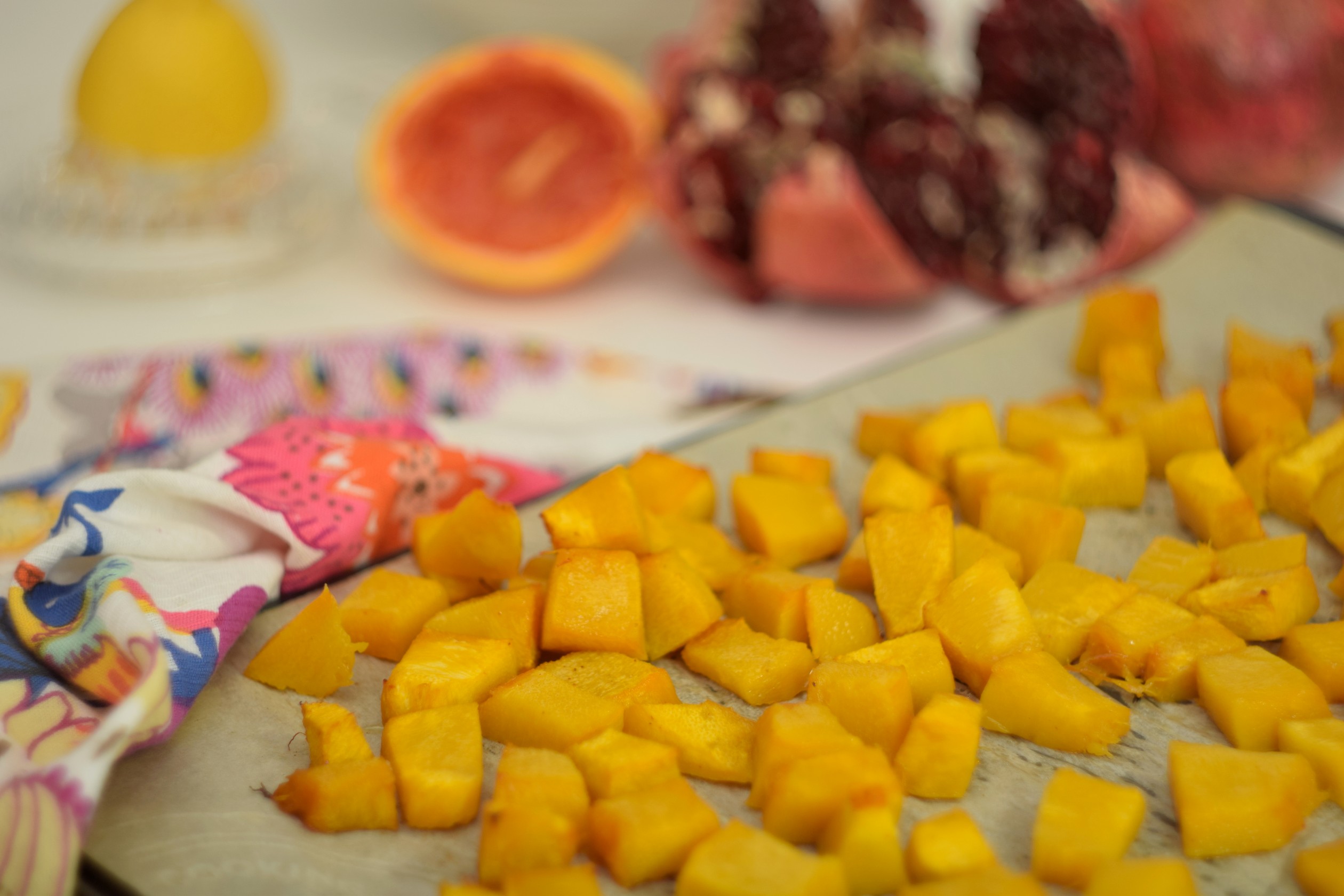 Another critical part is the sweet-and-sour dressing which adds an exciting hue to the salad. A mixture of orange and lemon juice works perfectly, as plain lemon juice is slightly overwhelming and domineering over the other flavours. Also, adding honey to the dressing helps to balance the tangy and sour pomegranate taste. Because honey is too dense to add as it is, we warmed the juice mixture over low heat, and stirred in the honey with spices until it dissolved completely. Just a note… the pumpkin and arugula are delicate and fragile, so mix the salad gently and add the dressing right before serving.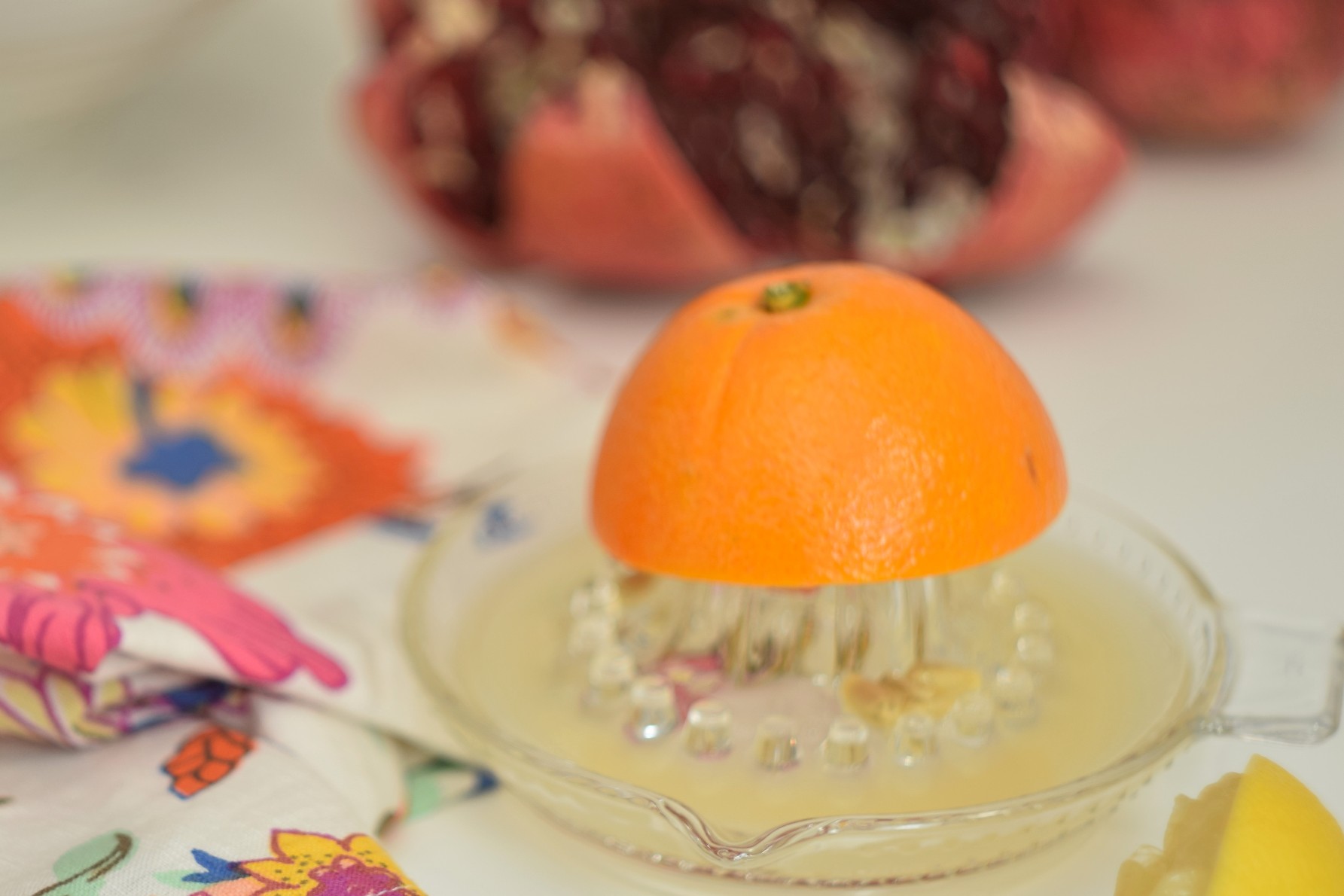 Finally, if you are curious how to quickly seed a pomegranate, take a look at our post: "Pomegranate and Celery Salad"here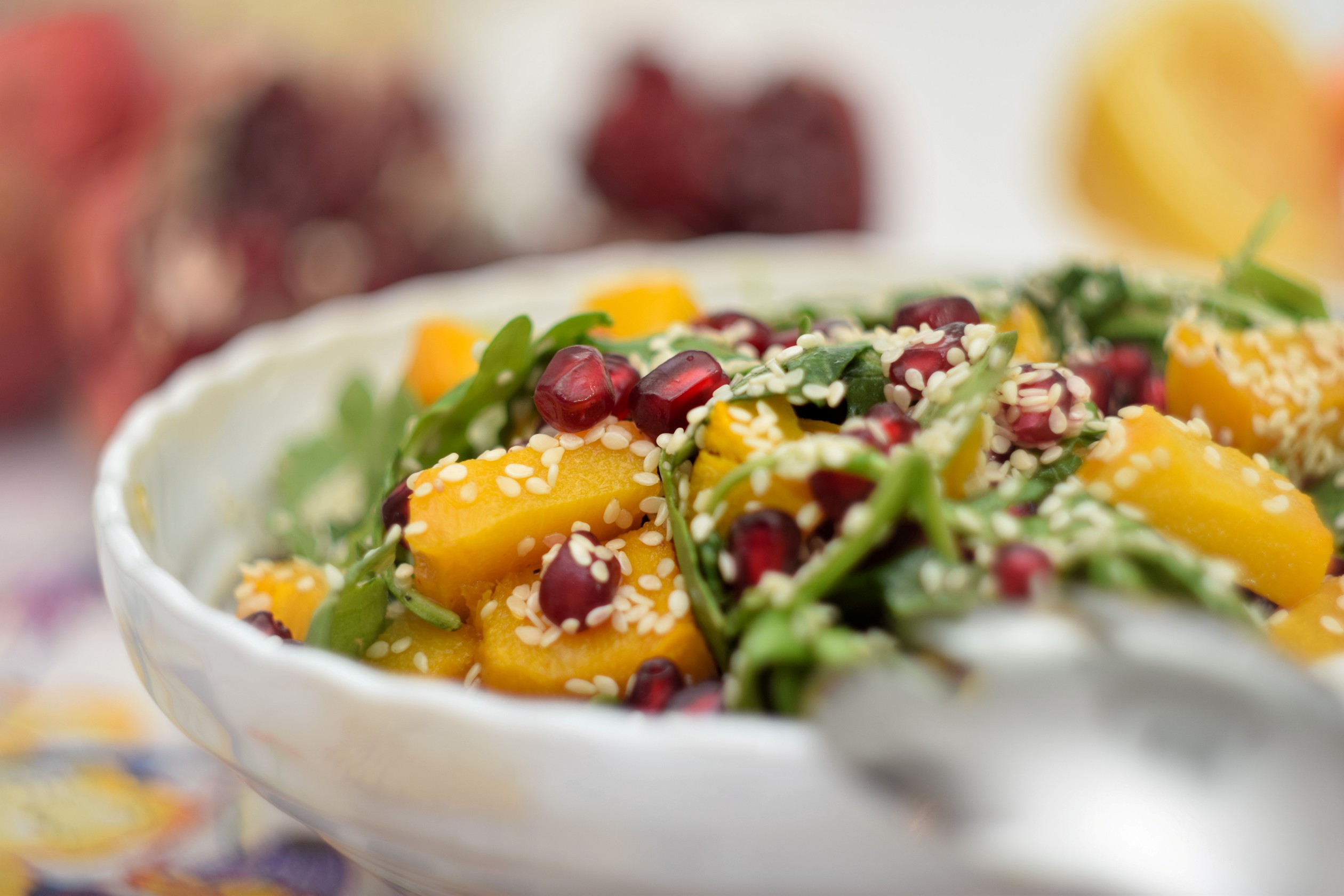 Pumpkin, Pomegranate and Arugula Salad Recipe: serves 6
1kg (2 lb) pumpkin, diced into small cubes of 1cm (1/2 inch)
200 g (1/2 lb) arugula
1 pomegranate, seeded
¼ cup sesame
cayenne pepper
olive oil
For dressing:
juice of ½ lemon
juice of ½ orange
1 tablespoon honey
cinnamon and allspice (or any other pumpkin spice)
olive oil and sea salt
How to make:
Preheat an oven to 200ºC (390ºF) and cover the baking sheet with parchment. Sprinkle pumpkin cubes with olive oil and cayenne pepper, place them on the baking sheet and bake for 15 minutes. Salt the pumpkin cubes and toss them gently, and bake for another 15 minutes until the cubes are tender and slightly browned.
To make the dressing, combine together lemon and orange juice. Whisk half of the juice mixture with olive oil and sea salt. Pour it over the arugula and toss well.
In the serving dish, combine the arugula, baked pumpkin cubes, and pomegranate seeds. Toss gently, as the pumpkin is fragile. Top with sesame.
Warm the remaining lemon-juice mixture over low heat. Add honey and pumpkin spice and stir until the honey completely dissolves. Pour over the salad and serve immediately. Enjoy!
Cheers,
Natalie and Petr.
the Natural to Kitchen Island team