As the pomegranate season is not over yet, we found this easy-to-make pomegranate and celery salad as a great healthy addition to your diet. There is no doubt that seasonal fruit and vegetables are the best options, giving you the fullest flavour, and enriching your diet. Although pomegranates are fruit, they are great in many types of salads because of their tangy and sour flavour. We love this salad as a side dish for roast beef or turkey, and often make it for lunch or light dinner.
Because pomegranates are amazingly rich in anti-oxidants and have a high nutritional value, they are considered to be symbols of health, fertility and even eternal life in many cultures. Native to the Middle East region, they are widely used there in salads, desserts, sauces, on their own, or as pressed juice.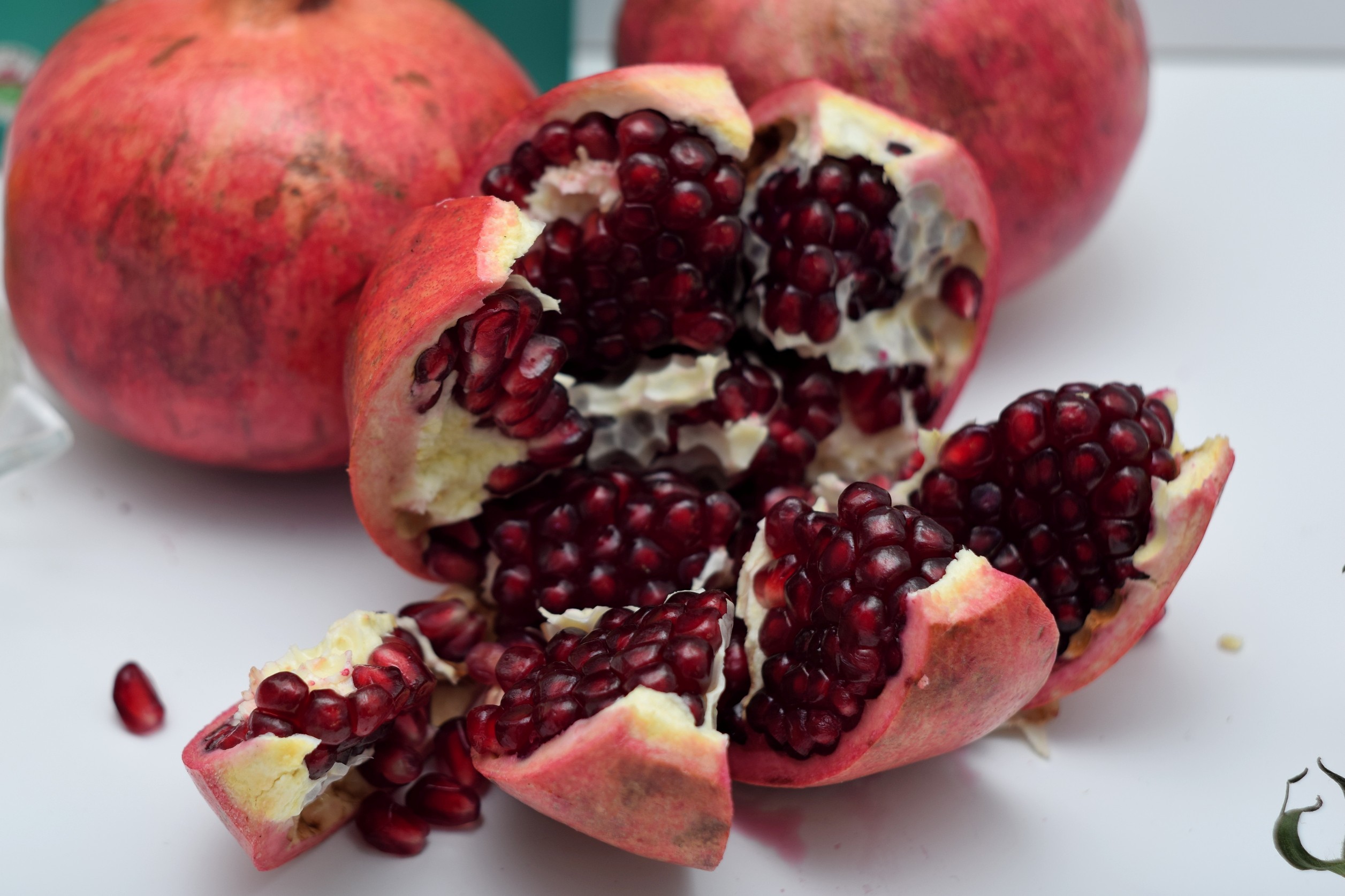 There is a little secret in how to properly seed a pomegranate. Of course you could break it apart and take out the seeds, but it usually ends up being a real mess. The seeds are easily broken, covering the surroundings with juice that is difficult to clean up. We found a much easier, faster way to do it, that we definitely recommend.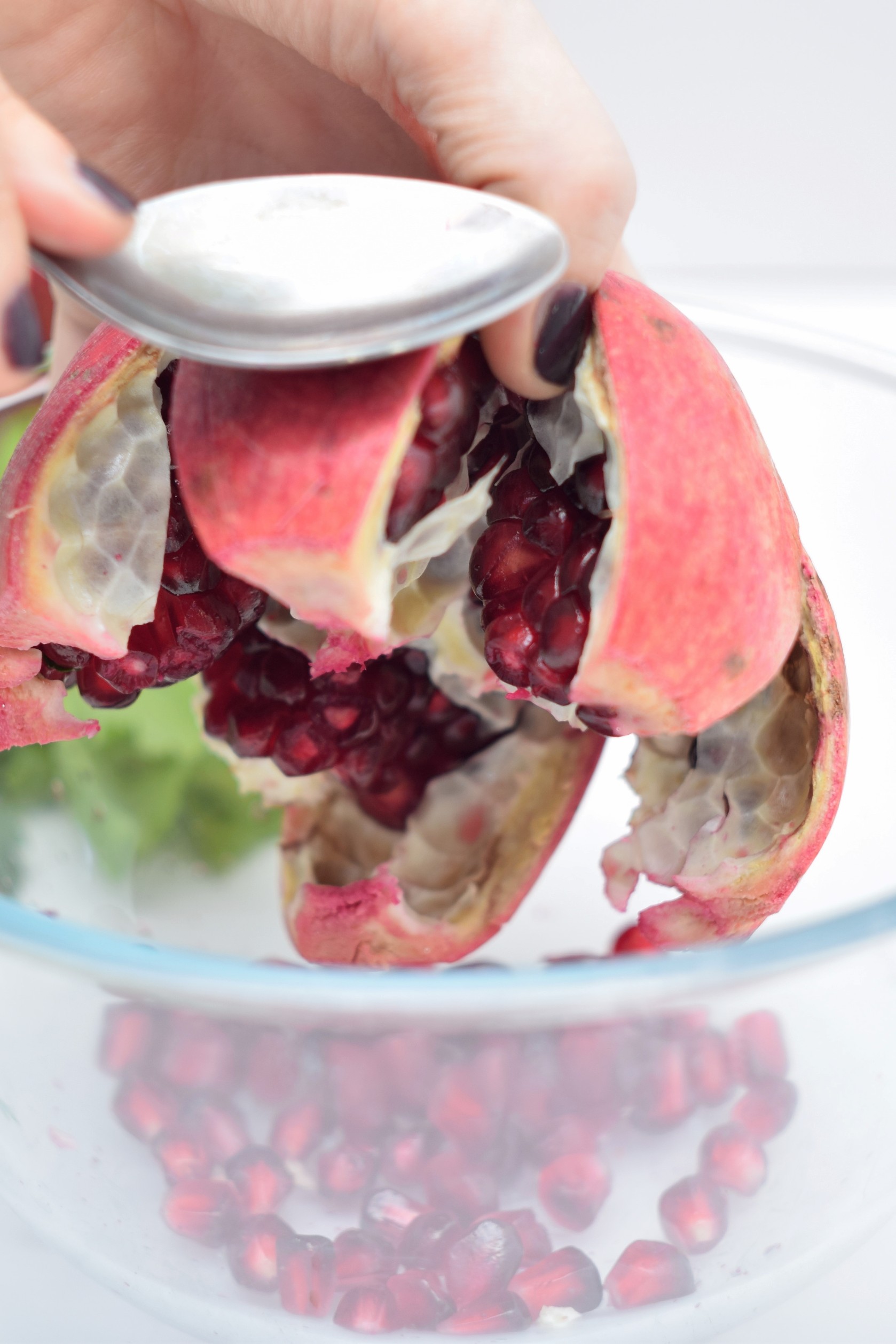 Start off with cutting out the crown of the fruit, making a small inwards cone where it used to be. Then carefully cut through the skin of the fruit from top to bottom, but not into it, making 6 or 8 cuts. Pull the sections open, but do not separate them. If you can, peel off the white membranes covering the seeds. Hold the fruit upside down into a bowl, and tap around the exterior with a tablespoon until all the seeds fall out. This is also a test of whether the pomegranate is ripe or not, because if it is the seeds will separate easily.
Once the pomegranate is seeded, the remainder of the salad is simple and straightforward.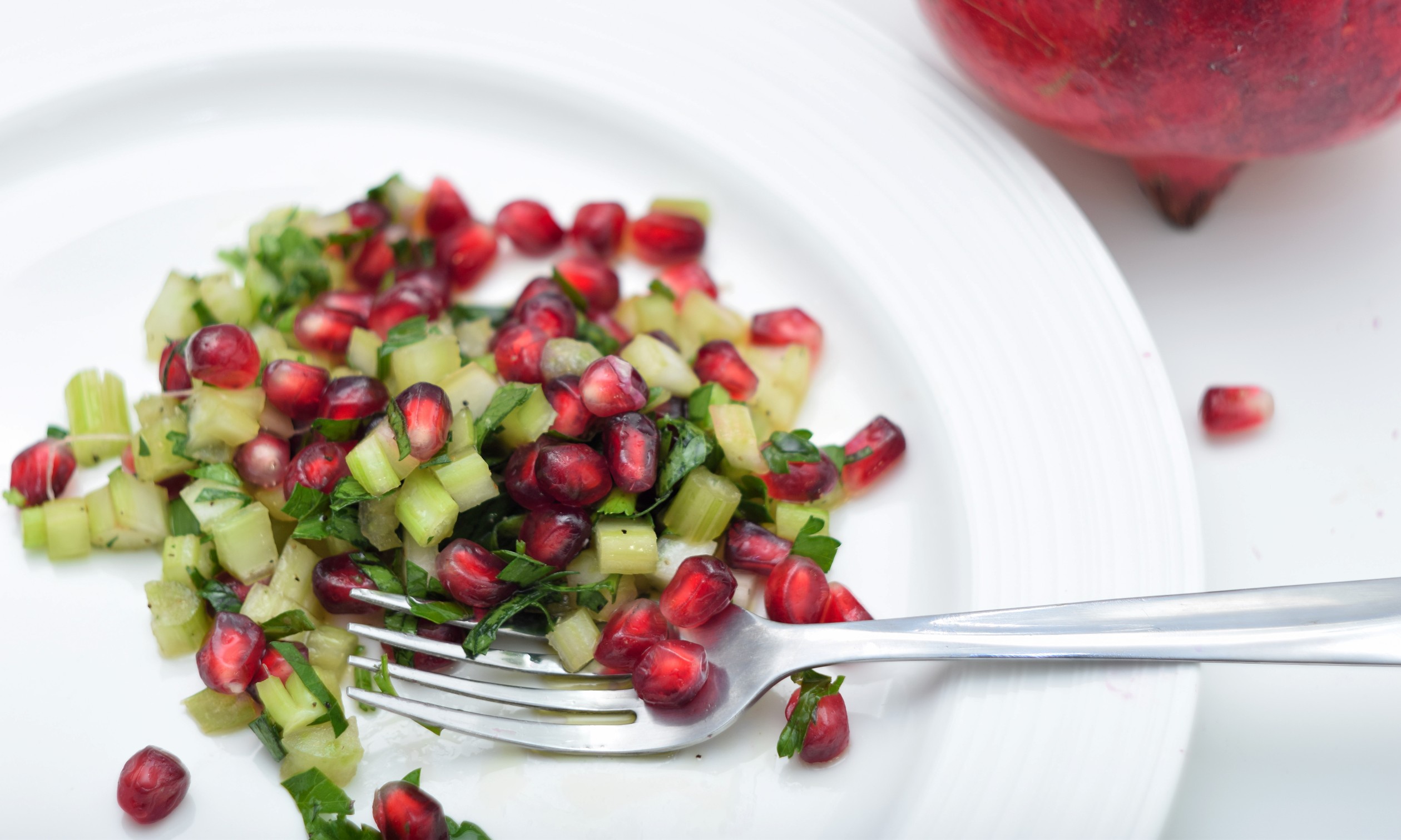 Pomegranate, Celery and Parsley Salad Recipe: serves 3
500g (1 lb) celery sticks
½ bunch of parsley, finely chopped
1 pomegranate, seeded
juice of ½ lemon (or more to your liking)
olive oil, freshly ground black pepper and sea salt
How to make:
To make the dressing, whisk together olive oil, lemon juice, black pepper and sea salt.
Peel the celery, removing the tough strings and cut it into small cubes of 1cm (1/2 inch).
In the serving dish, combine the celery cubes, finely chopped parsley and pomegranate seeds. Pour in the dressing and toss well. Enjoy!
Cheers,
Natalie and Petr,
the Natural to Kitchen Island team