These Polish potato pancakes (also known as "draniki") are a delicious paleo alternative for traditional pancakes. They are crispy on top and soft inside, and are great in combination with sweet and sour fruit. There is hardly any other dish in Polish or Belarussian cuisine that is as popular as this one. This recipe is perfectly in line with a paleo diet, as there are no milk products, flour or sugar added. It is a great option for a solid, hearty breakfast that is appetizing and healthy in nature.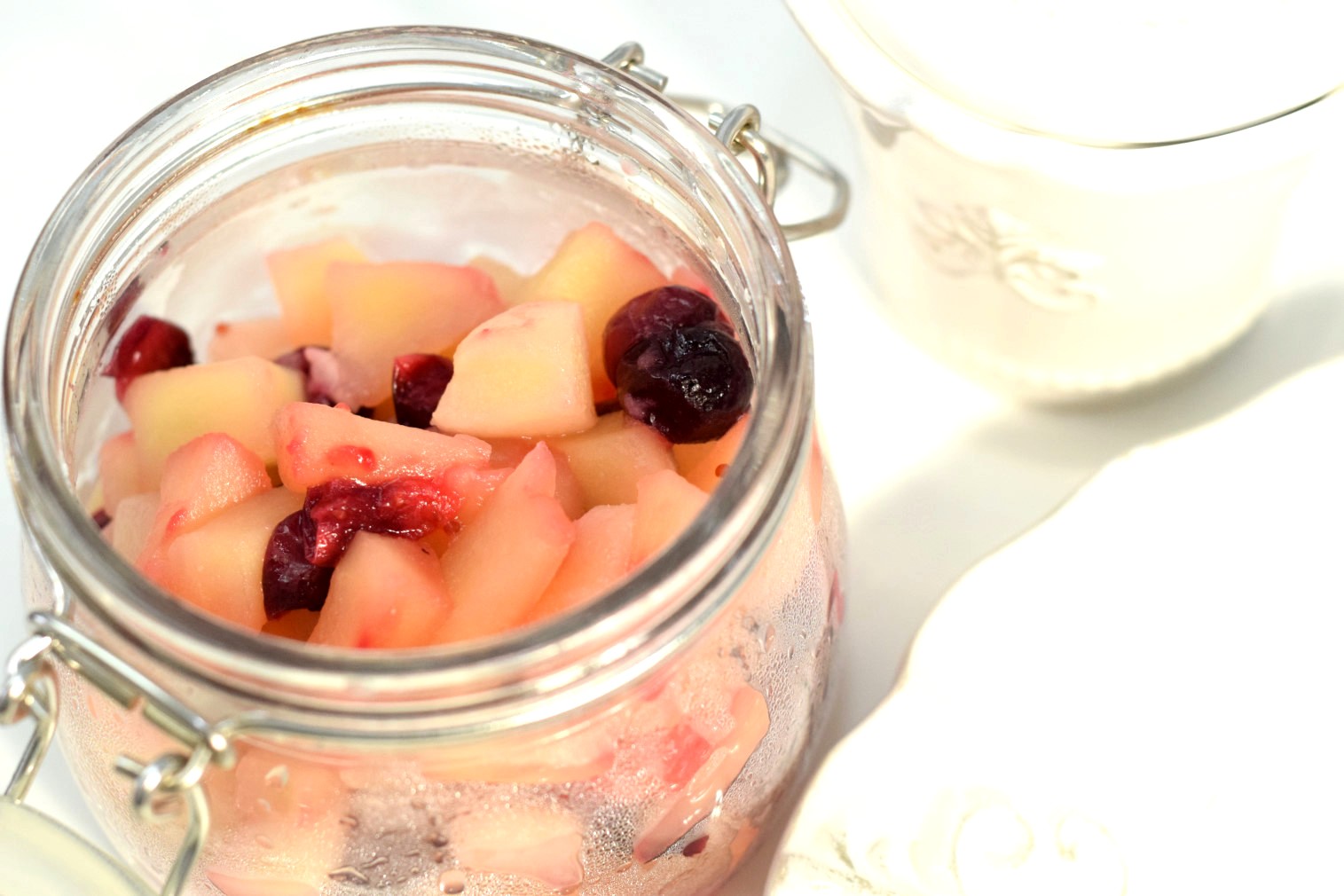 This dish is a great example of European culinary traditions. It uses a few simple ingredients, is rather easy to make and the result is outstanding. If you are visiting Poland or Belarus, all national cuisine restaurants will gladly serve it for you. It is absolutely a must-have dish for all tourists to the region.
The classic Polish potato pancakes are made of potatoes, onions, and 1 egg – just to hold it together. The key step is to puree the raw vegetables into a uniform, liquid mass. It must have been a challenge in ancient times, without food processors! Nowadays, the easiest method to do this is to use a fine shredding disk. Start with the onion, and add potatoes to it. You should have a smooth, uniform, white puree mass. Without onions the pureed potatoes will darken quickly, which doesn't affect flavor but hurts the presentation. This puree will be rather liquid, so you need to drain the excess water from the batter. Usually, this is done through multiple layers of cheese cloth. We use a nut milk bag, which is just as effective.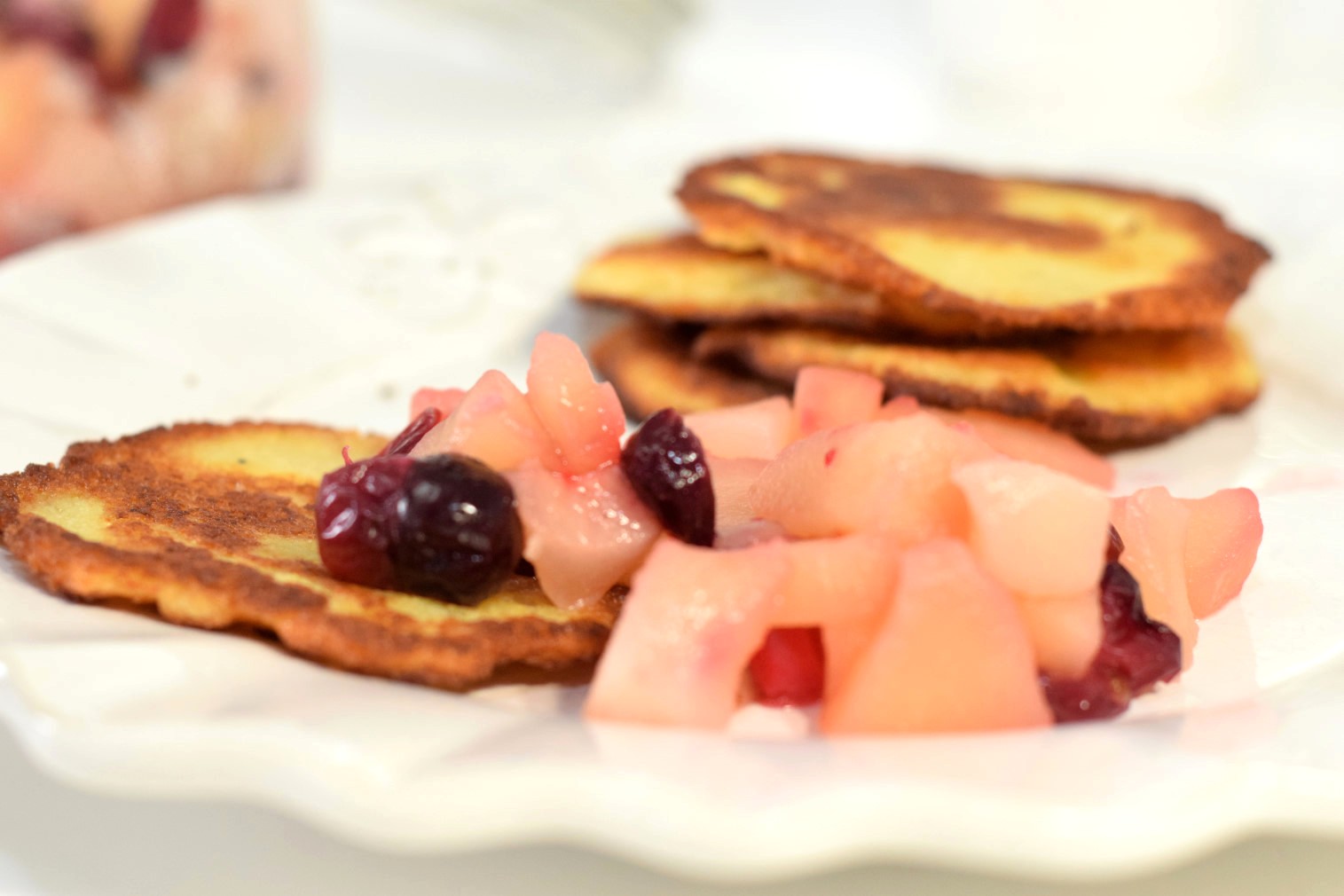 Traditionally, you'll find this dish served with kefir or sour cream and salt. Simple, yet delicious! We like to accompany it with a fruit sauté. The crispiness of the potato pancakes goes well with the juicy texture and sweet and sour taste of sautéed fruit. This way, the recipe is also paleo, as there is no sugar added to the fruit. Last but not least, the Polish potato pancakes are at their best when served immediately, while still hot.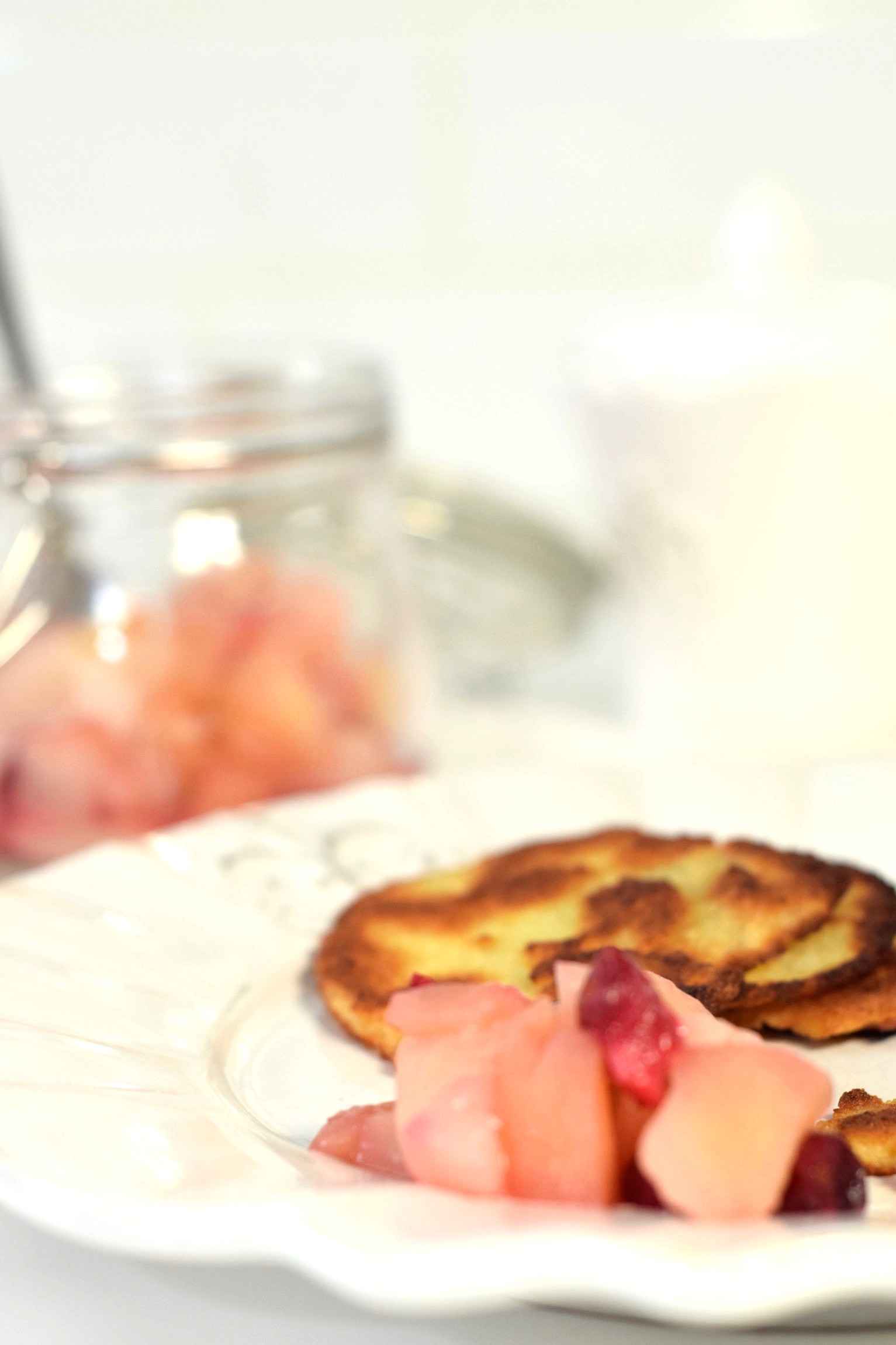 Polish Potato Pancakes with Fruit Sauté Recipe: serves 3
For potato pancakes:
500 g (1 lb) raw potatoes, peeled
1 medium-sized yellow onion (100 g), peeled
1 egg
4-5 tablespoons olive oil (or sunflower oil)
sea salt to taste
For fruit sauté:
1 sweet apple (Ambrosia, Gala or Fuji), peeled and diced
1 pear, peeled and diced
1/8 cup cranberries (optional)
juice of ½ lemon
a pinch of nutmeg and cinnamon
How to make:
Lightly drizzle diced apples and pears with lemon juice. This stops the fruit from darkening.
Place diced fruit into a sauce pan. Add 3-5 tablespoons of water, cover with lid and simmer on low heat for approximately 5 minutes.
When fruit is soft, add cranberries. Cover with lid again and sauté for another 3-5 minutes. At this point, the cranberries will burst and turn the sauté pink. Take the fruit off the flame, add nutmeg and cinnamon and stir carefully. The fruit sauté is now ready and can be set aside.
Puree the onion and potato into a smooth, liquid mass. The best way to do this is using a shredding disk in a food processor. To make sure the mass doesn't darken, start with the onion and add potatoes afterwards.
Drain off all the excess liquid from the onion and potato puree. The puree should be just dry enough to hold its shape when poured on a pan, but not drier. Its texture should be a bit thicker than regular pancake batter. Place it into a bowl, and mix well with one egg and sea salt to taste.
Heat up oil in a frying pan. Place small pancakes (1 tablespoon of batter per pancake) onto the pan and fry for approximately 3 minutes on each side. Serve the potato pancakes right away, accompanied by the fruit sauté. Enjoy!
Cheers,
Natalie and Petr,
the Natural to Kitchen Island team