Thanks to this Korean carrot salad, it took us a minimal amount of time to put together the elegant dinner above. This colorful, spicy, aromatic salad elevates a simple meal to the next level and gives it that exciting East-Asian cuisine twist. What is best, this delicious recipe is perfect for batch cooking. You can make a whole bunch and keep it refrigerated, ready whenever you need it. The salad's slightly piquant, fresh flavor makes a perfect garnish for meat, particularly chicken. We tried a simple Provencal roasted chicken recipe and added the salad as a side-dish. Whether you're putting together a dinner, or just need a healthy vegetable snack, having a nice batch of this Korean carrot salad will help you out a lot!
The salad has a sharp, fruity-sweet taste. It's bright in terms of color, flavor, and even its aroma! This effect is achieved with a significant amount of fragrant spices – paprika, coriander and cayenne pepper. Be careful when adding cayenne pepper, especially if you don't particularly like spicy food. You only need a dash of cayenne for a big batch of the salad.
In terms of the oil, sesame oil is the best to use, mostly due to its distinct aroma and flavor. The sesame oil adds the exciting note present in most East-Asian dishes, accentuating the natural taste and forming an interesting combination. Another option is to substitute sesame oil with olive oil, which would make the dish's flavor profile slightly more Mediterranean. Whichever type of oil you go with, heat it right up to its boiling point, but not beyond. Overheating the oil will destroy most of its nutritional content, and can make it taste a little burnt.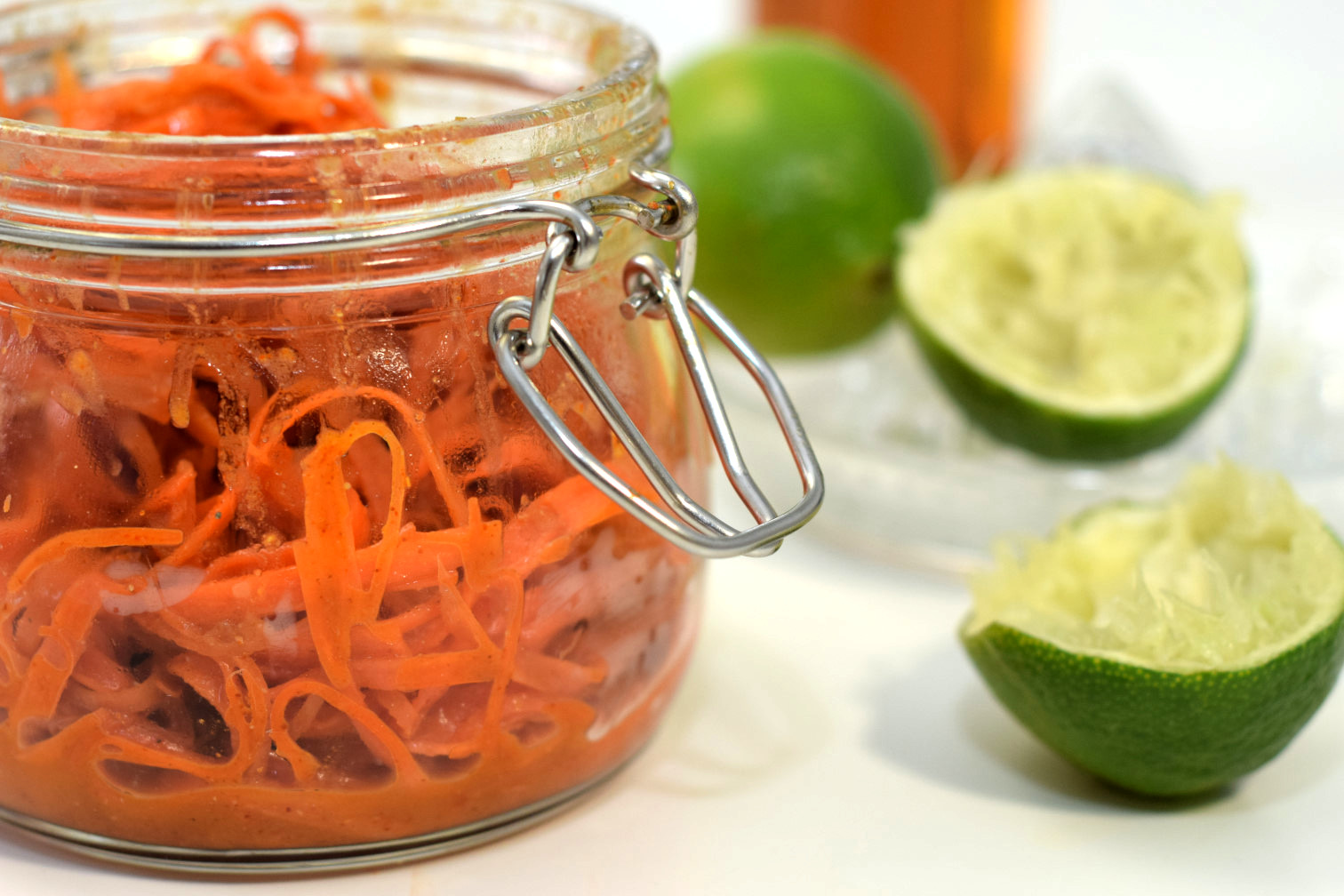 Once the oil is hot, pour it directly over the heap of spices in the salad. This will help to blend in the flavors faster and more thoroughly. For this Korean carrot salad, it's important that the carrot strips marinade in, and absorb all of the different flavors. Also, note that the crushed garlic is added after the oil has been mixed in, not before. This is important… Let the oil cool down a bit in the salad before you add the garlic. If you pour hot oil directly on garlic, the garlic will turn a sad shade of grayish-green. While this doesn't affect the taste, it will certainly affect presentation.
Set the salad aside for at least 1-2 hours. It is best to leave it in a tightly-closing jar on the counter top. Afterwards, place it in the refrigerator, where you can keep a batch for up to 2 weeks. Whenever you're putting together a dinner, looking for a good garnish, or just need a light snack or to-go option, a batch of this fragrant Korean carrot salad will be there to help you out. As a final serving touch, you can sprinkle some sesame seeds on it, or top it off with fresh cilantro. Enjoy!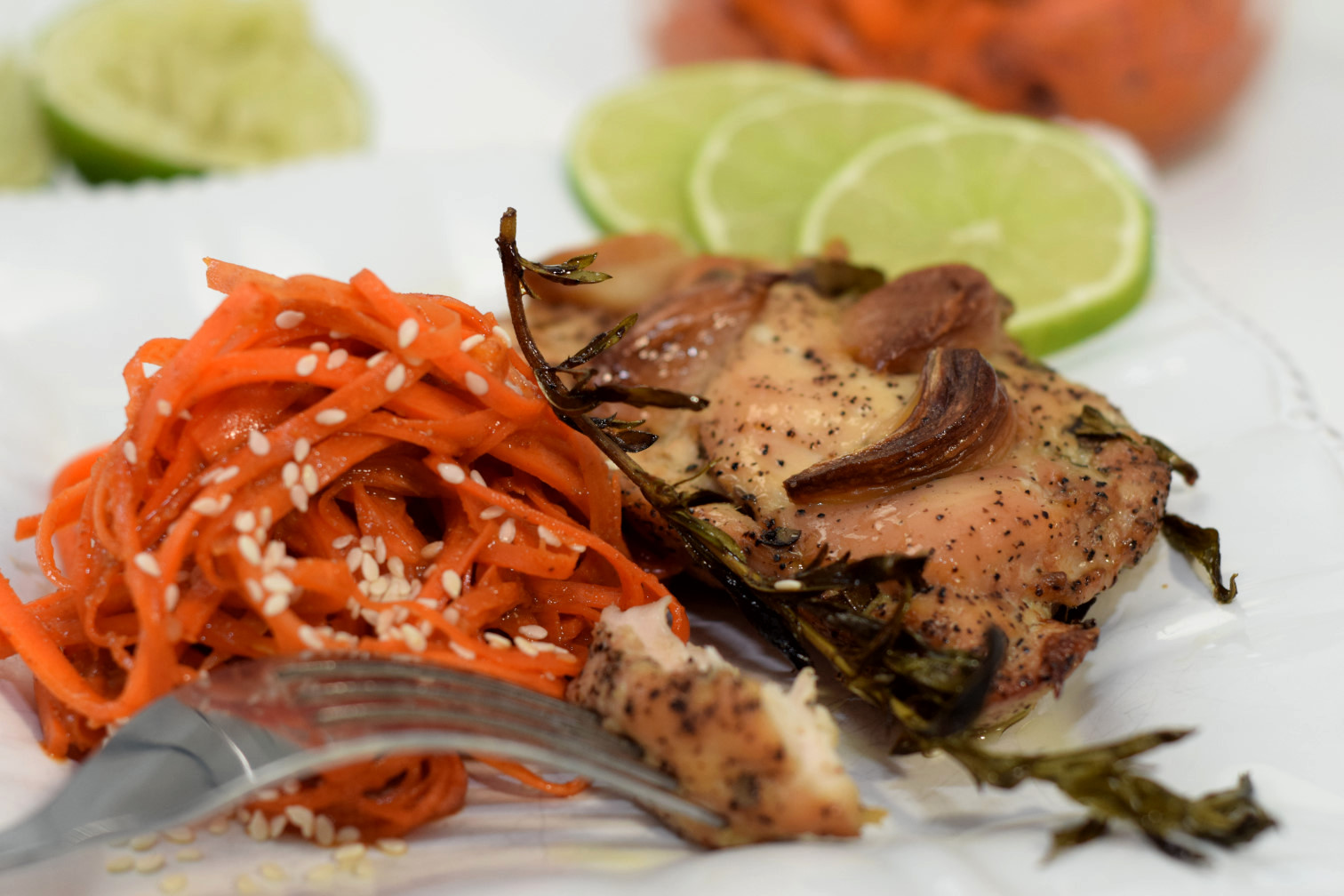 Piquant Korean Carrot Salad – Batch Cooking Recipe: makes ½ kg (1 lb)
½ kg (1 lb) carrots, sliced into spaghetti stripes
125 ml (1/2 cup) sesame oil, or olive oil
2 cloves garlic
1 tablespoon sugar
juice of 1/2 lime
1 teaspoon paprika
1 teaspoon coriander
cayenne pepper and sea salt to taste
How to make:
Slice the carrots into long, thin spaghetti stripes. Using a mandolin slicer is the easiest option.
In a bowl, mix thoroughly the carrot spaghetti stripes with sea salt, sugar and lime juice. Mix until the carrot stripes become visibly juicy.
Make a small well in the middle of the mixing bowl, and add paprika, coriander and a dash of cayenne pepper.
Preheat sesame oil in a pan right up to its boiling point, but do not let it boil. Once the oil is hot, pour it over the spices in the middle and mix well.
Crush the garlic and add it to the carrots. Mix the salad thoroughly again.
Once the salad is ready, pack it into a tightly-closing jar (the carrots should be submerged in the juice and oil mixture). Leave the salad at room temperature for 1-2 hours so the flavors are absorbed and blended. You can serve it right after, or keep it refrigerated for up to 2 weeks. Enjoy!
Cheers,
Natalie and Petr,
the Natural to Kitchen Island team