The berry season is finally here, and this no bake strawberry dessert is the perfect way to make use of fresh local strawberries. With only five ingredients and no baking, this no bake strawberry dessert is our favorite summer treat. It is completely hassle-free as it literally makes itself. Even with a busy schedule, you can easily fit making of this dessert in. It is delightful, juicy, perfectly sweet and slightly tart. It looks absolutely beautiful and festive with its marbled texture. Even better, the berries are all fresh which preserves all their nutritional value. And don't forget that it's gluten free!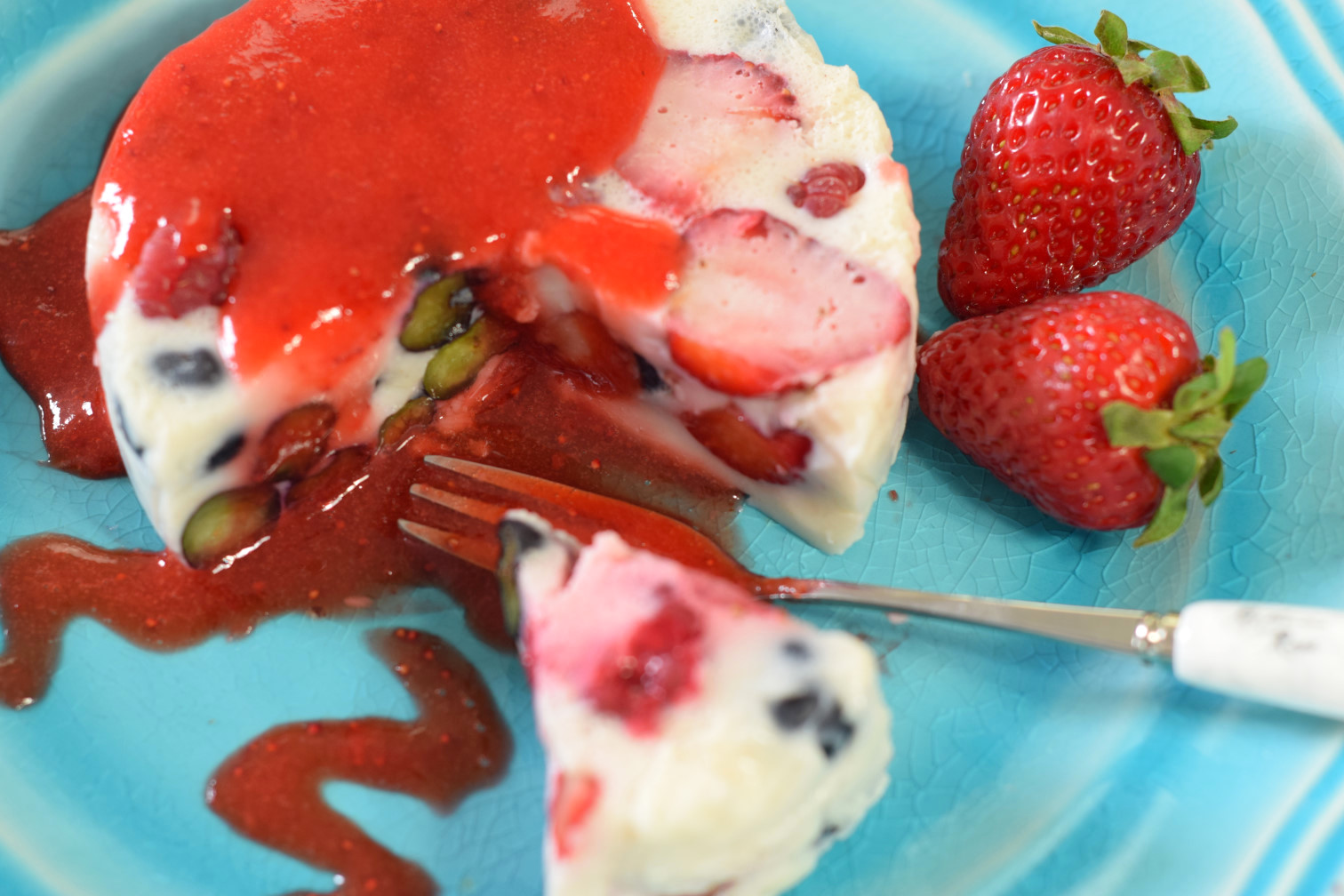 When someone says that healthy food cannot be delicious, prove them wrong with strawberries. These delicious berry gems are packed with phytonutients and have strong anti-oxidant properties. One cup of fresh berries contains the required daily value of vitamin C. We combine the strawberries with Greek yogurt, a natural probiotic. To make this recipe the most nutritious, choose only natural yogurt, without added starches or preservatives. Natural yogurt should only contain milk and live bacterial culture.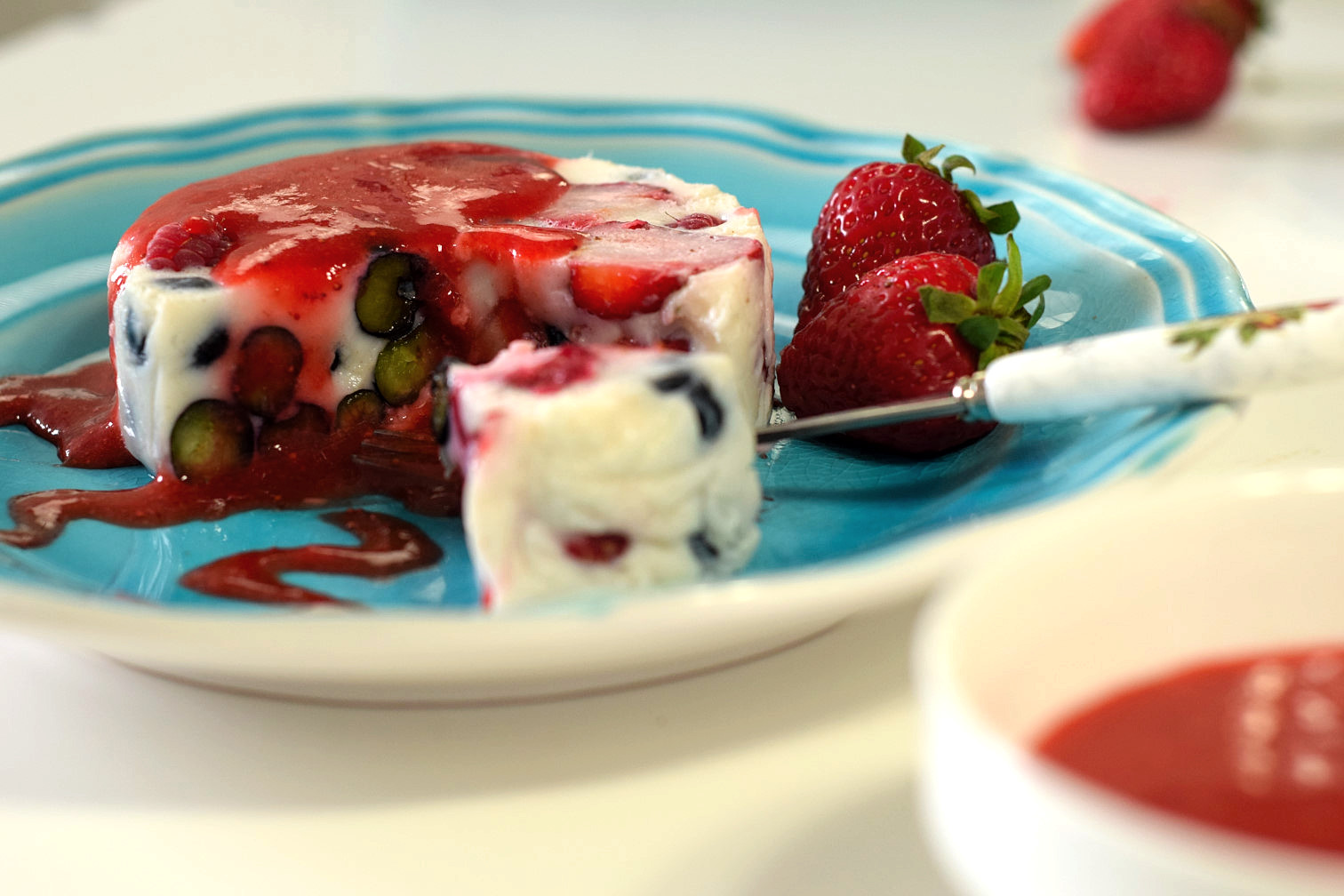 Another alternative is to use kefir, to which all the yogurt recommendations apply. Kefir usually has a more sour flavor, so you might need to add a bit more sugar. In fact, products like natural yogurt or kefir can differ in flavor even within one brand, just because it is a natural process. That's why we always taste the yogurt first and adjust the sugar amount. What we have in the recipe is an approximate amount that works well in most cases.
Some final notes on preparation of this no bake strawberry dessert… It is easiest to make the dessert in a round bowl, like a medium-sized salad bowl. The dessert will flip over onto the serving plate effortlessly. If the bowl has edges, the dessert might stick and break into several pieces. It happened to us once… Very devastating experience….This is how we flip the dessert over onto a serving plate. First, pull the food wrap slightly up, just a little bit. Now, cover the bowl with the serving dish and holding both, flip them over quickly. You'll have the dessert on the plate, covered with the wrap. Carefully take the wrap off, and enjoy!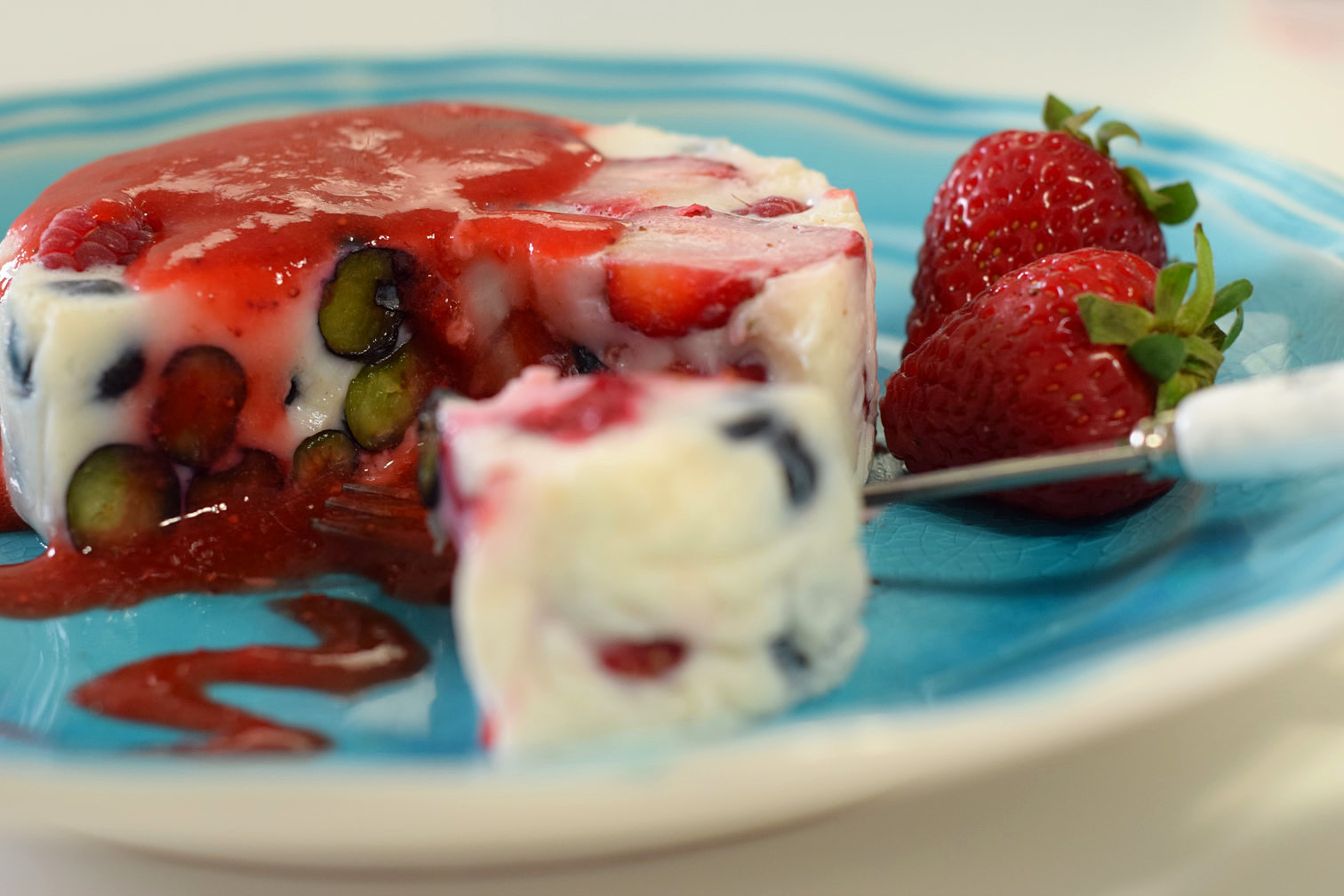 No Bake Strawberry Dessert with Greek Yogurt Recipe: serves 3
For dessert:
1 ½ – 2 cups of fresh berries (strawberries, blueberries, raspberries)
1 ¼ cup Greek yogurt (or kefir)
60 g (1/4 cup) sugar
½ teaspoon cinnamon
1 tablespoon gelatin. Check the product instruction – you need enough gelatin for 2 cups of liquid
For fresh berry sauce:
1 cup fresh strawberries, with stems removed and cut in half
1 tablespoon sugar
How to make:
Wash berries thoroughly and dry with paper towel. For strawberries, remove the stems and cut the berries into quarters.
Lay out the interior of a medium-sized bowl with plastic food wrap. It should be flush with the inside surface, and let the wrap go over the sides of the bowl.
Blend together Greek yogurt, sugar and cinnamon, then mix in the gelatin, as directed on the product package.
Pour a thin layer of the blended yogurt into the bowl, then add the berries and pour over with the remaining yogurt. Ensure the berries are fully submerged to form a smooth surface. Put the dessert in the fridge and let it sit overnight.
Make the fresh berry sauce just before serving, by blending the strawberries with one tablespoon of sugar.
Carefully flip the dessert over onto the serving plate, top with the fresh berry sauce and enjoy!
 Cheers,
Natalie and Petr
the Natural to Kitchen Island Team