If you are going for a picnic, try out our delicious Moroccan pepper salad! Picnics are what we love summer for. This salad is a healthy, fresh twist to balance out any grilled meat dish. The sweet roasted pepper and ripe tomatoes are ideally paired with a little lemon juice. It's juicy, refreshing and lightly pungent with garlic. Not only is it vibrant and aromatic, it packs a whole lot of vitamins and antioxidants.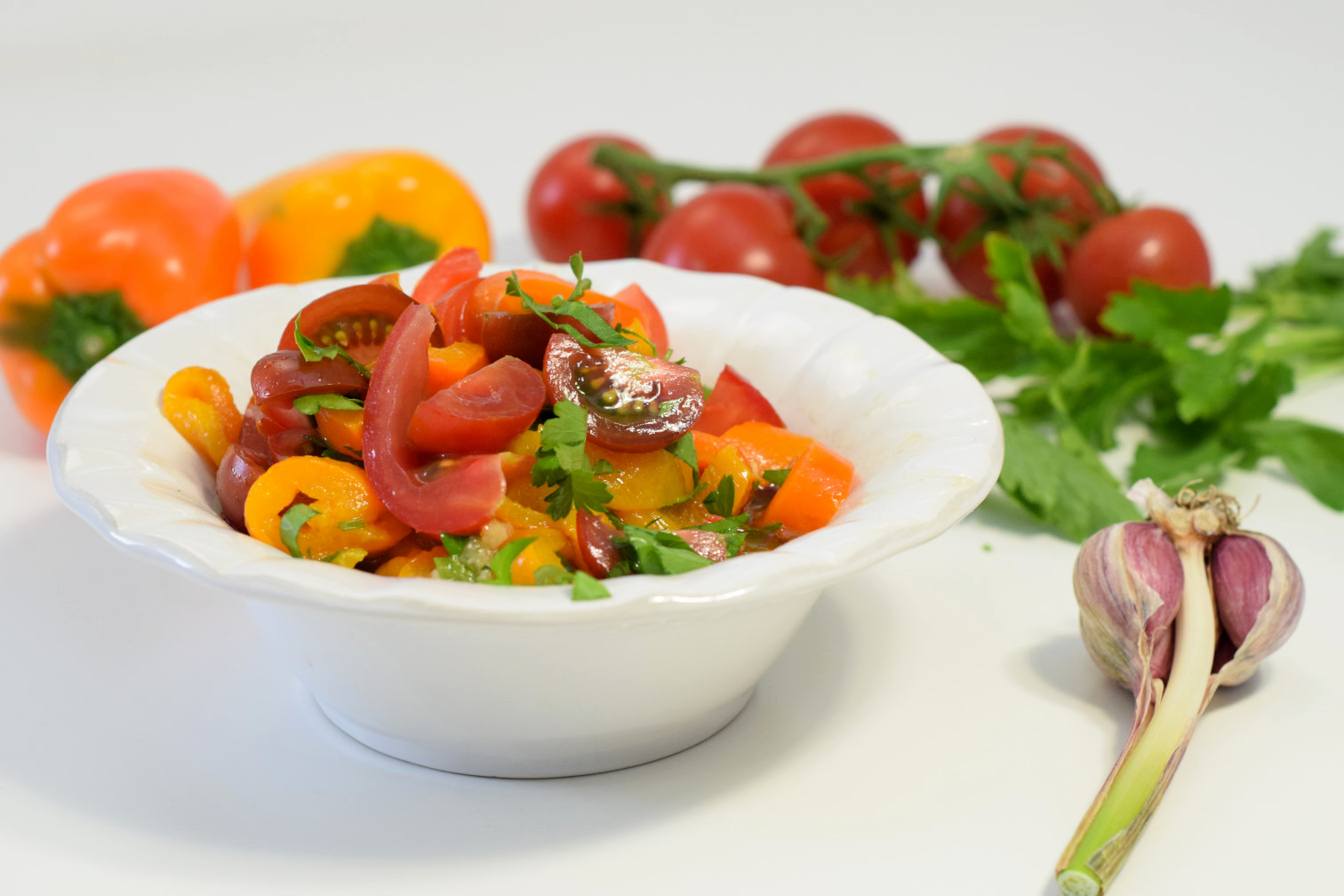 The centerpiece of the Moroccan pepper salad is the roasted pepper. It makes all the difference. Compared to fresh pepper, roasted pepper is more delicate, more juicy and sweeter. As well, baking emphasizes its' natural flavor and intensifies it. Baked pepper will have a lot of juice inside – make sure to save it! This juice is an ideal base for the dressing. It's important to peel the roasted pepper, as you'll notice the outer layer is rough and film-like. Once the pepper is baked, it comes off in one effortless motion.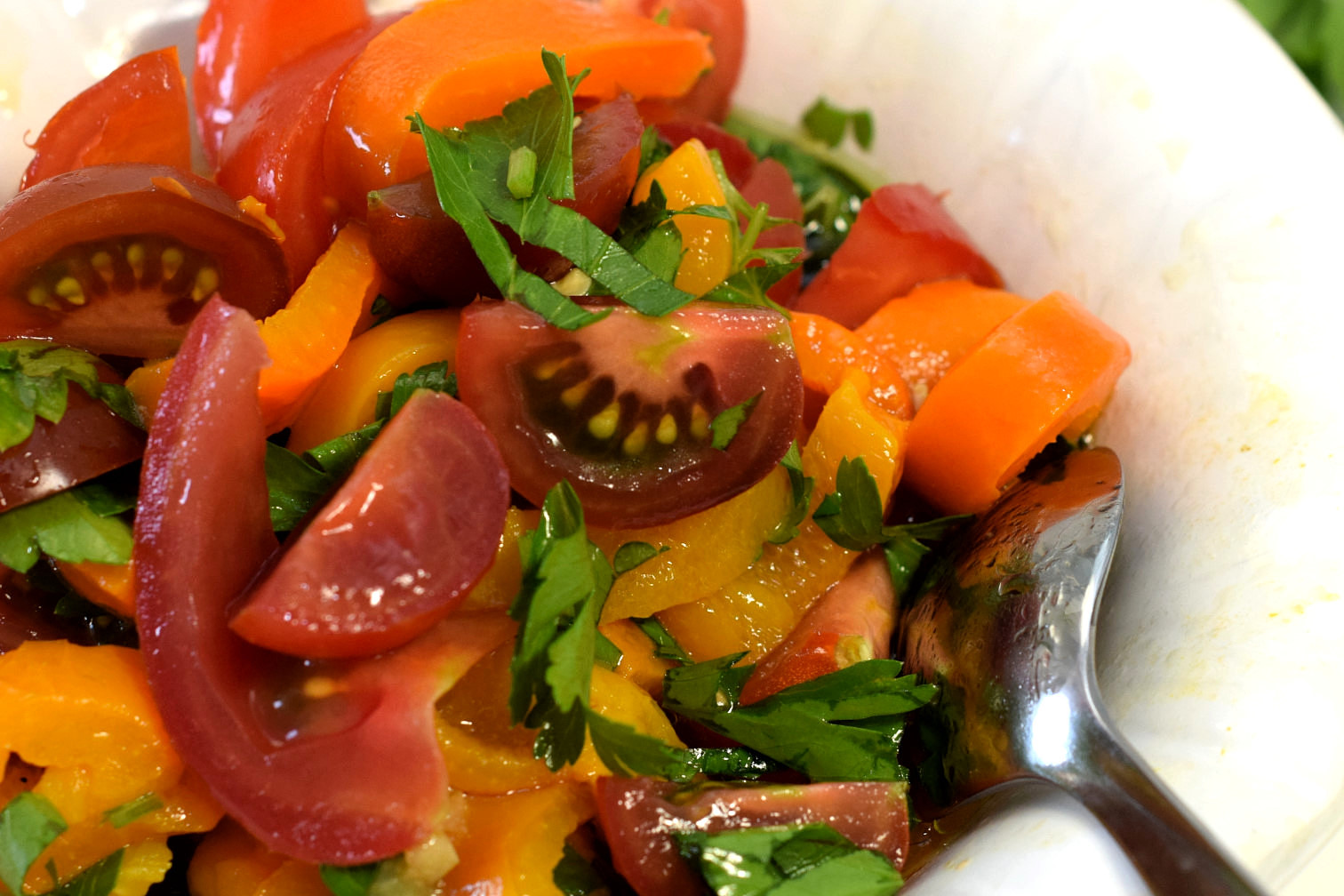 Speaking of preparation, it's beautifully simple. Just mix everything together, squeeze some lemon juice, drizzle with olive oil, and you are ready to go. The Moroccan pepper salad is best when it's fresh, so we usually make it at the last moment before a meal. Here's our useful hint: we bake the pepper in advance, like the night before and leave it on the counter to cool properly. Don't peel it until right before making the salad, and make sure it's at room temperature at most when you add it.
I hope you enjoy it as much as we do! It's:
Vibrant
Refreshing
Simple to make
Perfectly sour-sweet balanced
Great to accompany barbecue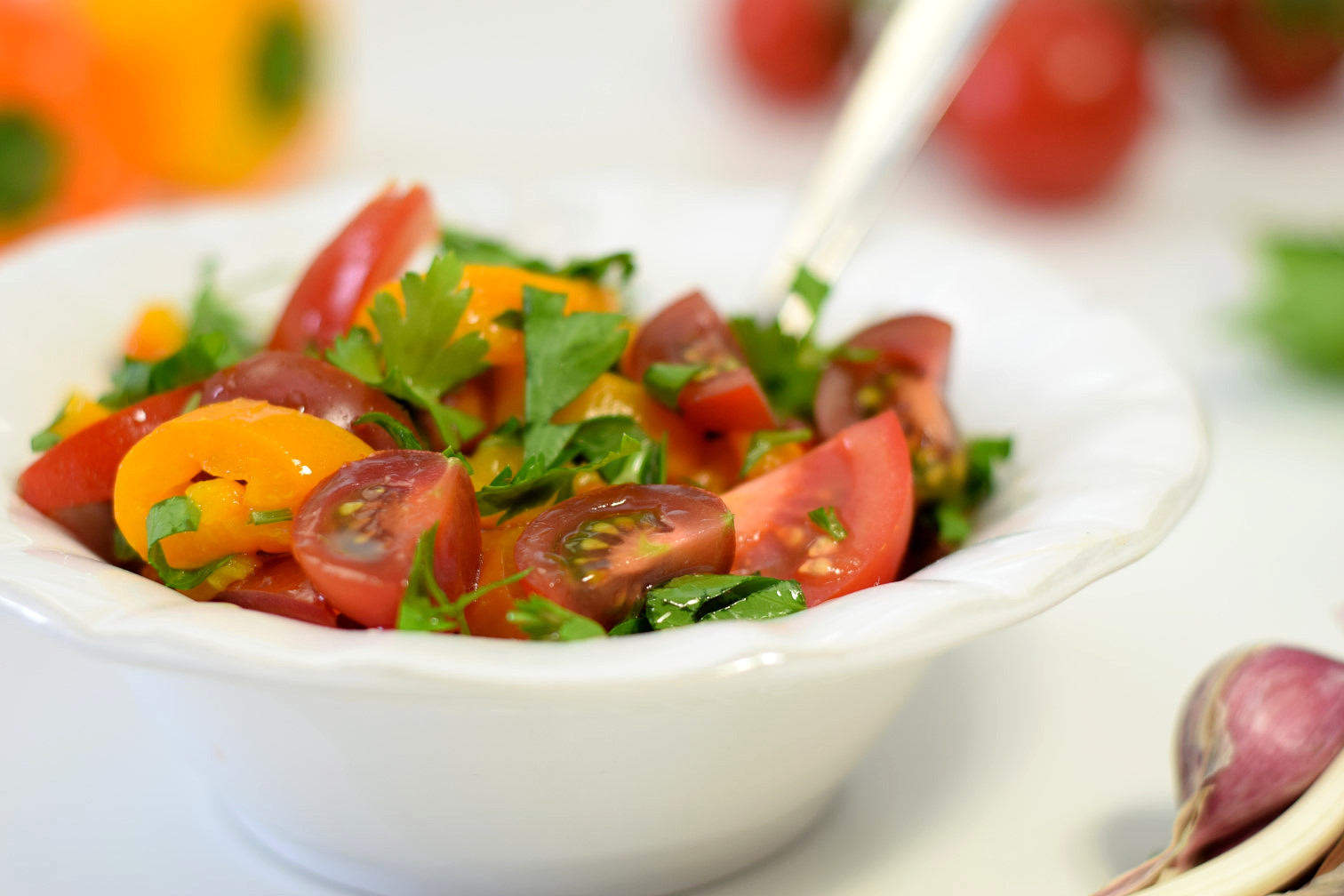 Moroccan Pepper Salad for Picnics Recipe: serves 3
2 orange or yellow sweet peppers, roasted
3 medium-sized tomatoes, sliced
3 branches Italian parsley, finely chopped
1 clove of garlic, crushed
juice of ½ lemon
olive oil
sea salt and black pepper to taste
How to make:
To roast the sweet pepper, preheat the oven to 200 ºC (375 ºF). Place the pepper in a baking dish and put it in the oven for 45 mins. Then take it out and let it cool on the countertop.
Make a small cut on the side opposite to the stem, and drain the juice in the salad dish. Now, peel the firm outer skin and remove the seeds. Slice the roasted pepper flesh into thin strips.
In a salad bowl, combine the roasted pepper, tomato slices, chopped parsley and crushed garlic.
Squeeze the lemon juice overtop and drizzle with olive oil. Season with sea salt and black pepper to taste and mix gently. Enjoy!
Cheers,
Natalie and Petr,
the Natural to Kitchen Island team