The quinoa pilaf with prawns is a spectacular Mediterranean-style dish, very fitting for warm, sunny weather. It is fairly light and does not leave a heavy feeling afterwards. It can also be served hot or cold. With the sweet sauteed prawns, juicy vegetables and aromatic spices you can easily recreate that classic Mediterranean taste. What is even better, this dish is packed with minerals from seafood and phytonutrients from fresh vegetables. Speaking of cooking, it is much easier than it sounds.
Nothing is more Mediterranean than a pilaf or paella with seafood. There is a version of this dish in just about every Mediterranean country, from Turkey to Spain. Although our version is with prawns, you can use scallops, clams, mussels or even squid. If you use mussels or clams, you will have to steam and crack them open first. In this case, add the steaming liquid to the recipe instead of boiling water – it will greatly enrich the flavor.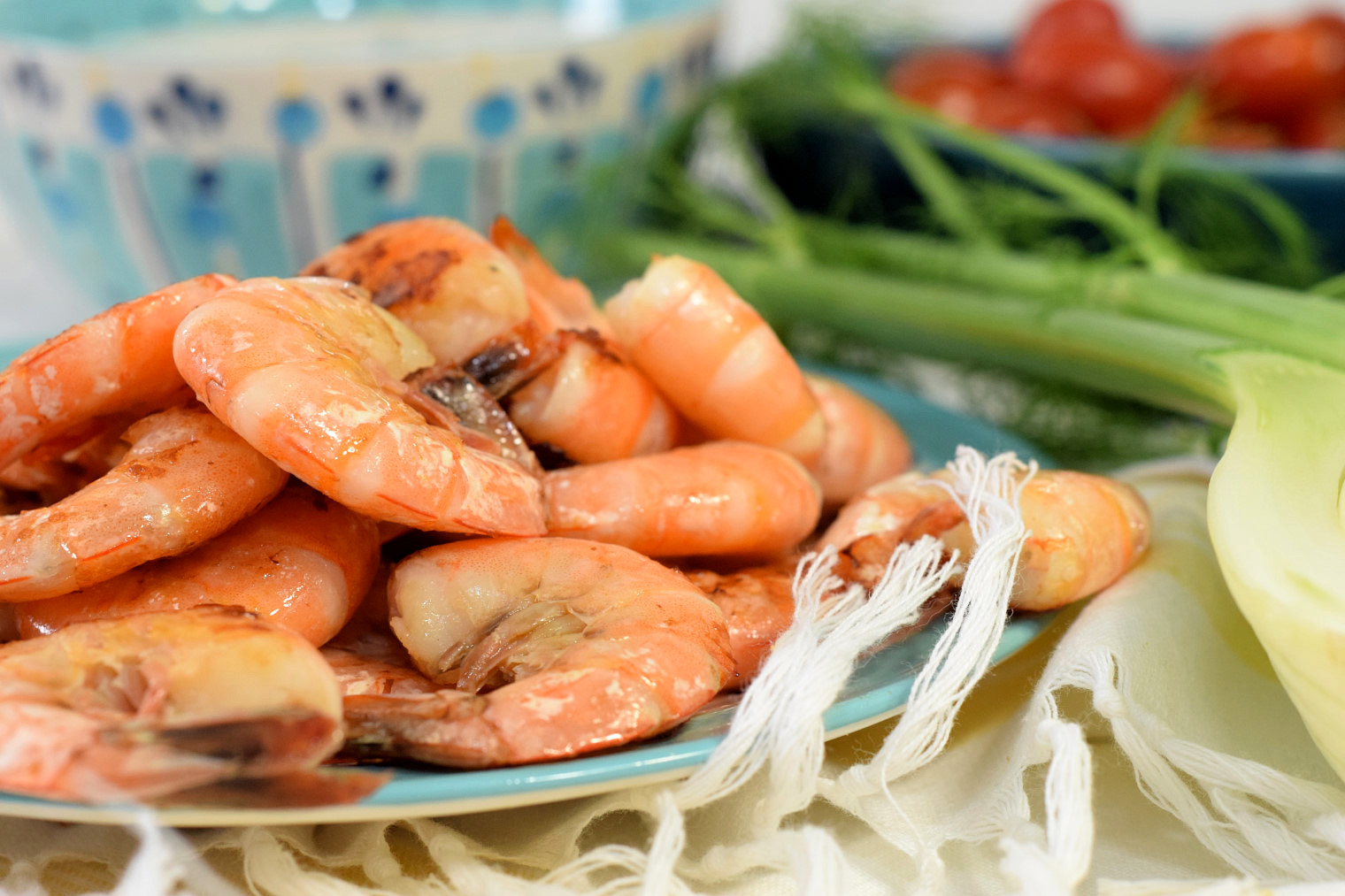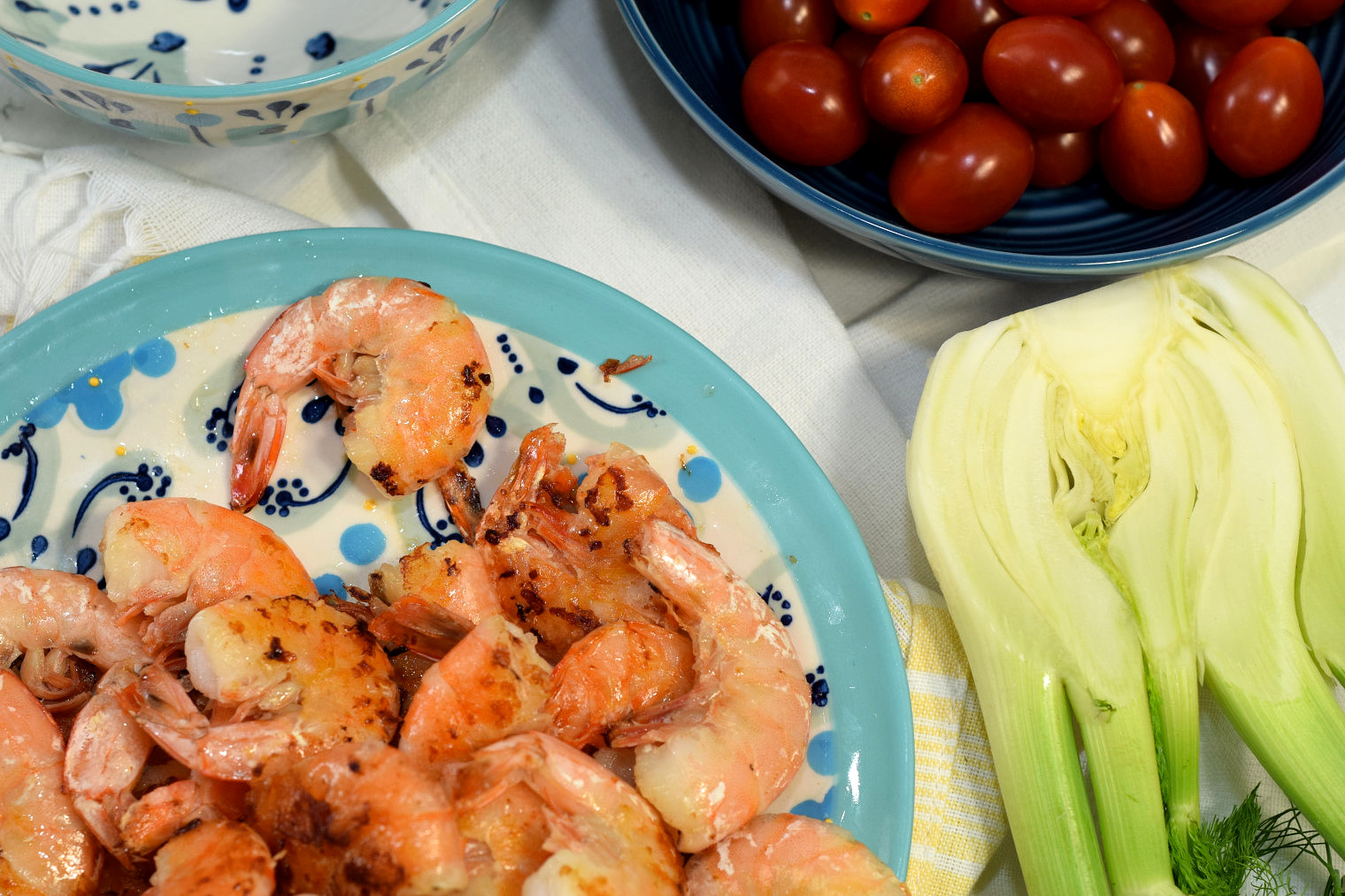 Although the traditional recipe is based on rice, we choose quinoa. First of all, quinoa absorbs flavors ideally, which makes it perfect for a pilaf-type dish. The grain is also unique in its' nutritional content. Most grains are not considered sources of complete proteins, because they lack several essential amino acids – lysine and isolucine specifically. In contrast, quinoa offers all the essential amino acids (protein building blocks). This makes quinoa a unique, plant-based complete protein source.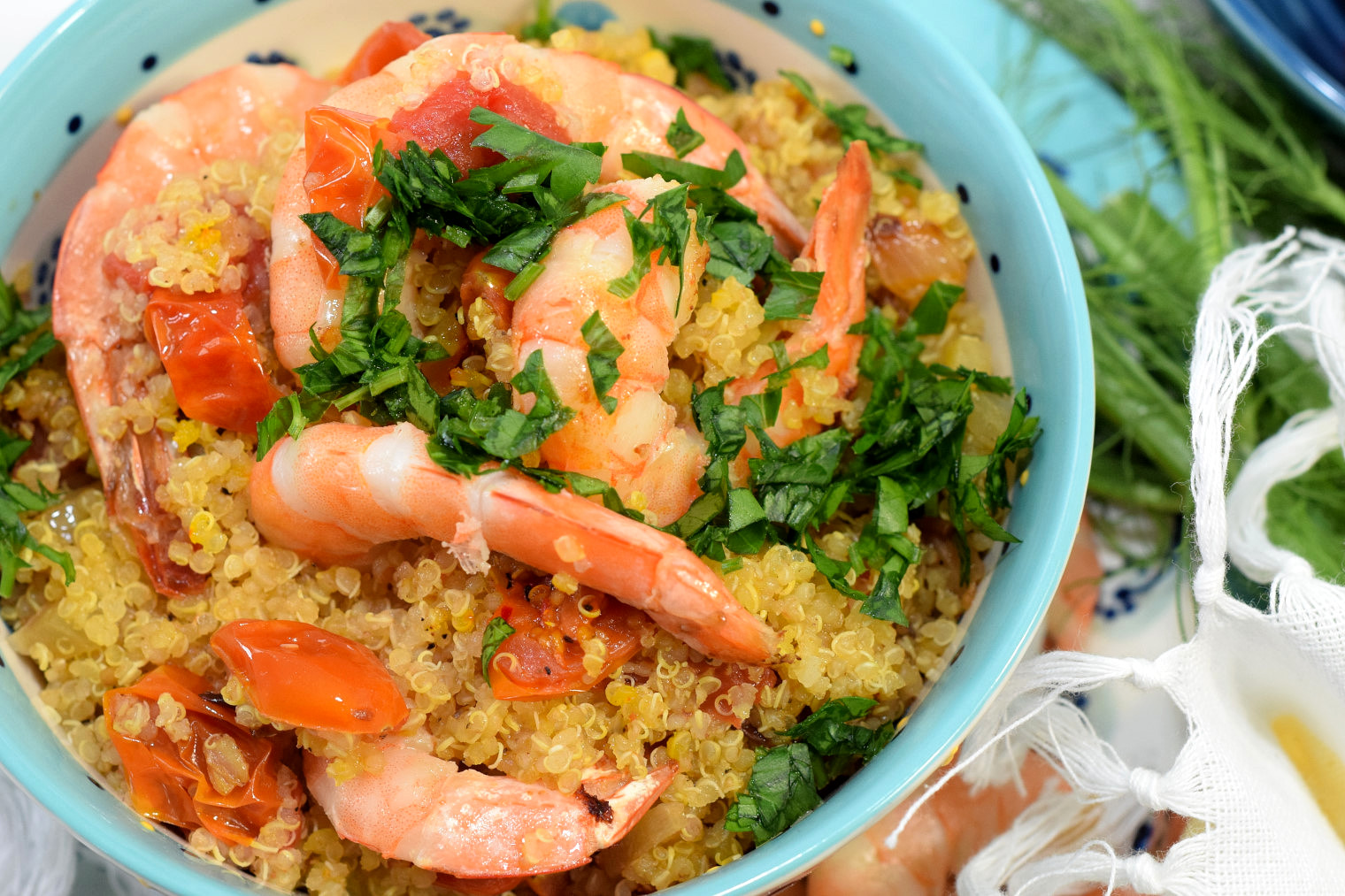 What gives the quinoa pilaf a classic Mediterranean bouquet of flavors are the vegetables and spices. The must-have ingredients are onions, tomatoes, garlic and parsley. Using them is enough to give the dish a Mediterranean hue. We do encourage you to use saffron (if available) as it works very well with seafood. While fennel bring an aromatic sweetness to the flavor profile, it is optional.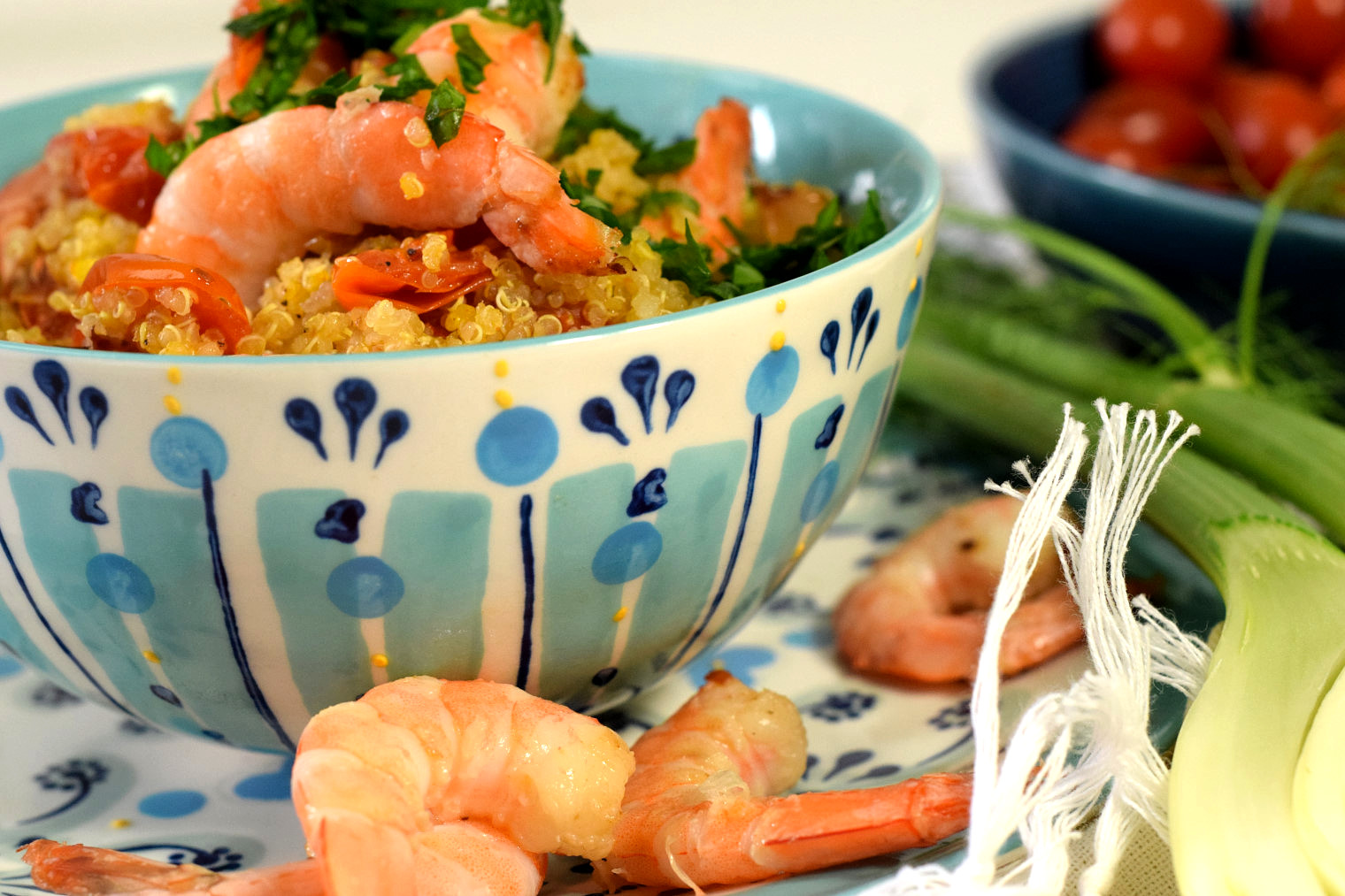 Some final notes… When cooking the prawns, do not peel them in advance. Frying them in the shell makes the pilaf more aromatic, and they are much easier to peel when they are fried.
Mediterranean Quinoa Pilaf with Prawns Recipe: serves 4
1 cup dried quinoa, cooked with 2 cups of water
60 g (¼ cup) unsalted butter
400 g (1 lb) shrimp or prawns, unpeeled
1 medium-sized onion, finely chopped
2 cloves garlic, crushed
1 small fennel bulb, finely chopped (optional)
2 large tomatoes, peeled and finely chopped
fresh Italian parsley
saffron, sea salt and ground black pepper to taste
How to make:
Cook the quinoa with 2 cups of water for about 15 minutes until it's ready (until the grains are translucent), and set aside.
Melt the butter in a large and deep pan over medium heat. Place the prawns, unpeeled into the pan and saute for approximately 2 minutes on each side. When ready, remove them from the pan and peel.
Into the same pan (without washing), add the onions and garlic and saute. Stir occasionally and cook until they start changing color – it usually takes us about 5 minutes. Now add the chopped fennel and tomatoes, and saute for another 5 minutes. Season with saffron, sea salt and black pepper to taste. Add the cooked quinoa and stir it together well. Then, pour in 1 cup of boiling water, cover with a lid and cook over low heat for about 10 minutes, until the water is absorbed.
Place the peeled prawns on top, cover with a lid and saute for another 5-7 minutes.
Remove from the heat, garnish with fresh Italian parsley and enjoy!
Cheers,
Natalie and Petr,
the Natural to Kitchen Island team