We recently discovered that this matcha green smoothie is a great way to add more greens to your diet. Do you know the feeling when you are just tired of the same green salad every day? We definitely did. This is how we came up with the idea to blend the salad, and drink it as a smoothie. Combined with juicy fruit, the matcha green smoothie is so refreshing! Pineapple gives it that ideal sweet and sour flavor, while the banana and almond butter provide a smooth, creamy base. With this easy to make smoothie, you will have the entire spectrum of benefits from fresh greens, and a completely new flavor experience! One final, amazingly beneficial addition is matcha green tea, more on which below.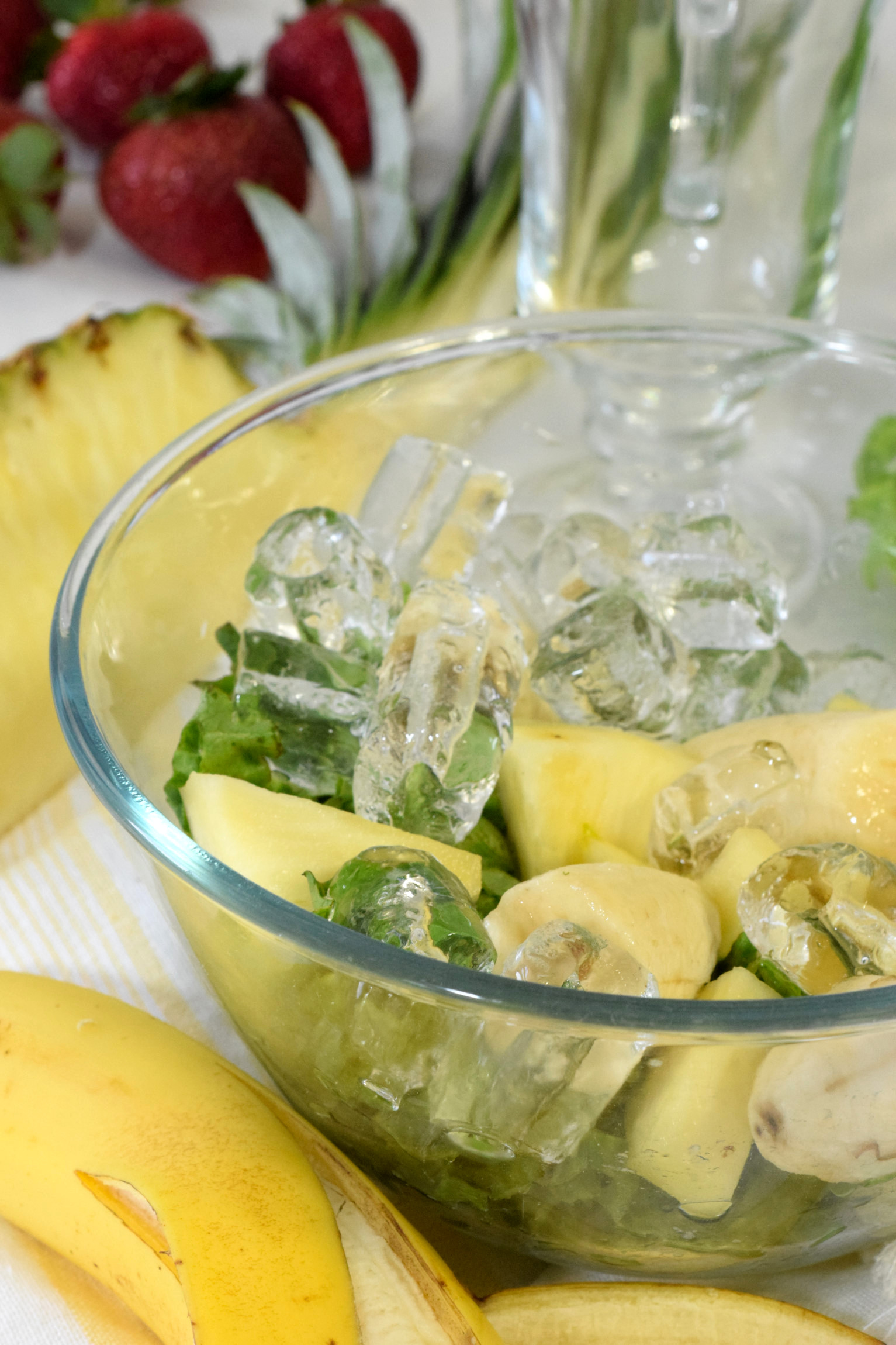 You've probably heard that matcha green tea is great for your health, and here's why. Matcha is a powerful antioxidant, because it contains polyphenol catechin flavonoids. Their concentration in a cup of matcha is 10 times higher than in a cup of regular green tea. The antioxidants speed up recovery, strengthen immunity and help protect the body from free radicals (unstable molecules that cause harm). In addition, it boosts energy, and increases focus and concentration. Matcha is also a thermogenic food, speeding up metabolism and improving fat breakdown.
Personally, I'm not a big fan of the green tea flavor. It took some time to reconcile my taste preferences with the understanding of the enormous health benefits. The smoothie is actually a useful trick. You can add matcha tea powder directly to the smoothie, without affecting the flavor.
There are 3 options for making this smoothie. The one we have here adds matcha green tea powder directly into the smoothie. In this case, you will need regular ice cubes as a base to make it cold and refreshing. This option doesn't require any additional work. It is the simplest.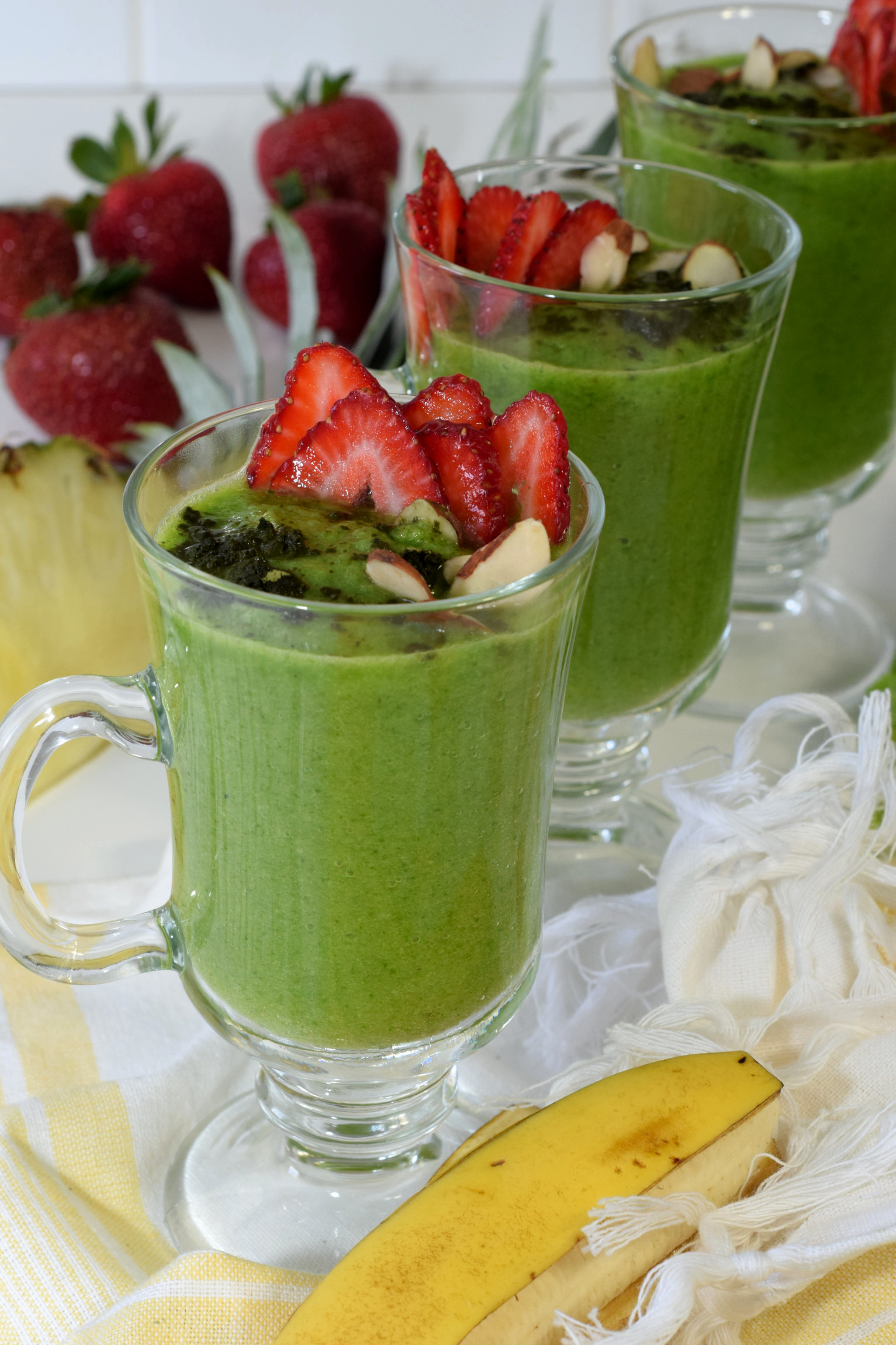 The second option is to brew matcha green tea, let it cool, and use that instead of the ice. This will take a little longer, because brewing matcha tea is a ritual in itself. First, you whisk the tea powder with a couple tablespoons of hot water to form a smooth paste. Next, you add ¼ to ½ cup of hot water, and whisk again. You should have a thick, uniform blend. Now you can dilute it with hot water to your liking.
From that, we came up with the third option. You can brew a big batch of matcha green tea and freeze it into ice cubes. Now you can use the matcha ice cubes as a smoothie base. Whatever option you choose, the matcha green smoothie is beautifully refreshing and greatly beneficial.
Matcha Green Smoothie with Pineapple and Almonds Recipe: serves 3
½ romaine lettuce head
2 cups pineapple chunks
1 banana
1 teaspoon matcha green tea powder
3 tablespoons almond butter
2 cm (1") fresh ginger, grated
½ cup ice cubes
How to make:
Combine all ingredients in a blender, and blend until silky smooth and uniform.
This is optional… Decorate with fresh strawberries and almond flakes and enjoy! If you don't feel like decorating, enjoy right away.
Cheers,
Natalie and Petr
the Natural to Kitchen Island Team