A Bundt cake has long been our family tradition for Easter. This year we share our gluten free variation of it, made with almond flour. What is more, this cake does not contain any sugar at all, only honey or maple syrup. It is deliciously rich, juicy and moist; fruity with apples and fragrant with cinnamon and ginger. This gluten free Bundt cake earns us many complements whenever we bake it. Being a festive dessert, it is very easy to make and has never failed us.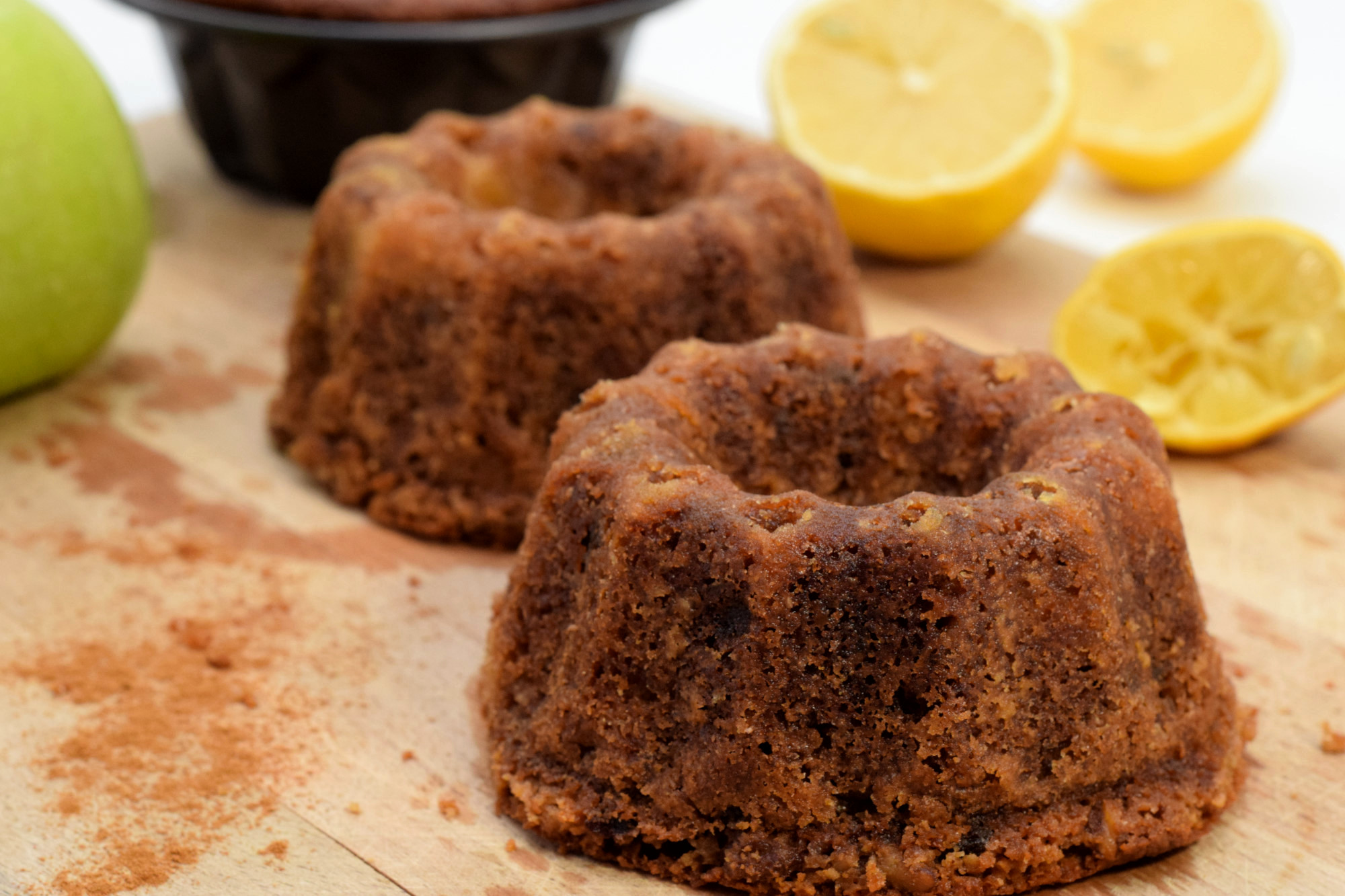 This year, we found perfect mini cake tins. That's why we are going with mini Bundt cakes, instead of a big one. You can adjust the recipe for a single cake. In that case, we'd recommend using 4 times as much ingredients as listed. The baking time will also increase, to 1 hour. Here are some notes on ingredients and baking…
If you are buying good quality almond flour, it can be a little pricey. A good way to get around it is to make your own! Whenever we make almond milk, the remaining blended almonds can be dried out and used instead of almond flour for this recipe. If you're curious about how we make almond milk, see the link here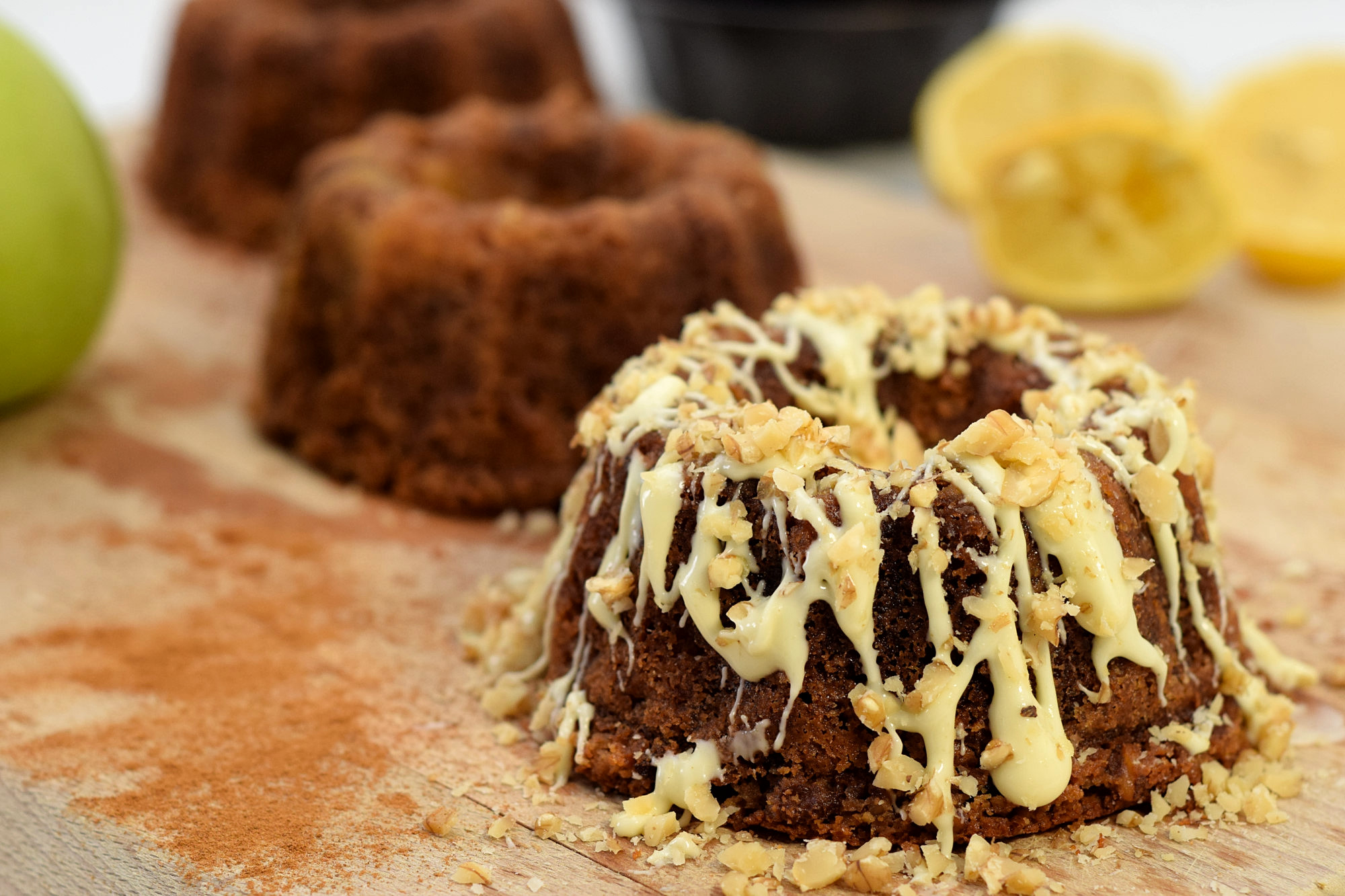 Sweeter apples are better options. We usually go with ambrosia or red delicious, but other sweet or sour-sweet varieties will work equally great. Sour apples, however, are much trickier to use. They tend to create a more acidic environment, and the batter might rise unexpectedly. If you are using sour apples, use a little less to balance the impact. Another thing to consider is that too much grated apples will make the batter liquid. It will be difficult to bake and solidify.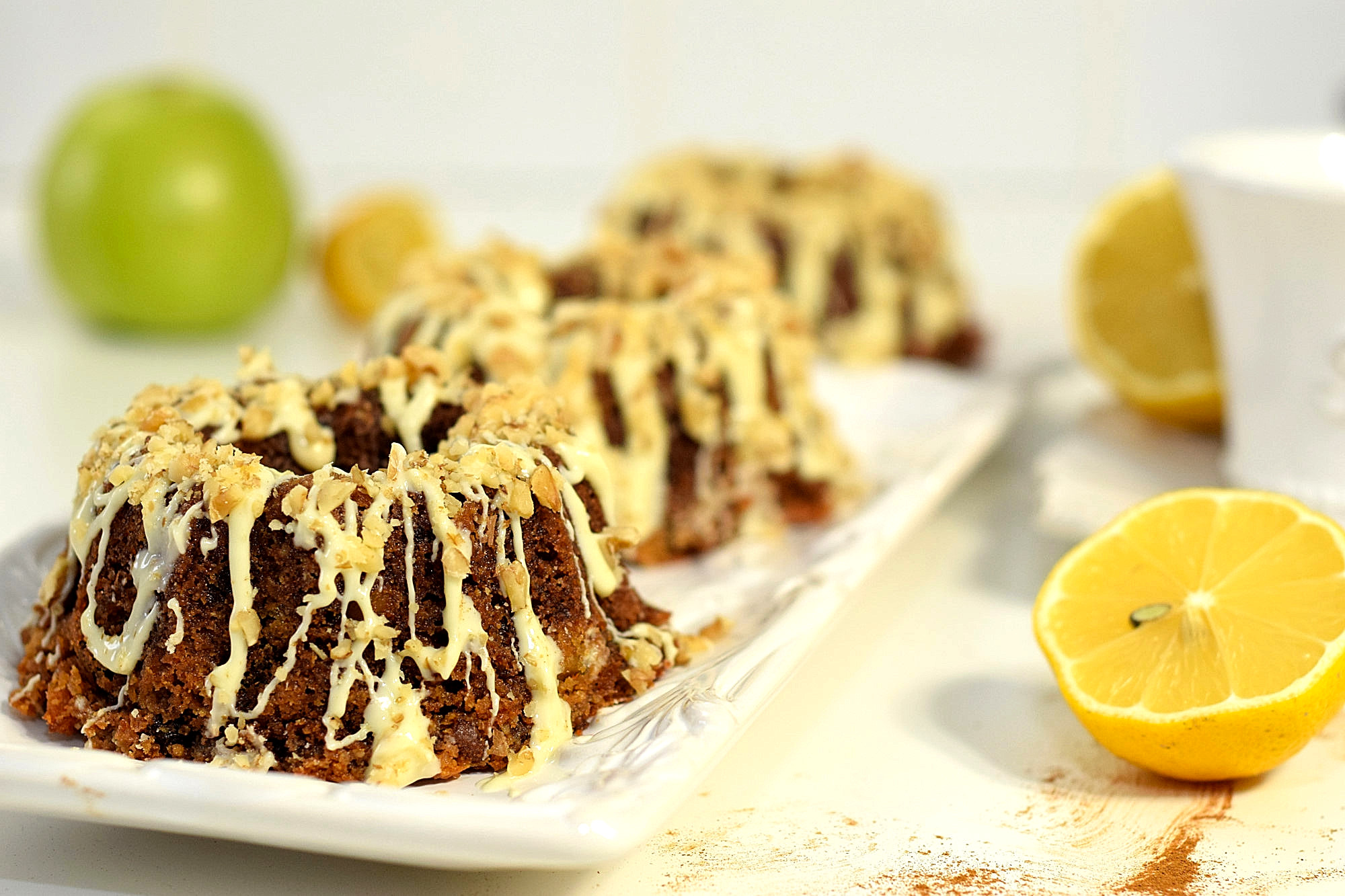 The key part of this recipe is to let the mini cakes cool completely, before turning them out. We mean it! Otherwise you risk breaking them. Made without wheat flour, this Bundt cake is more fragile and crumbly. Let them sit for approximately 20-30 minutes. When at room temperature, the mini cakes will turn out easily and hold a beautiful crust and shape.
These little jewels are great as they are, but if you feel like decorating, options are endless. Dusting them with icing sugar is the most effortless way, which always works great. For the festive table, we topped them with molten white chocolate and walnuts, like in our photos. White chocolate looks very elegant on the golden-brown crust. It also adds a final dash of flavor, blending with the rich fruity cake. Just a note, these mini cakes are good for up to 2 days (if they last that long)!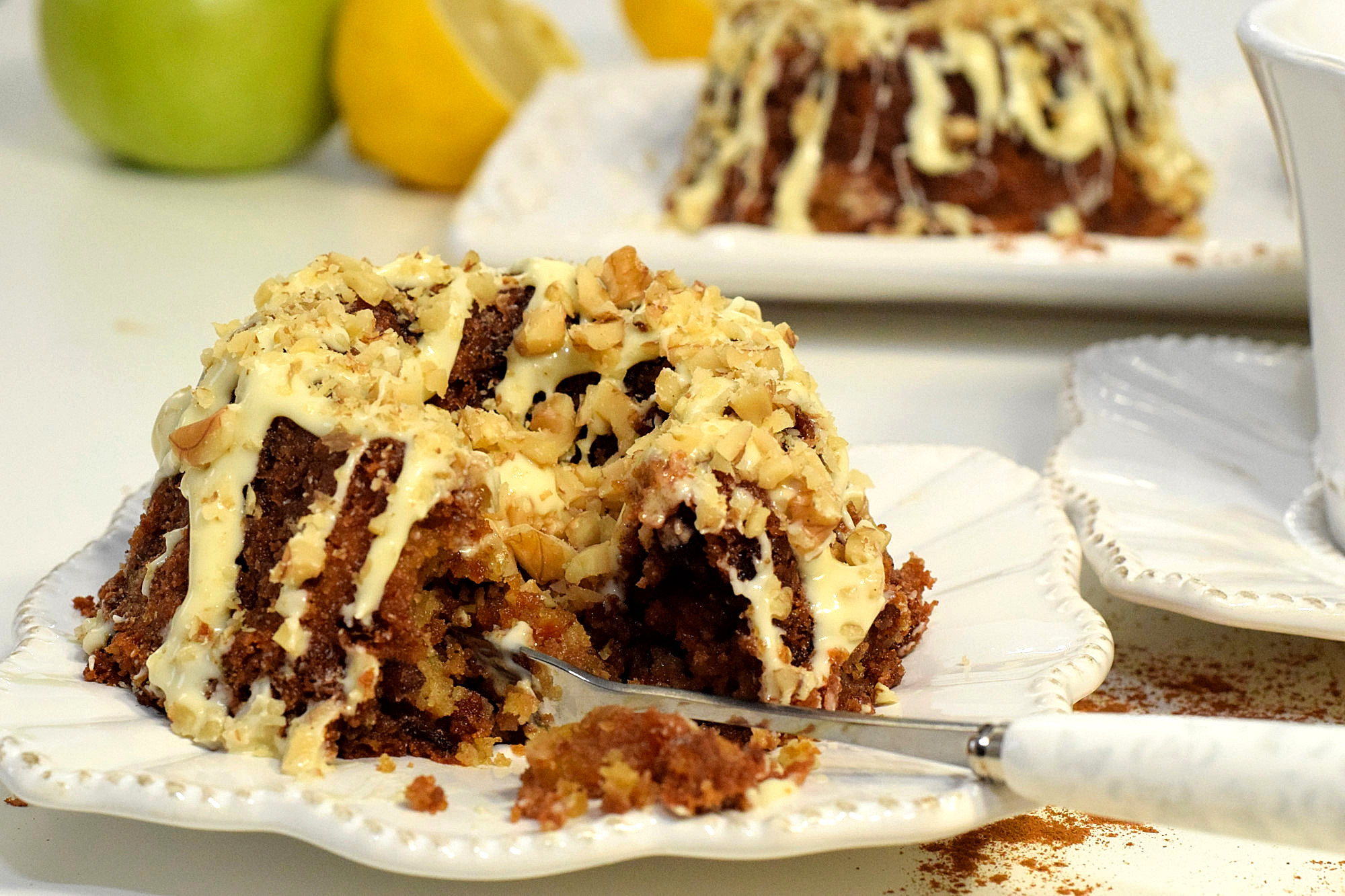 Gluten Free Bundt Cake for Easter Recipe: makes 3 mini cakes
1 cup almond flour
½ teaspoon cinnamon
2cm (1 inch) fresh ginger, finely grated
¼ teaspoon baking soda
½ cup grass-fed butter
1/6 cup honey or maple syrup
1 egg
½ apple, finely graded
¼ cup chopped walnuts
¼ cup raisins
How to make:
Preheat the oven to 160 ºC (325ºF) and thoroughly butter the mini cake tin(s).
In a bowl, combine almond flour, cinnamon, ginger and baking soda. Mix thoroughly until all ingredients are evenly spread out.
In a food processor, beat together butter, honey, an egg and vanilla.
Add the dry ingredients mixture into the food processor and beat again. The almond flour mixture should blend in fully and form a uniform batter. Then, add grated apples and mix again.
Remove from the food processor. Stir in chopped walnuts and raisins and pour the batter into prepared mini cake tins.
Bake the mini cakes for approximately 35-40 minutes, checking with a toothpick. When the cakes are ready, the toothpick will come out clean.
Remove from the oven and let the cakes cool completely (it takes approximately 20-30 minutes). Turn the mini Bundt cakes out, decorate and enjoy!
Cheers,
Natalie and Petr,
the Natural to Kitchen Island team