These gourmet almond crackers are made from a few superb, highly nutritious ingredients and are incredibly simple to make. Being completely sugar and gluten-free, they are a great take on a healthy snack. They are savory, nutty and indulgent, with slightly pungent accents of garlic and light notes of fresh parsley. They are made predominantly with almonds and are a great substitute for regular crackers. Almonds are associated with numerous health benefits. Some research shows that almonds can lower cholesterol levels in the blood, and ward off heart disease. Sesame contributes to the nutritional profile of the crackers. It is an excellent vegetarian source of calcium.
If you are buying good quality almond flour, it can be a little pricey. A good way to get around it is to make your own! Whenever we make almond milk, the remaining blended almonds can be dried out and used instead of almond flour for this recipe. If you're curious about how we make almond milk, see the link here Homemade Almond Milk
Rolling the dough out can be a little tricky. This recipe is gluten-free, so the dough is more crumbly than usual. It is best to roll it out right on the parchment, as it's almost impossible to transfer it carefully otherwise. If you find that the dough is sticking to the rolling pin too much, keep the rolling pin lightly moist with cold water. Once it's rolled, carefully slide the dough onto a baking sheet, with the parchment.
You should cut the dough into squares before baking, but avoid cutting the parchment underneath. Once they are baked, the crackers will likely break if you try to cut them.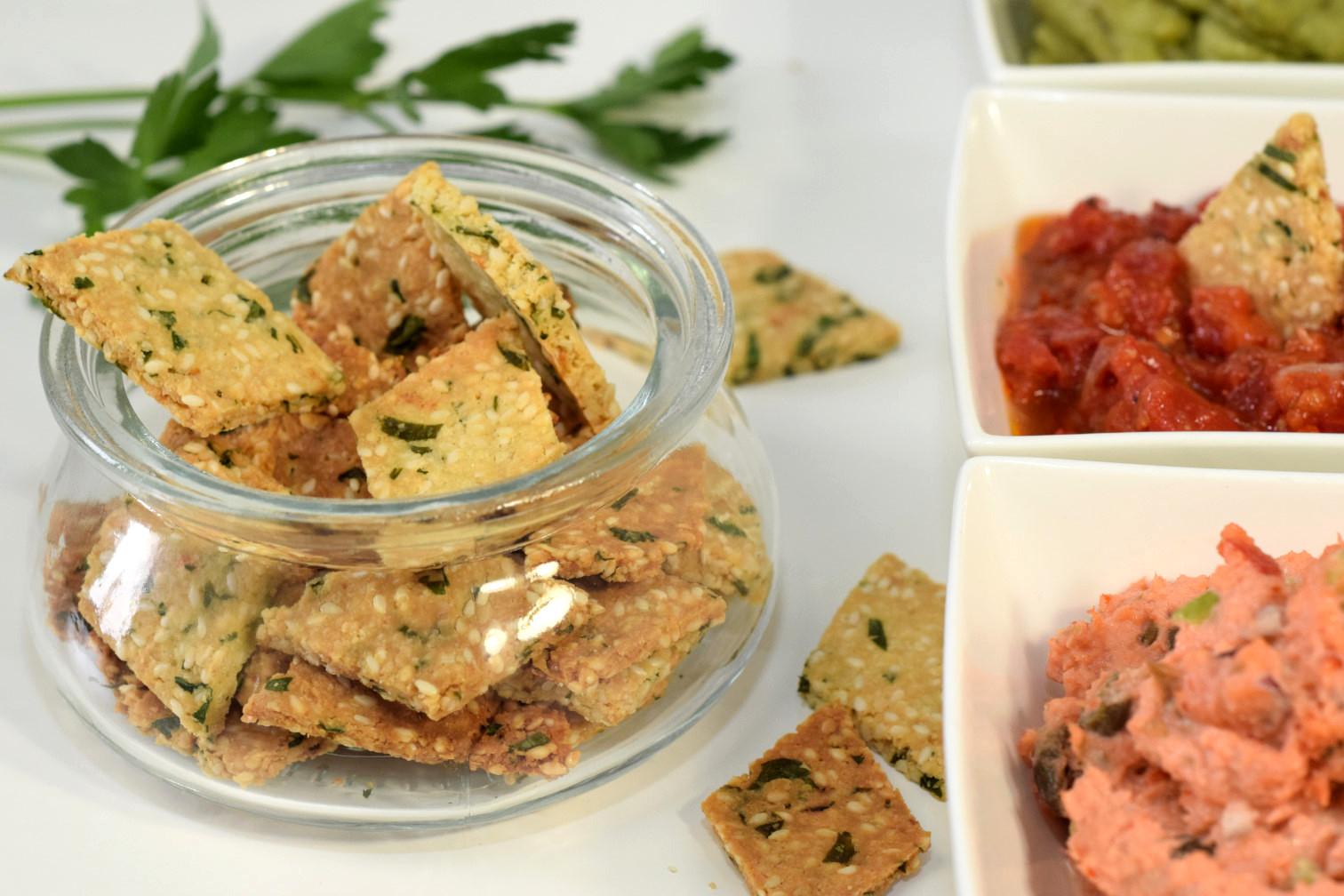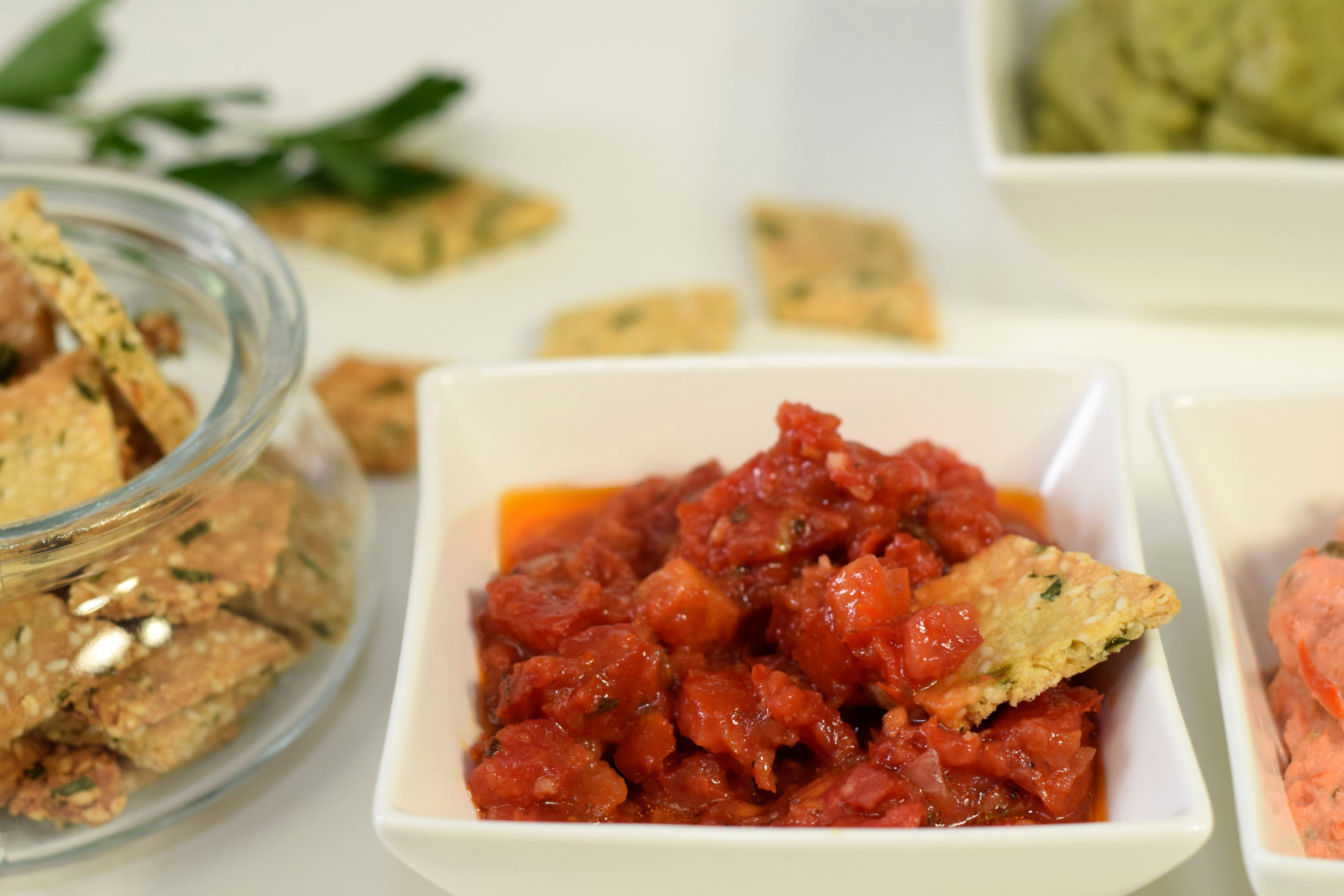 Serving possibilities are essentially endless for these delicious almond crackers. You can have them with guacamole, tomato bruschetta, salsa…smoked salmon salad even! You name it! These crackers are very versatile. Our favorite way to enjoy them is with our very own Eggplant Spread here.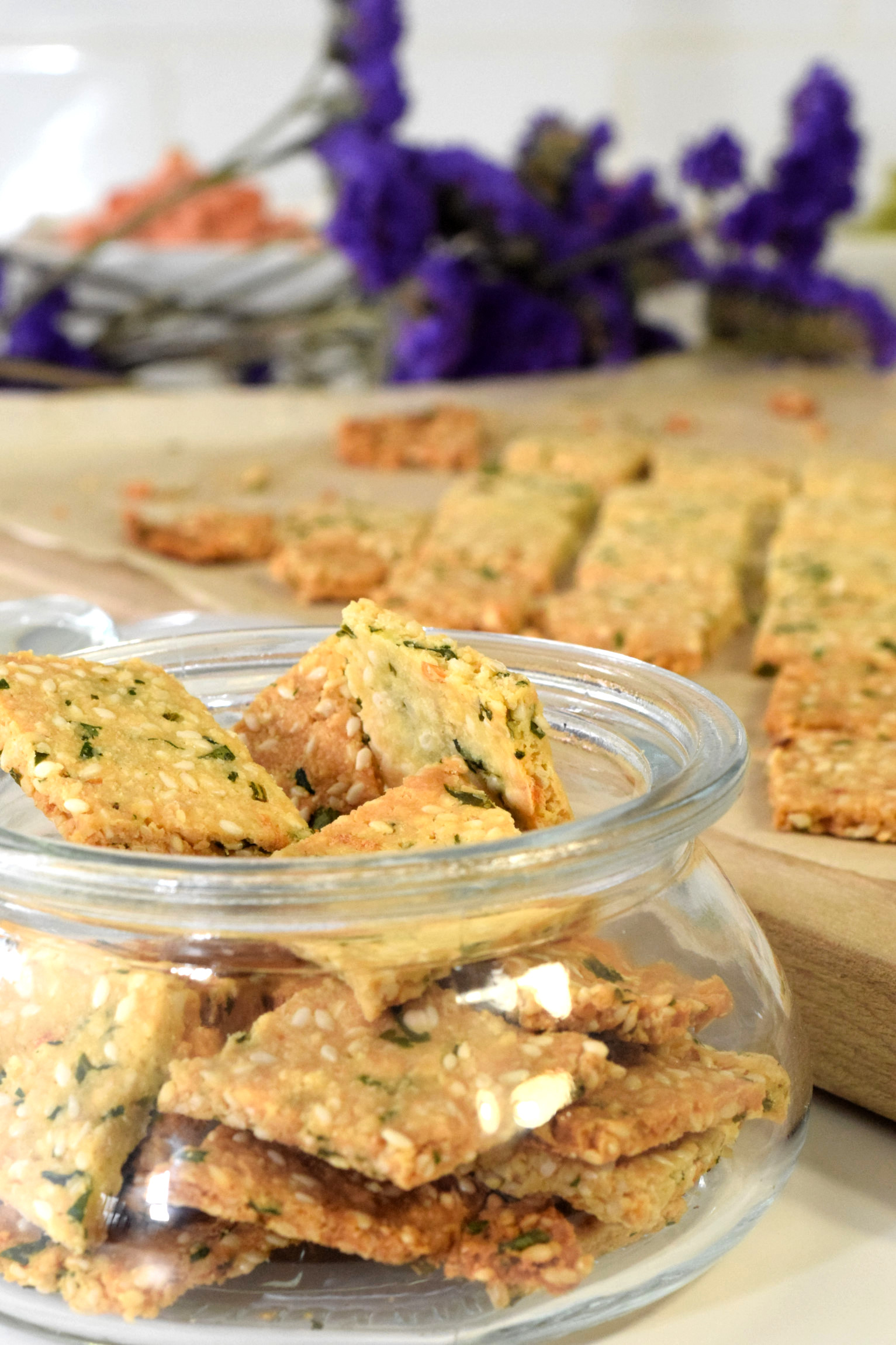 Gluten Free Almond Crackers Recipe: makes 30-40 pieces
1 ¼ cups almond flour
½ cup sesame seeds
4 fresh Italian parsley stems, finely chopped
2 small garlic cloves, crushed
1 egg
2 tablespoons olive oil
sea salt to taste
How to make:
Preheat the oven to 180 ºC (345 ºF).
In a bowl, combine almond flour, sesame, chopped parsley, crushed garlic and sea salt. Mix thoroughly until the chopped herbs and garlic are evenly spread out.
Make a well at the center, and beat 1 egg into the mixture. Mix thoroughly again, folding inwards from the sides.
Add the olive oil, mix well and make a small ball from the dough.
Roll out the dough on a piece of parchment paper into a thin even layer, about 3-4 mm thick. Slide it onto a baking sheet, without taking it off the parchment.
Before baking, cut the rolled-out dough into squares, about 3 cm by 3 cm (1.5" by 1.5"), right on the baking sheet.
Bake the crackers for about 25 minutes, until they become golden. Remove from the oven, allow the crackers to cool completely and enjoy!
Cheers,
Natalie and Petr,
the Natural to Kitchen Island team