Try this fresh mandarin dessert for your New Year's Eve party! We love this time when friends and family gather together to welcome the new year with celebration, music, cheer and great refreshments. This recipe is a great fresh fruit dessert for winter. Although most fruit are associated with summertime, mandarin oranges are an exception. They are in season from early December, and are found in abundance closer to the New Year. The mandarin dessert takes on the fresh citrus flavor, and enriches it with the fragrance of the spiced syrup.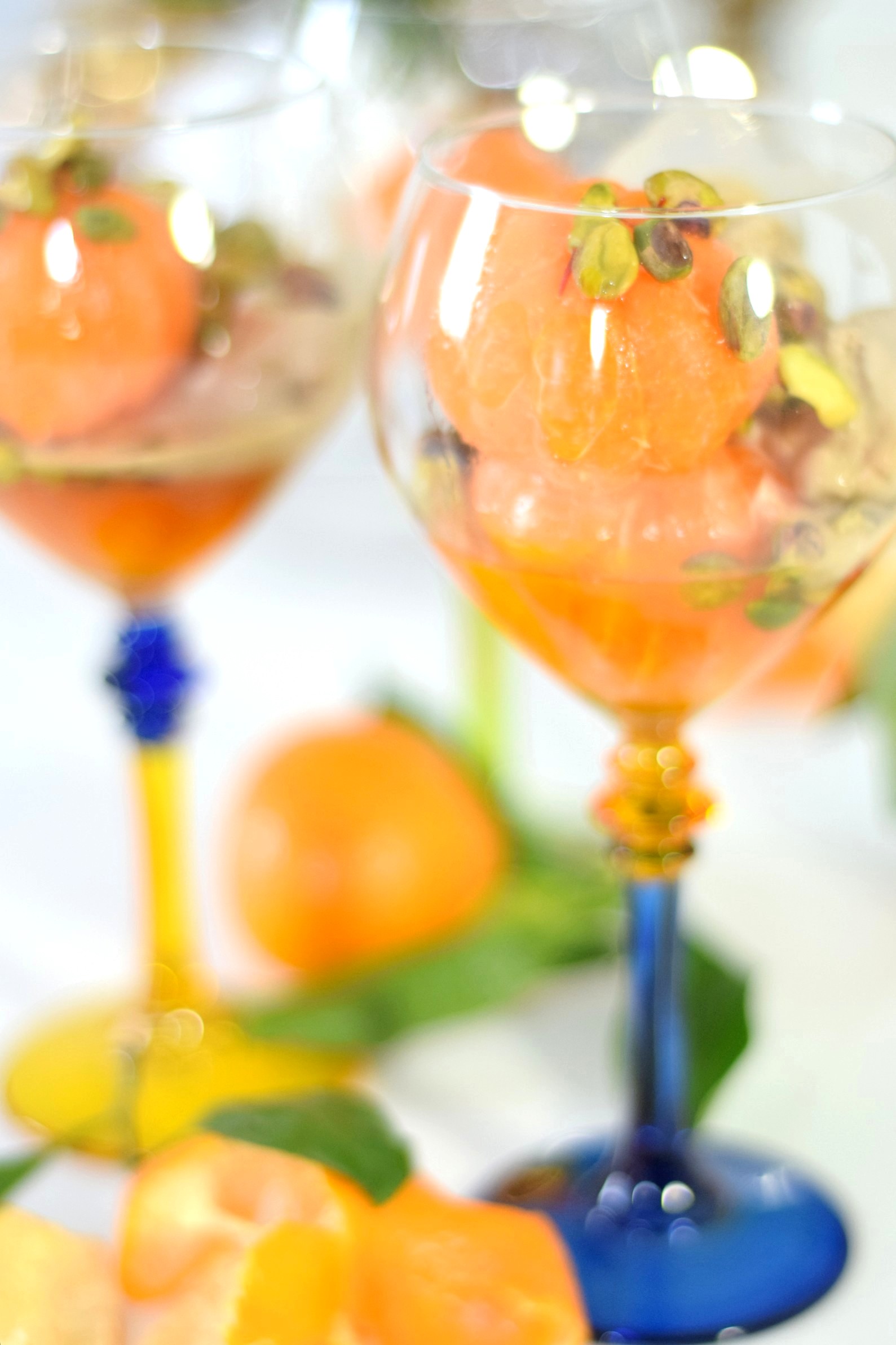 The richness of the syrup aroma depends on the spices you use, and how much you add. At the very least, we recommend cinnamon and saffron. These two are an absolute must for the mandarin dessert. Also the aroma of star anise, a spice native to China and Vietnam, blends brilliantly into the syrup. It isn't commonly used and can be hard to find. However if you happen to have it, add it without doubt. Stir the syrup as it simmers over low heat. When ready, the syrup is a beautiful golden-brown color and has a rich spiced fragrance.
Leave the peeled fruit in the syrup overnight, or at least 3 hours. In fact, the longer the fruit stay in the syrup, the better they become. This allows time for the mandarins to absorb the rich fragrance and sweetness of the syrup. We serve it with coffee-flavored ice cream, because of the great flavor contrast. Pistachios (especially salted) are just as great to highlight the combination of fresh fruit and sweet spiced syrup. Add them over top as a finishing touch.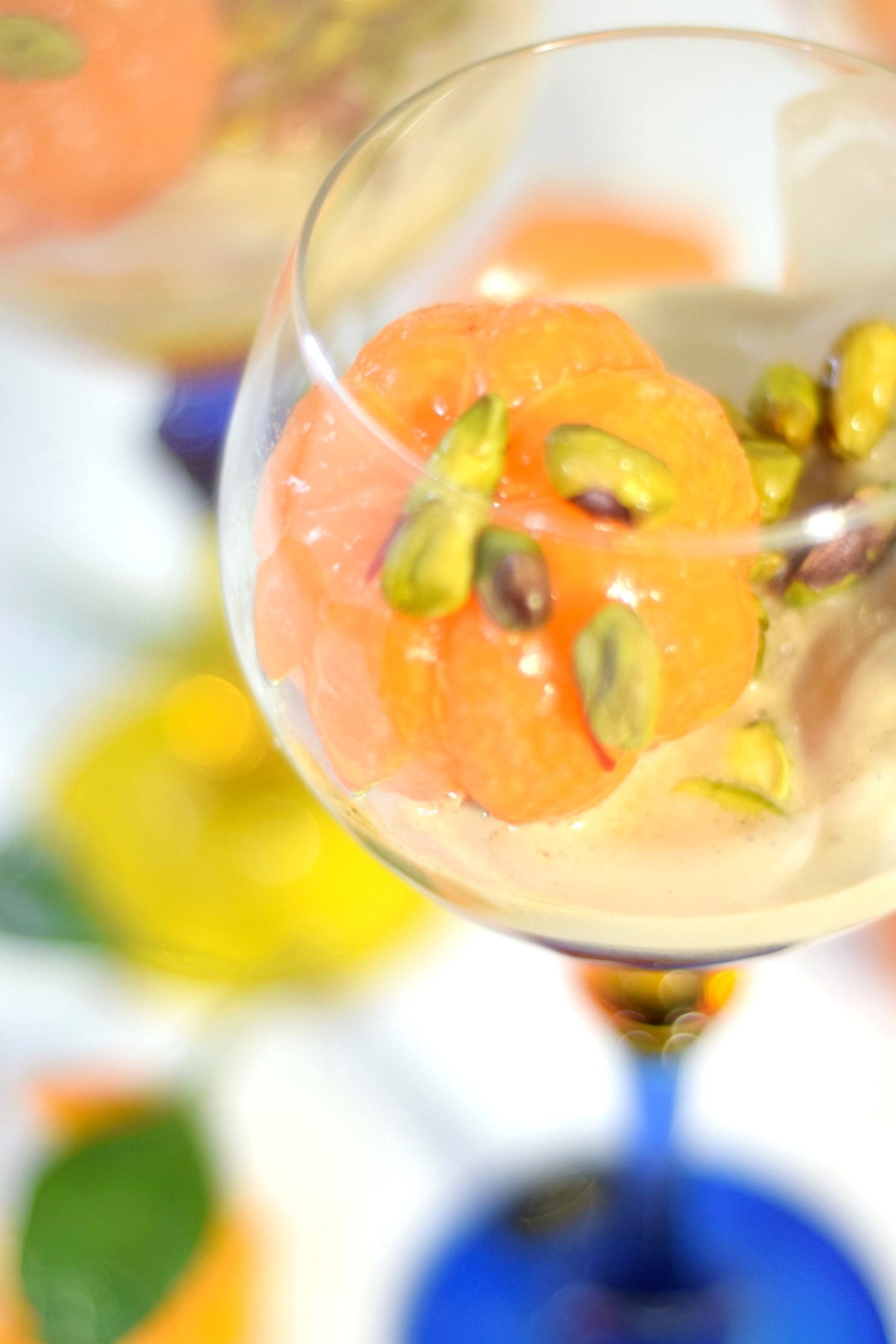 Fresh Mandarin Dessert: serves 4
8 mandarin oranges (2 for each person)
125 g (1/2 cup) sugar
250 mL (1 cup) water
1 teaspoon saffron
2 teaspoons (or 2 sticks) cinnamon
100 g (½ cup) peeled pistachios
200 g (1 cup) coffee-flavoured ice cream (or chocolate ice-cream)
How to make:
In a sauce pan, combine water and sugar and bring to a boil.
Add saffron and cinnamon, and simmer over low heat, stirring occasionally. When the liquid is beautifully golden-brown and a thick syrup forms, remove it from the heat.
In the meanwhile, peel the mandarin oranges, leaving the fruit whole and cleaning it as thoroughly as possible. Ideally, all white peel fragments should be removed.
As soon as the syrup is ready, pour it over the fruit and set them aside for 3 hours at least. In fact, the longer the mandarin oranges stay in the syrup, the more aromatic they become. We normally leave them in the refrigerator overnight. It gives the fruit time to absorb the fragrance and flavour of the syrup.
Serve the mandarins with ice-cream, roasted pistachios and pour the syrup over top generously. Enjoy!
Cheers,
Natalie and Petr,
the Natural to Kitchen Island team