This appetizing and flavourful spread is made of roasted eggplants, sweet peppers, garlic and fresh, ripe tomatoes, which give this dish its distinctive, rich aroma.
The eggplant spread is a "must-have" summer dish in South-Eastern Europe and Turkey, where endless variations of this recipe exist. We like a simple and easy-to-make recipe.
In a nutshell…Roast the eggplants, sweet peppers and garlic. Roasting is a great way to cook vegetables, which brings out and accentuates their natural flavour.  Drizzle the vegetables with olive oil and put them in the pre-heated oven.  That's it. Add fresh ripe tomatoes and blend all vegetables in a food processor.   Squeeze lime juice, add olive oil, and season with cayenne pepper and sea salt to your liking.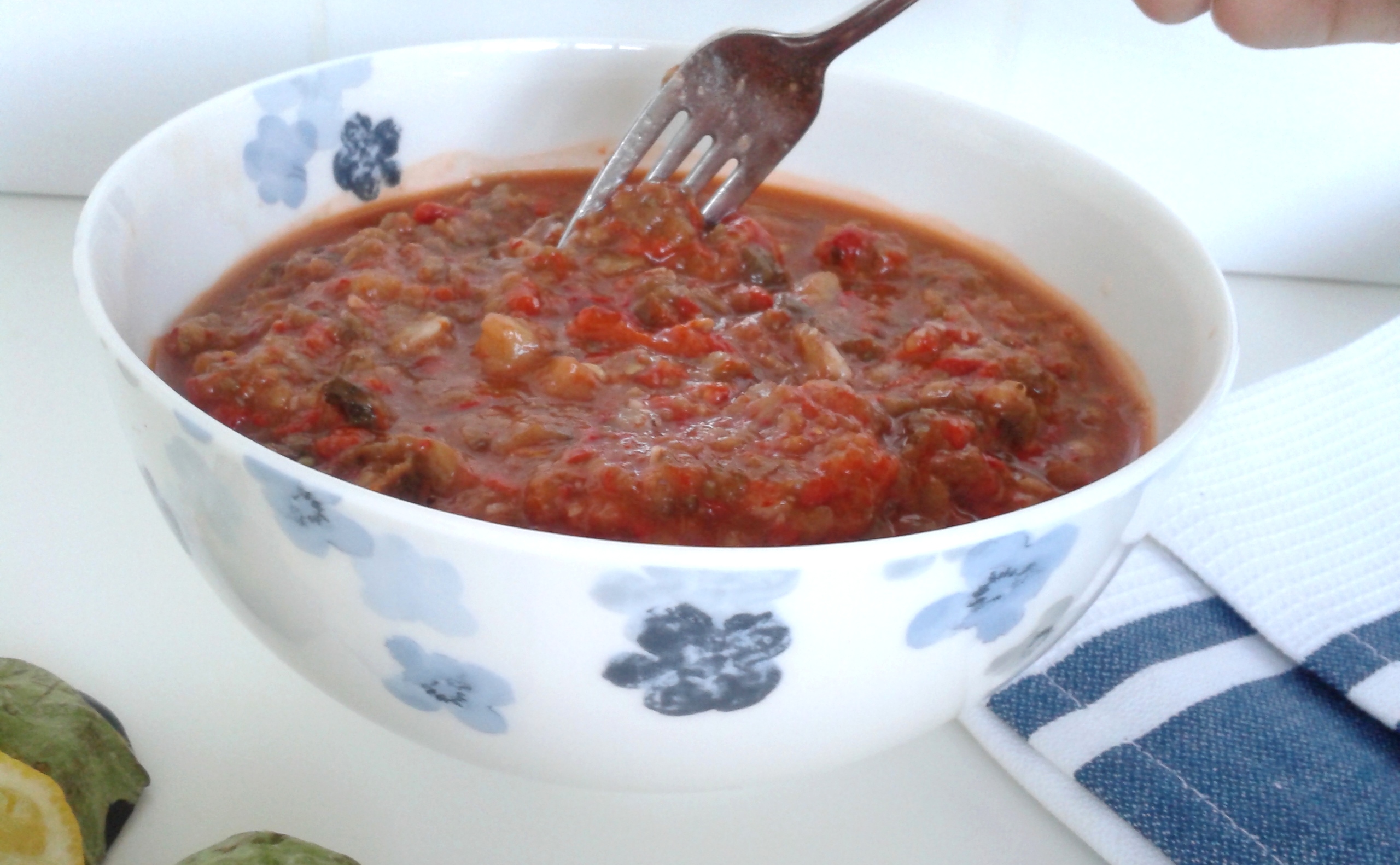 Speaking of garlic, it is optional. There is eggplant spread with fresh garlic, with roasted garlic, or without garlic. The "roasted-garlic" version is our favourite, for its more subtle, toned-down flavour.
Aromatic and a tinge spicy, the spread is great on a whole-grain toast or a cracker, and its rich vegetable flavour makes an amazing addition to any grilled meal.
Roasted Eggplant Spread
2 small eggplants
2 sweet red peppers
1 large ripe tomato
1 garlic head
½ of lime (or more to your liking)
2 tbsp of olive oil
cayenne pepper and sea salt
How to make:
     1. Cut off eggplants green stems.  Using a fork, prick the skin in several places around the entire eggplant.
2. Preheat your oven to 390°F (200°C). Place eggplants, sweet peppers and garlic on a baking tray, drizzle with olive oil, and roast for 40 minutes. Cool the vegetables and peel them. Seed sweet peppers.
3.To peel fresh tomatoes, place them in a bowl, pour over with boiling water and remove tomatoes immediately.  Make small cuts around the stem end and remove a cone, then peel.
4. Place peeled tomatoes in your food processor, add one tablespoon of olive oil and puree thoroughly.
5. Add roasted vegetables and pulse gently to break the vegetables into small bits.
6. Stir in squeezed lime juice and a tablespoon of olive oil. Gently season with cayenne pepper and sea salt to your liking.
Cheers,
Natalie and Petr,
the Natural to Kitchen Island team