These easy bake strawberry squares are our absolute must-have for the berry season every summer. With only 6 basic ingredients and a surprisingly simple recipe, these delicious golden squares are too tempting not to try. The savory dough perfectly accentuates the juicy, sweet strawberries. The berries become even sweeter and more aromatic in the oven, giving this dessert its amazing, rich berry flavor.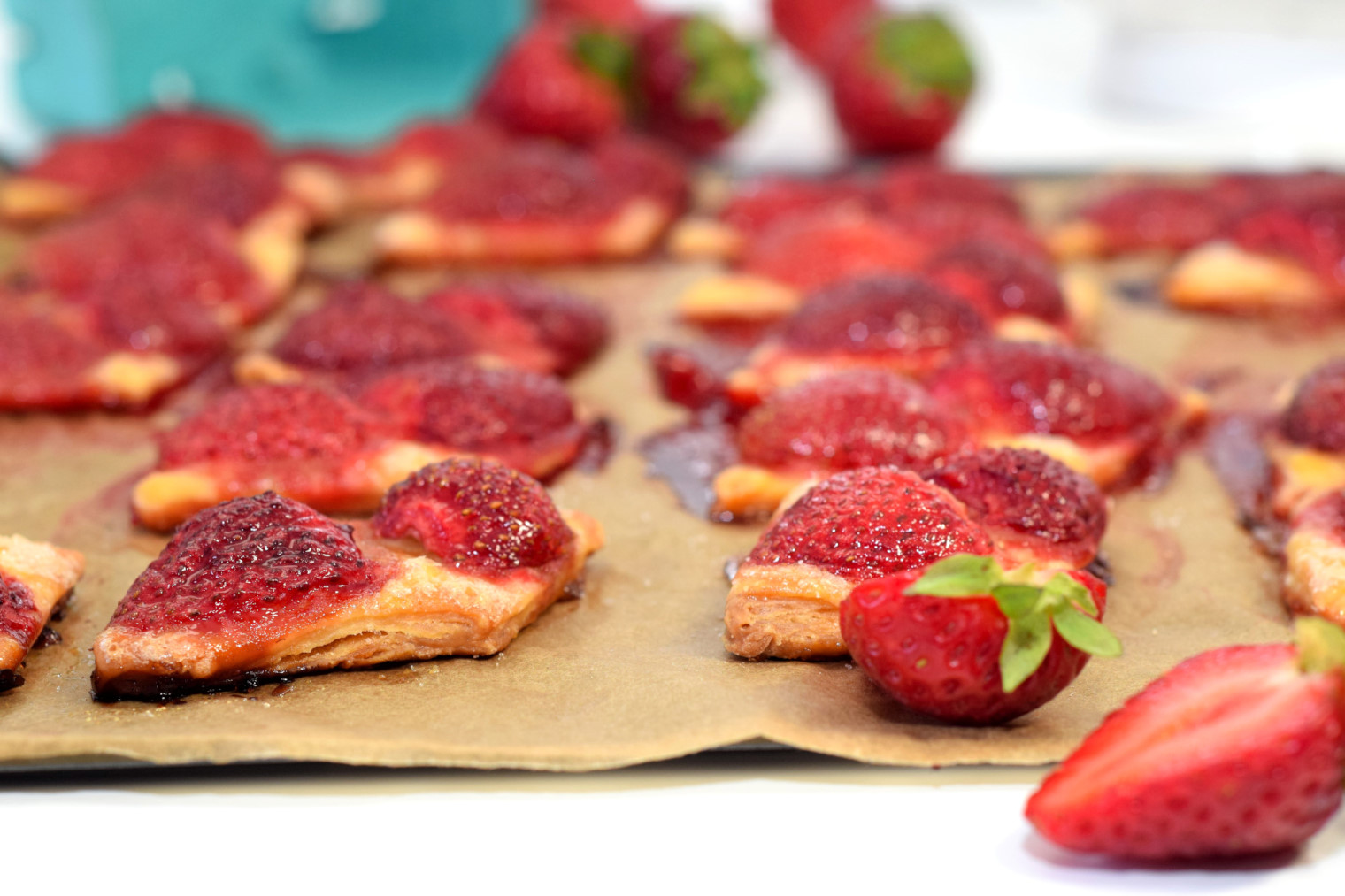 The berry season is here with strawberries, raspberries, blueberries and cherries. We can't help it but make all of our favorite desserts with juicy, fresh berries. Strawberries (our favorite) are great no matter how they are served: with yogurt or chocolate, in smoothies or pastries… you name it. We've already made our favorite strawberry and greek yogurt dessert, as well as our seasonal tradition, the berry clafoutis, so it's time for another round of these easy bake strawberry squares!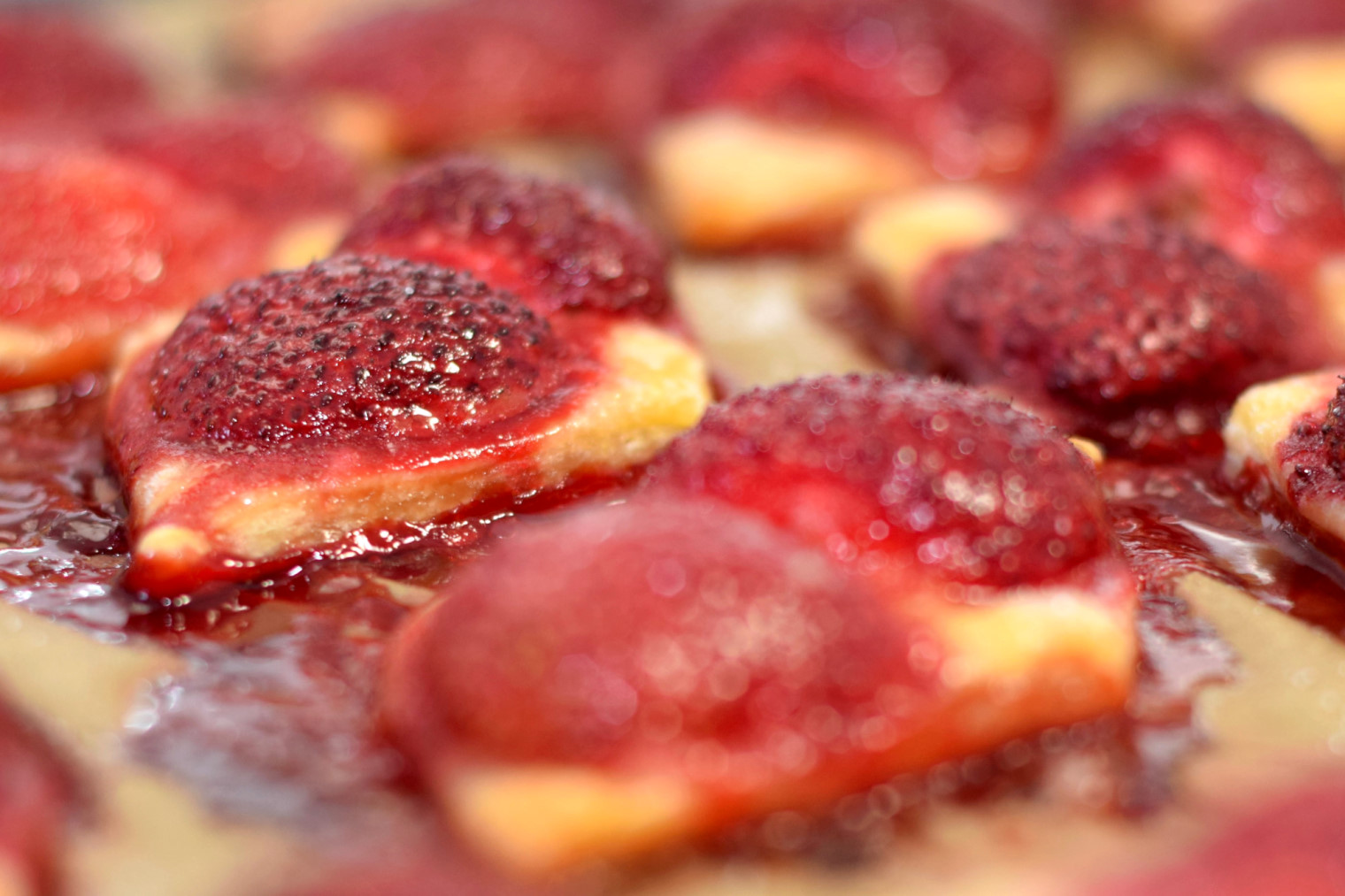 Simplicity being a key feature of this recipe, the topping needs only 4 basic ingredients. The dough can be of any type, as long as it's savory. This is important, because savory dough brings out the sweetness of the berries, while sweet dough would overshadow them. The dough version we provide here is our favorite. It requires only a few ingredients, is easy and quick to make, and is very easy to roll out. Besides, this is the same dough recipe that we used for our rainbow chard pie. In case you are using another dough recipe, you'll need about 0.5 kg (or 1 lb) of the dough.
To save some prep time, the berries can be washed, halved and have the stems removed in advance. In terms of mixing them with sugar and butter, you should do that at the very last minute. Combining the strawberries with sugar makes them release juice, which will start to burn when baking. What we ideally want is for most of the juice to stay and soak through the dough squares. Here's how we usually put it together…First, we transfer all the cut-out squares onto the baking sheet. Then, we combine the berries with sugar and melted butter, and immediately arrange them on the squares. We do this fast and immediately close the oven. Aside from that, the recipe is fairly straightforward and we wrote it down below as usual.
Note: These strawberry squares start disappearing pretty quickly once they are ready…Some "disappeared" while we were taking the photos.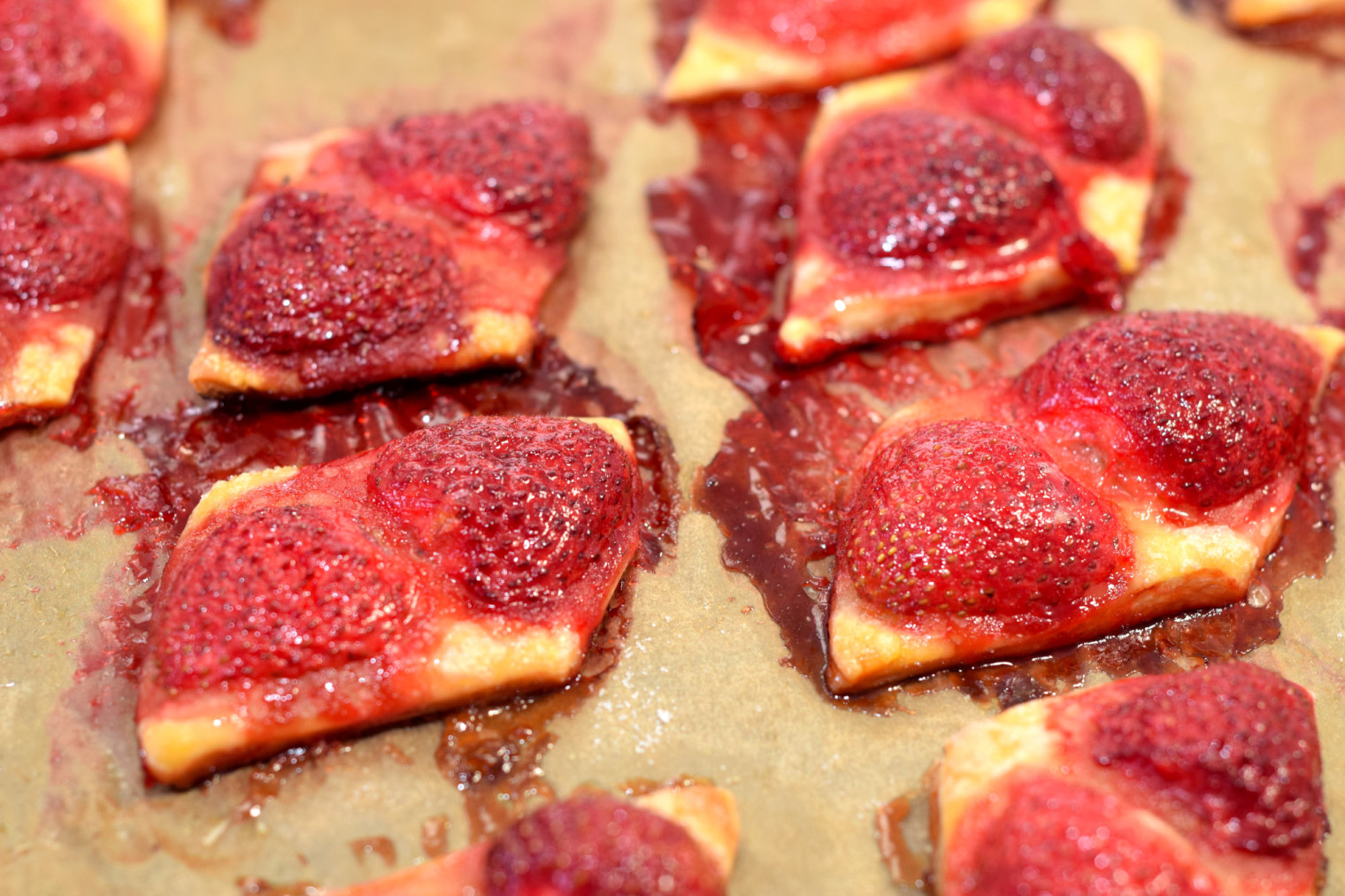 Easy Bake Strawberry Squares Recipe: makes 20-24 pieces
For dough (or use any other savory dough of your liking):
1 ¼ cup white flour
1 egg
60 ml (1/4 cup) olive oil
60 ml (1/4 cup) warm water
generous pinch of sea salt
For topping:
2 dozen medium-sized strawberries, with stems removed and cut in half
60 g (1/4 cup) grass-fed butter, melted
60 g (1/4 cup) sugar
1 egg, beaten
How to make:
To make the dough, combine flour and sea salt in a mixing bowl. Make a small well in the middle and add the egg, olive oil and water. Knead thoroughly from the outside inwards until you get a smooth, golden-yellow dough about the size of a grapefruit. Usually we start with a fork, and then knead with hands. Cover the dough with a towel and set aside for 30 minutes before rolling out.
Preheat the oven to 200 °C (375 °F). Line the baking tray with parchment paper.
Roll out the dough to a thickness of 5 mm (1/4") and cut it into squares with 4-5 cm (2") sides. We like cutting the squares slightly diagonally. It gives them a more upscale look.
Transfer the squares onto the baking sheet and thoroughly brush with beaten egg. It is important that the entire surface is covered.
In a bowl, gently mix strawberries, 2 tablespoons of sugar and melted butter. Arrange two strawberry halves on each square. If you have some of the butter-sugar mix left over, you can pour a little on top.
Sprinkle the squares with the remaining sugar.
Bake the strawberry squares for about 45 min, until the dough becomes golden. Enjoy!
Cheers,
Natalie and Petr,
the Natural to Kitchen Island team