This dandelion latte recipe with almond milk is great if you are thinking of cutting down on coffee. It is delicious, silky smooth with rich almond milk and slightly bitter with dandelion root – a valid healthy alternative to a classic latte. It is an excellent overall health tonic, and a fantastic detoxifying drink. Ginger – fresh and bittersweet, cinnamon – woody and earthy, and star anise – rich and sweet make this dandelion latte beautifully fragrant and impossible to resist.
Everyone knows the common, bright yellow spring flower and usually doesn't think twice about it when they see it. Surprisingly, its root has a distinct bitter flavor that closely resembles the taste of coffee. In fact, it is often used as a substitute, particularly when detoxing or cutting down on coffee. Dandelion root has a wide variety of amazing health benefits. First and foremost, it is a gentle overall body cleanser which aids in detoxification and supports the liver. As a result, it helps to purify the blood and heals and clarifies the skin from the inside out. Dandelion root regulates, soothes and strengthens the digestive system. When the digestive system is strong, the body absorbs nutrients better. Finally, dandelion root is packed with antioxidants, and is a fantastic general health tonic.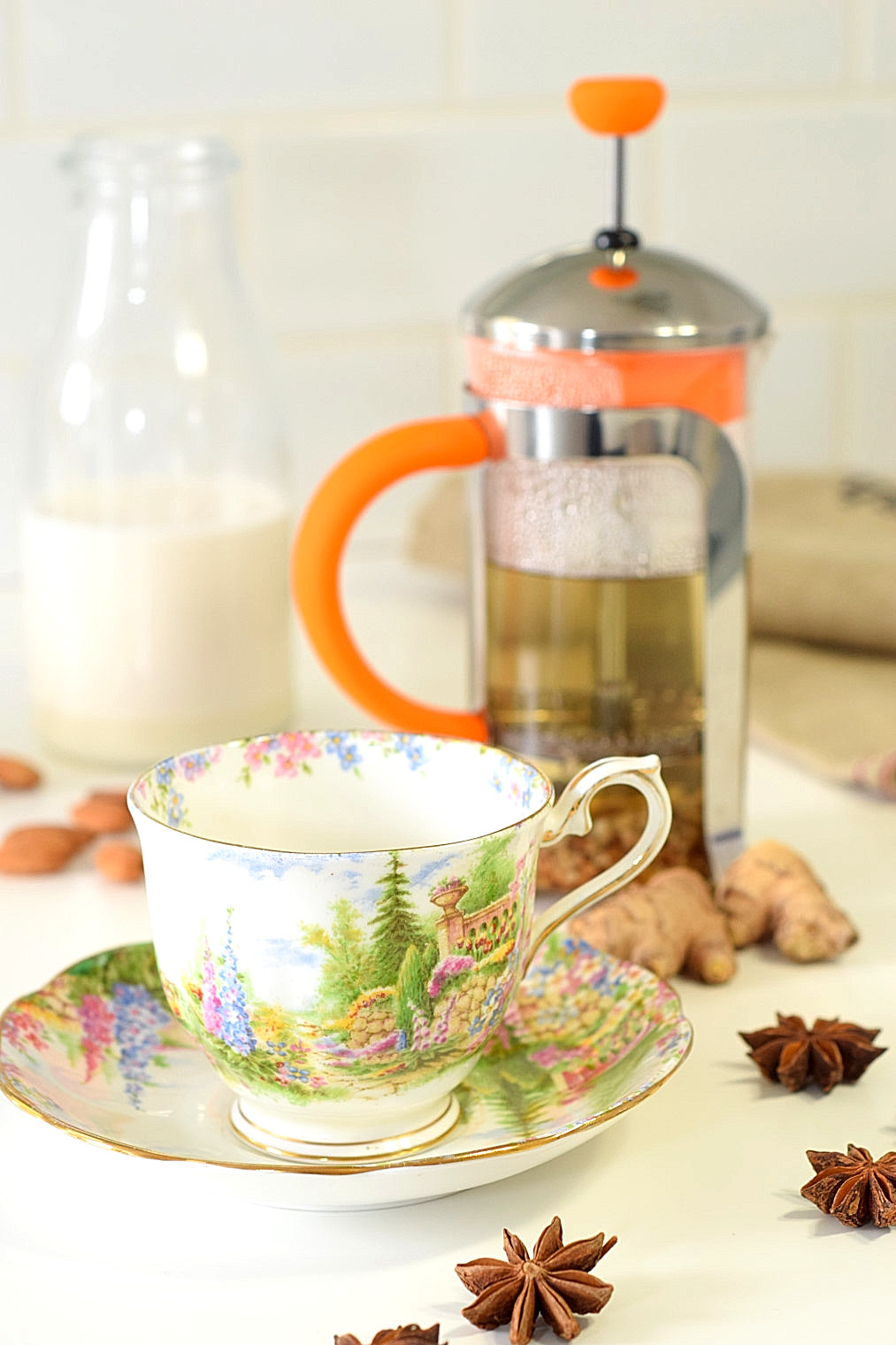 It's worth mentioning the other awesome ingredients in this recipe. Firstly, ginger root promotes healthy digestion. Cinnamon is widely known for its fantastic property of balancing blood sugar levels. Almond milk is an excellent source of healthy fats, such as omega fatty acids. It is also rich in Vitamin E – which is a powerful anti-oxidant necessary for skin health. And it's so delicious, silky and smooth! We like our dandelion latte unsweetened, like the classic version. If you want to sweeten it, we suggest a little bit of honey or maple syrup.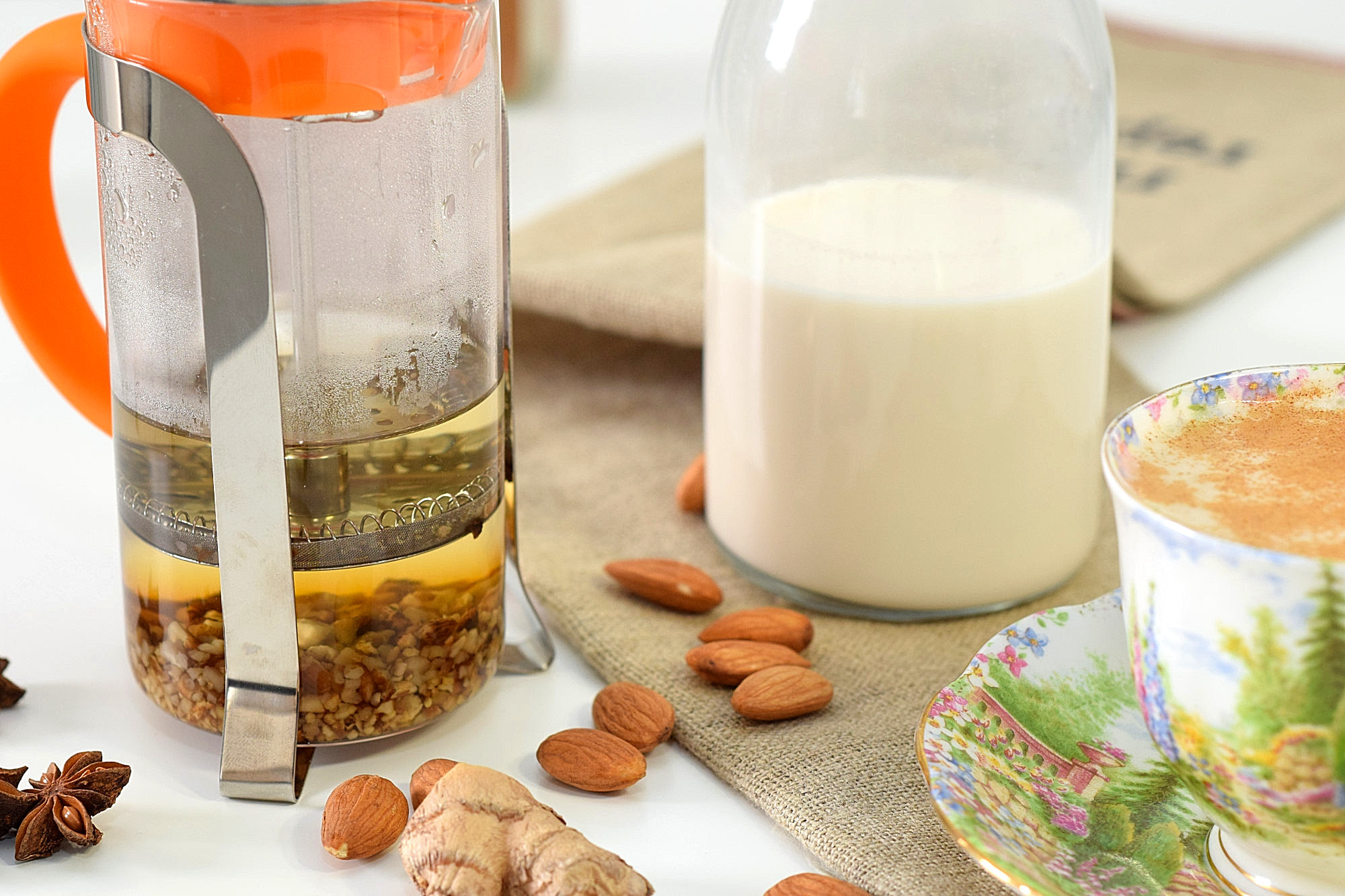 Dandelions are very common, especially now in spring. One note though – the ones you see around are most likely not safe. The ones growing on lawns, in parks or by roads are most likely contaminated with pesticides, herbicides and toxic elements of exhaust. In case you had the idea of going foraging, pick them in areas completely clean from any kind of environmental contamination. We usually buy organic roasted dandelion root, which is the safest option.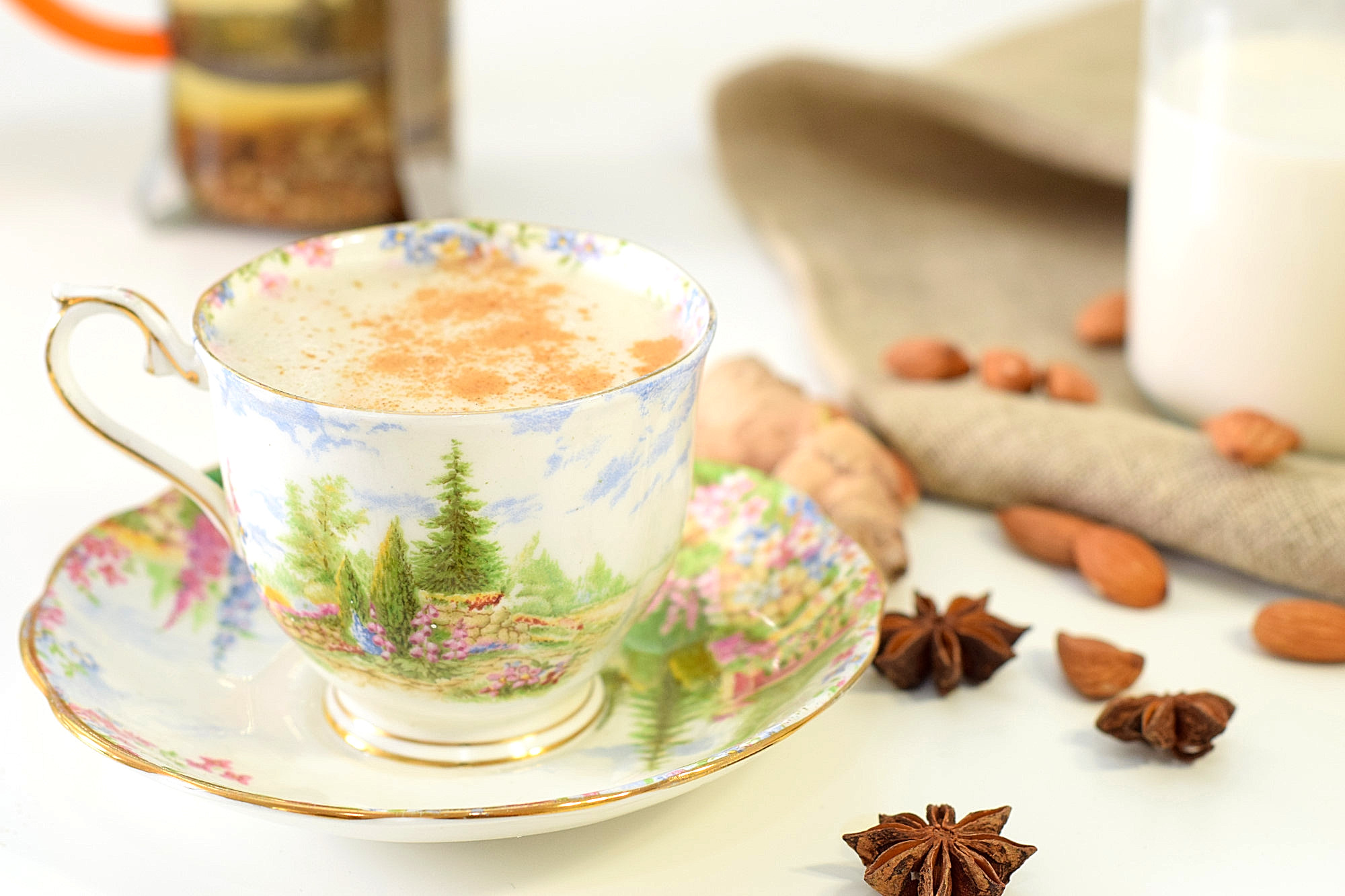 Detoxifying Dandelion Latte with Almond Milk Recipe: makes 2 cups
1 teaspoon roasted dandelion root
1 cup (8 oz) almond milk
2 cm (1 inch) fresh ginger root, finely grated
cinnamon (to taste)
1 star anise (optional)
honey or maple syrup to taste
How to make:
Place 1 teaspoon dandelion root into a French press or teapot. Pour over with 1 cup (8 oz) of boiling water and let it sit for 10 minutes to brew a full, robust flavor.
In a saucepan, combine together almond milk and grated ginger root. Place the star anise in the saucepan, top with cinnamon and stir gently.
Bring the spiced almond milk to a boil, then reduce the heat to low and simmer for 3 minutes.
Pour the brewed dandelion into a cup, about halfway, and top off with spiced almond milk.
Stir in honey or maple syrup, top with cinnamon and enjoy!
Cheers,
Natalie and Petr,
the Natural to Kitchen Island team