Christmas time is just around the corner, and we're bringing out our favourite Christmas cookie recipes to start off the holiday tradition. We are excited to start! Also, Petr is going to an early Christmas party with a cookie exchange, which is all the more motivation to start baking. There are too many to choose from! The recipe in this post is our personal favourite, and is sure to be your favourite once you try it. These traditionally-German Christmas cookies can be described as shortbread with hazelnut. They are lightly crunchy and melting, and leave a rich aroma of honey and vanilla.
For this recipe, you need to melt butter and honey until they are liquid. We discovered that a great way to do it is in a small fondue pot! Ours is about a cup and a half in size, with a space for a regular flat candle underneath. It's a great way to warm up the butter or honey uniformly and to melt it just the right amount without overheating it.
Another interesting step is that you absolutely have to leave the dough overnight. This blends the hazelnut, honey and vanilla flavours together and enriches the cookies' aroma. Also, because the dough contains a lot of butter, it needs to be thoroughly cooled before rolling to make sure that it stays together and does not stick to the surfaces.
The final touch is dusting your cookies. The sparkling sugar crystals give a festive, wintery look and add a finishing touch to the taste. We use a regular flat paint brush (from a craft store – with natural bristles). Immediately after taking the cookies out of the oven, generously brush them with honey and sprinkle with sugar. The cookies are fragile when warm, so make sure to leave them on the baking sheets afterwards until they cool down completely.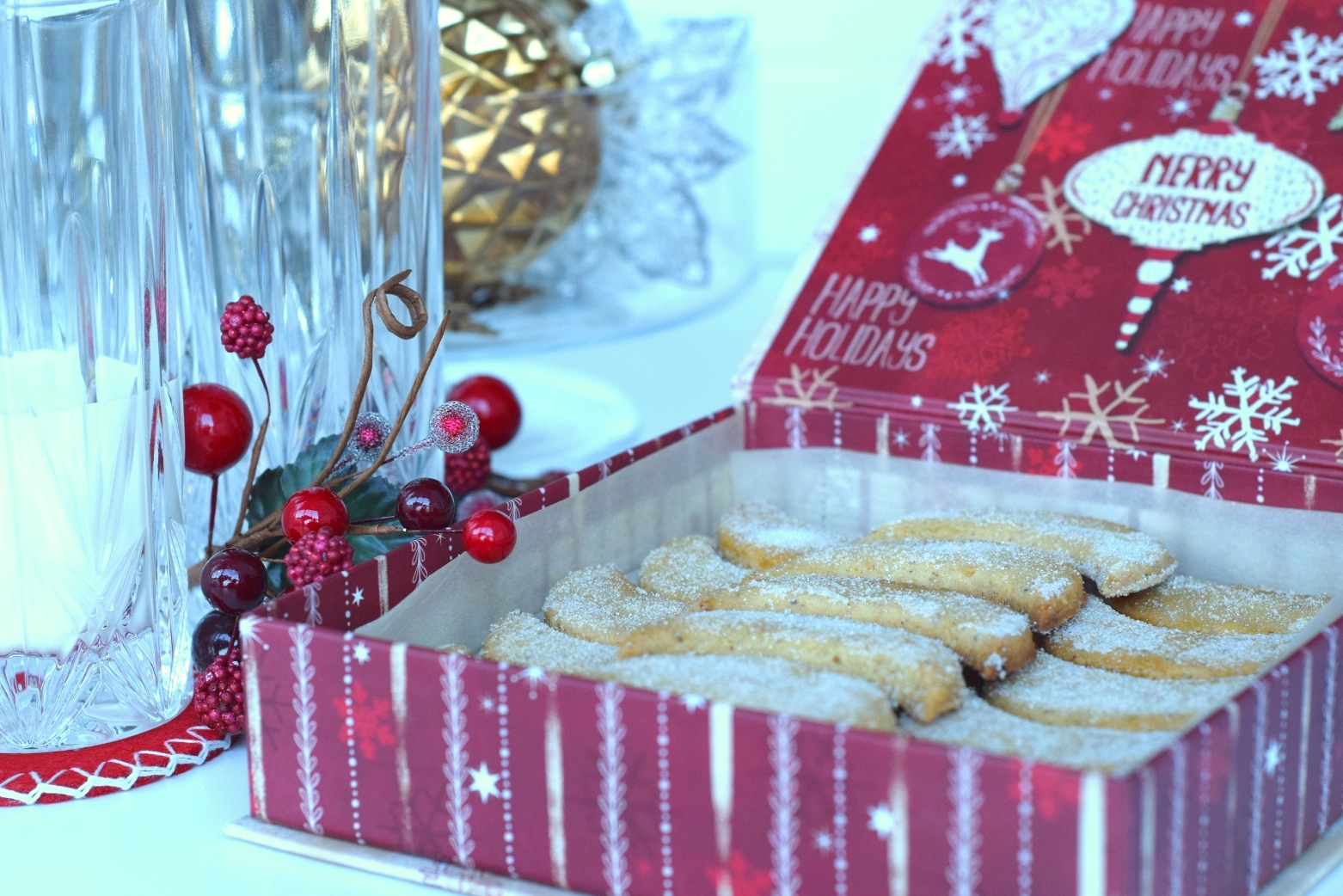 Christmas Cookies Recipe: 60 pieces
400g (approximately 3 1/3 cups) flour
150g (1 cup) finely ground hazelnuts
100g (1 cup) icing sugar
1 egg
275g (10 oz) butter
50g ( 1/4 cup) honey
2 teaspoons vanilla
For dusting:
50g (1/4 cup) honey
100g (½ cup) sugar
How to make:
In a large bowl, combine flour, icing sugar and ground hazelnuts; stir well.
Melt butter over low heat until it is liquid (ensure that the butter is not boiling or overheated). When the butter is liquid, add honey and vanilla and stir until honey is completely dissolved.
Set the honey-butter mixture aside and let it cool. The mixture should be warm and liquid, but not hot.
Beat an egg into the flour-hazelnut mixture and gradually add the warm honey-butter. Continue to mix until a smooth dough forms.
Make a ball, wrap it and place in the refrigerator overnight (at least 8 hours).
Next day, preheat the oven to 180C (350F). Generously sprinkle the counter and a rolling pin with flour. Warm the honey for dusting over low heat until it is liquid.
Cut the dough in half and roll it out 5mm to 10 mm (1/4 to ½ inch) thick. Cut the desired shapes, place them on the baking sheet and bake for 12 min until the cookies are lightly golden.
Immediately after, while cookies are still on the baking sheet, brush them with warm honey and generously sprinkle with sugar!
Cheers,
Natalie and Petr,
the Natural to Kitchen Island team