Chilled dishes and treats, like this simple chilled beet soup are ideal for great summer weather – it's fast approaching here in Vancouver, BC. So if you haven't had chilled soups, we encourage you to give it a try. This delicious soup is made with fresh, in-season vegetables and greens at the peak of their freshness and flavor. It is refreshing and very easy to make – the basic recipe includes only 5 ingredients. Importantly, the minimal amount of heat processing preserves the big bouquet of vitamins and phytonutrients.
The chilled beet soup is a close relative of the well-known borsch – a rich nutritious Eastern-European beet soup. This is, however, a lighter version that is served chilled and is perfect for a warm weather. The soup is made from baby beets, which are more tender. The stems and young leaves of these beets are also used. Speaking of nutrition, beets are really champions! They are an excellent source of folates, vitamin C, B – vitamins, and trace minerals: iron, manganese, copper and magnesium. The top greens are an excellent source of carotenoids, which help maintain healthy eyes. Due to the unique phytonutrient content, beets support the liver and act as a cleansing agent for the body. They also aid digestion with their high fiber content.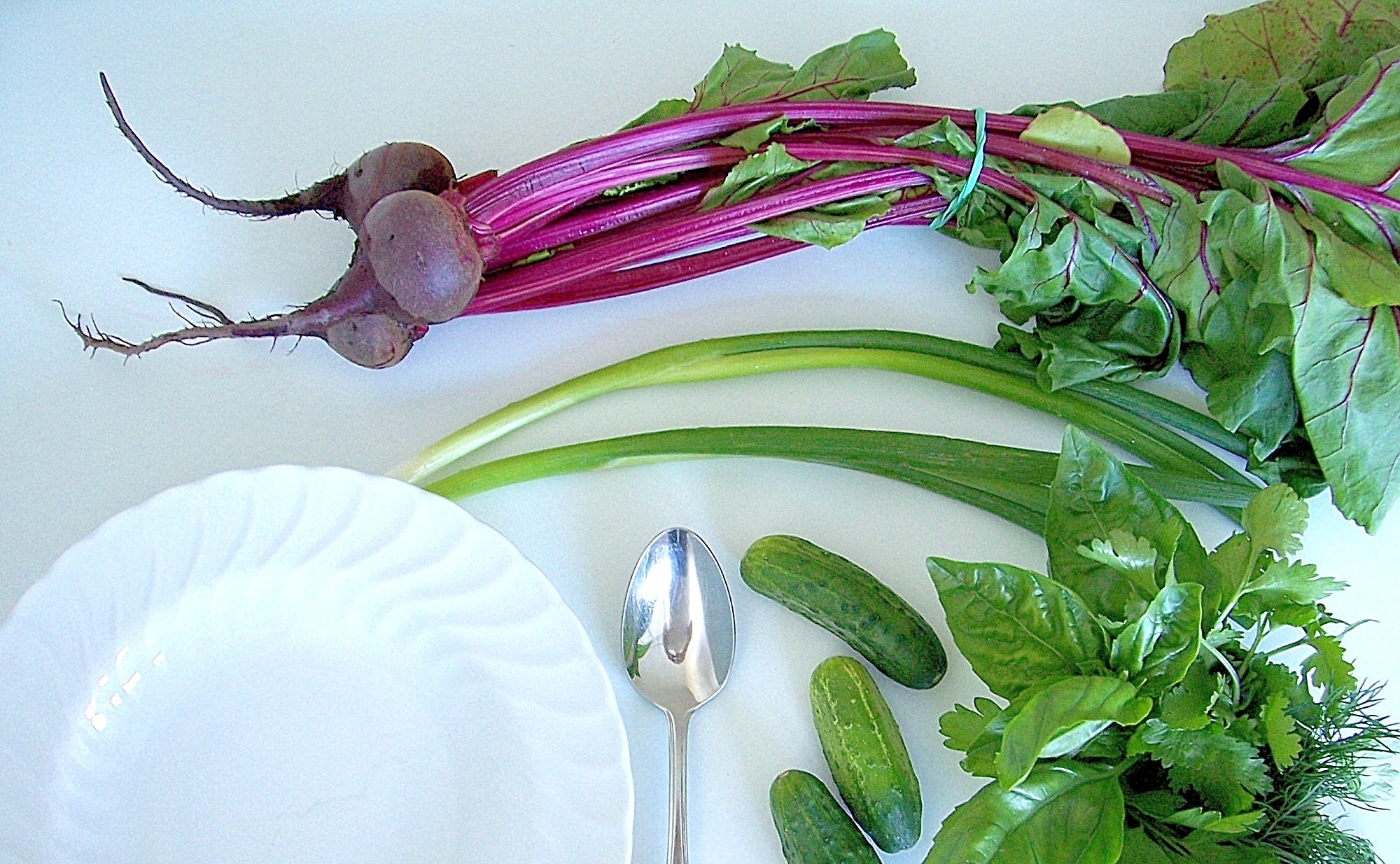 As a note, make sure not to overcook the beets. Boil them for about 10 minutes and remove from the heat immediately after. Overcooked beets make the soup a lot darker and less appealing. Also, overcooking destroys a lot of the nutrients found in the raw vegetables and gives them a strange grassy flavor.
This is one of our favorites for spring and summer, and the serving depends on what you put in it. You can use fresh cucumbers, spring onions, parsley, dill, basil, cilantro, and any other fresh greens. If you are looking to make the dish more protein rich, serve it with a sliced hard-boiled egg, or a ham, like prosciutto. Garlic gives it a sharper flavor, particularly young garlic – just add a little to the plate. Regardless of the combination you go with, the must-have minimums are cucumbers, spring onions and finely chopped parsley.
A convenient side to the chilled beet soup is that you can make it in advance and keep it in the fridge for several days. It is ready to go as a beautiful, nutritious and easy lunch option.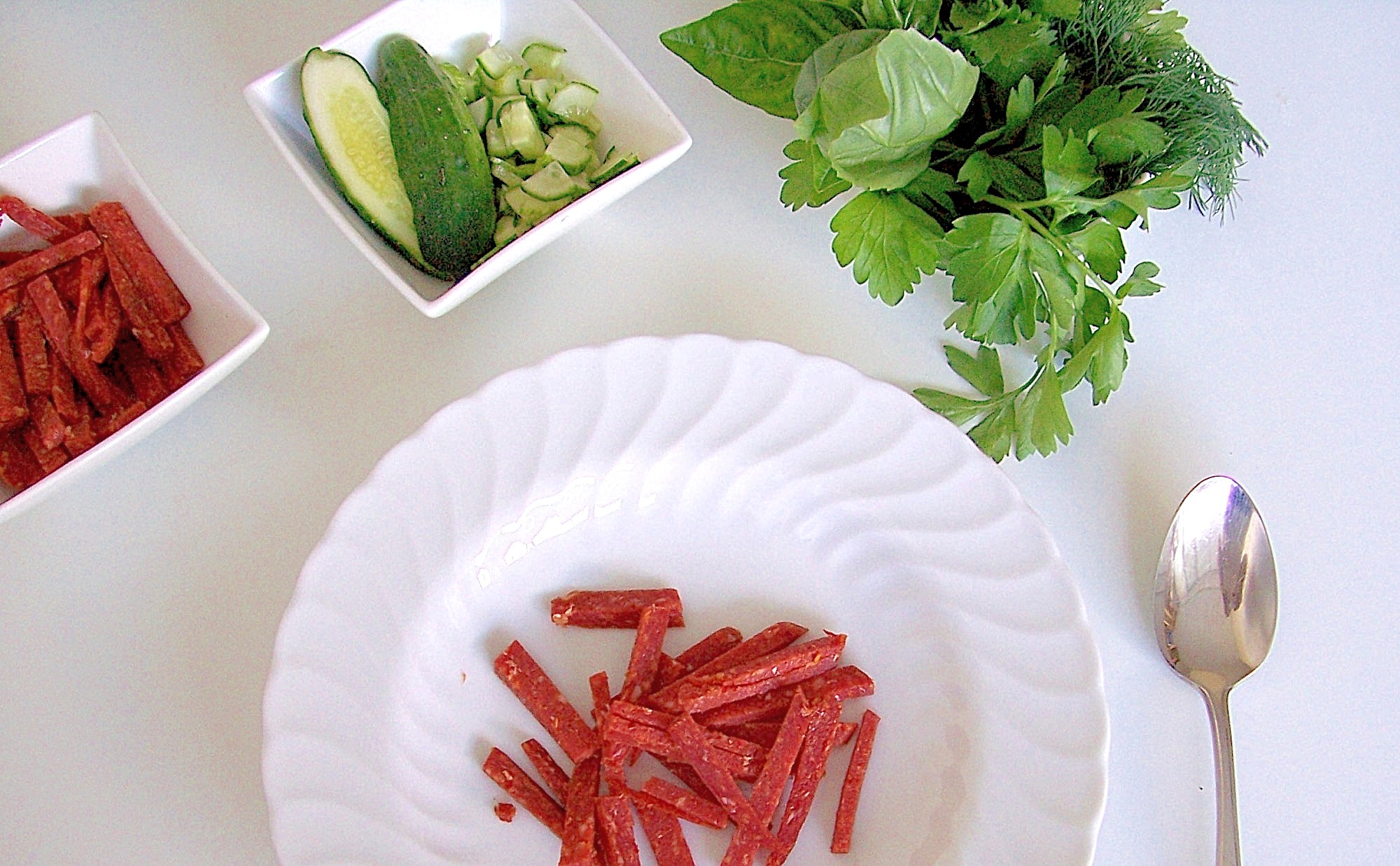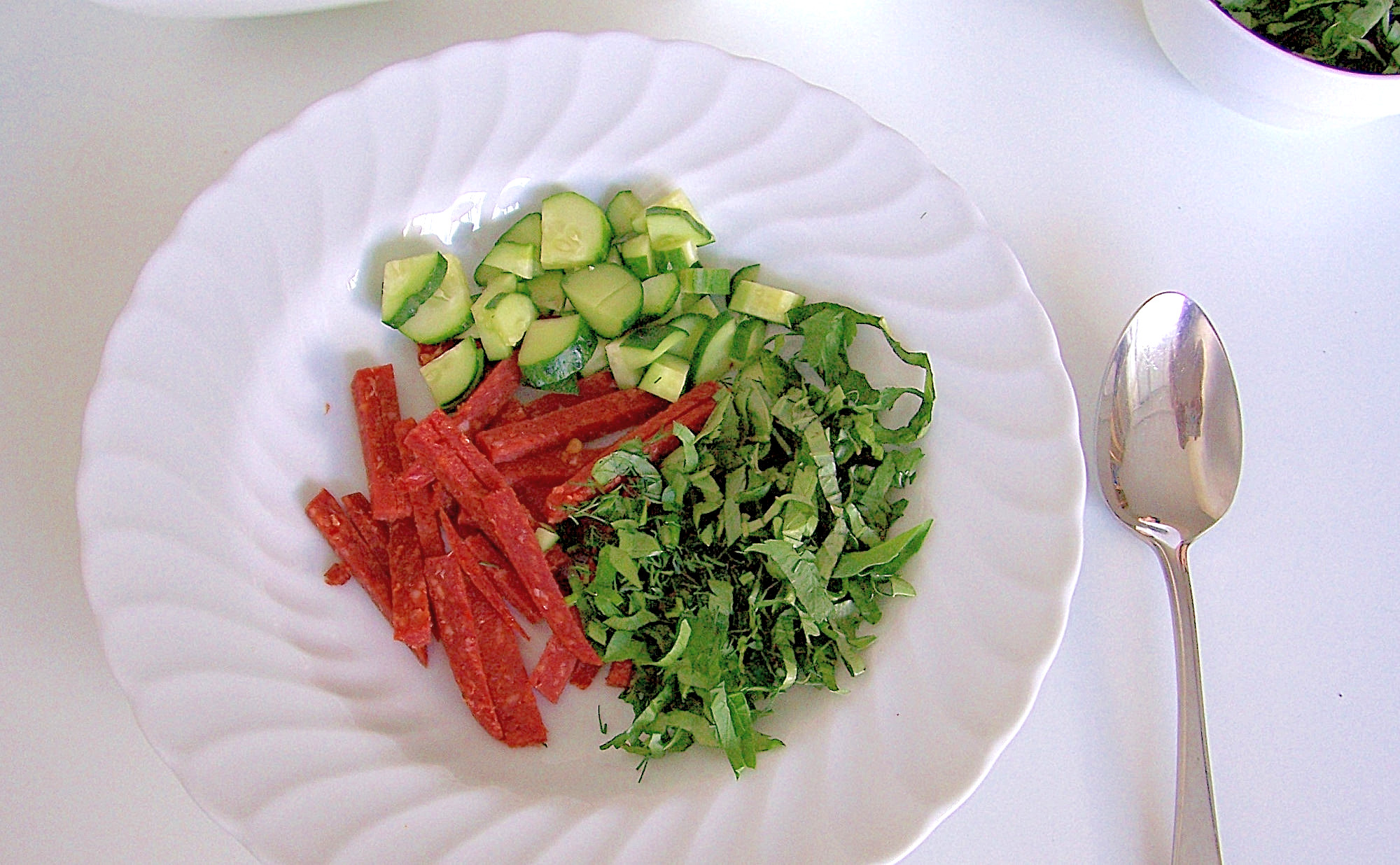 Chilled Beet Soup with Cucumber Recipe: serves 6
3-4 baby beets, including leaves
2 bay leaves
3 small fresh cucumbers, sliced
3-4 spring onions finely chopped
parsley and dill, finely chopped
sea salt to taste
250 g (1/2 pound) salami or ham, cut into thin strips – optional
How to make:
Trim off the big green leaves, leaving young, tender leaves, red stems and the beets.
Peel the beets, and slice into small, quarter-circle pieces. Cut the stems and leaves into pieces about 1 inch in length.
Place sliced beets into cooking pot, add two bay leaves and cover with 2 L (8 cups) cold water. Bring to a boil, and boil for 10 mins. Then, immediately remove from the heat and set it aside to cool.
Right before serving, place sliced cucumber and salami (if you use it) directly into the serving bowls. Cover with chilled beet soup, and garnish with fresh spring onions and chopped greens.
Add sea salt to taste, and enjoy!
Cheers,
Natalie and Petr,
the Natural to Kitchen Island team