We have recently discovered the Italian Bagna Cauda, and can't help but make it almost every day! Why? It is incredibly simple, makes a stunning dish for any occasion, aromatic and appetizing, versatile and amazingly satisfying. The key here is the flavorful, pungent and salty sauce, which is made from only 4 ingredients and literally takes 15 minutes to do. The sauce is accompanied by roasted, raw or blanched vegetables. This is where your creativity comes in because you can use almost any vegetables you like (or have left!).
Originally, Bagna Cauda comes from Piedmont, the part of Italy closest to France. Traditionally it is served like fondue, with the sauce placed at the center of the table in a heated bowl and the vegetables laid out around. The name actually means "hot dip". Another option is serving it as a salad, by pouring the sauce over the vegetables like a dressing. In that case, you have to eat it right away while the sauce is still warm.
The Bagna Cauda sauce is what really makes the dish a masterpiece. It is made from only 4 ingredients: olive oil, butter, garlic and anchovies. That's it! If you haven't used anchovies before, it is a very small salty fish. Mediterranean cuisine often uses it as a seasoning or a replacement for salt. Compared to salt, the anchovies add a stronger aroma and flavor. Usually the anchovies are chopped very finely so that they dissolve into the sauce completely. Although the traditional recipe requires dried anchovies (that are soaked in water), we used canned ones. They work just fine.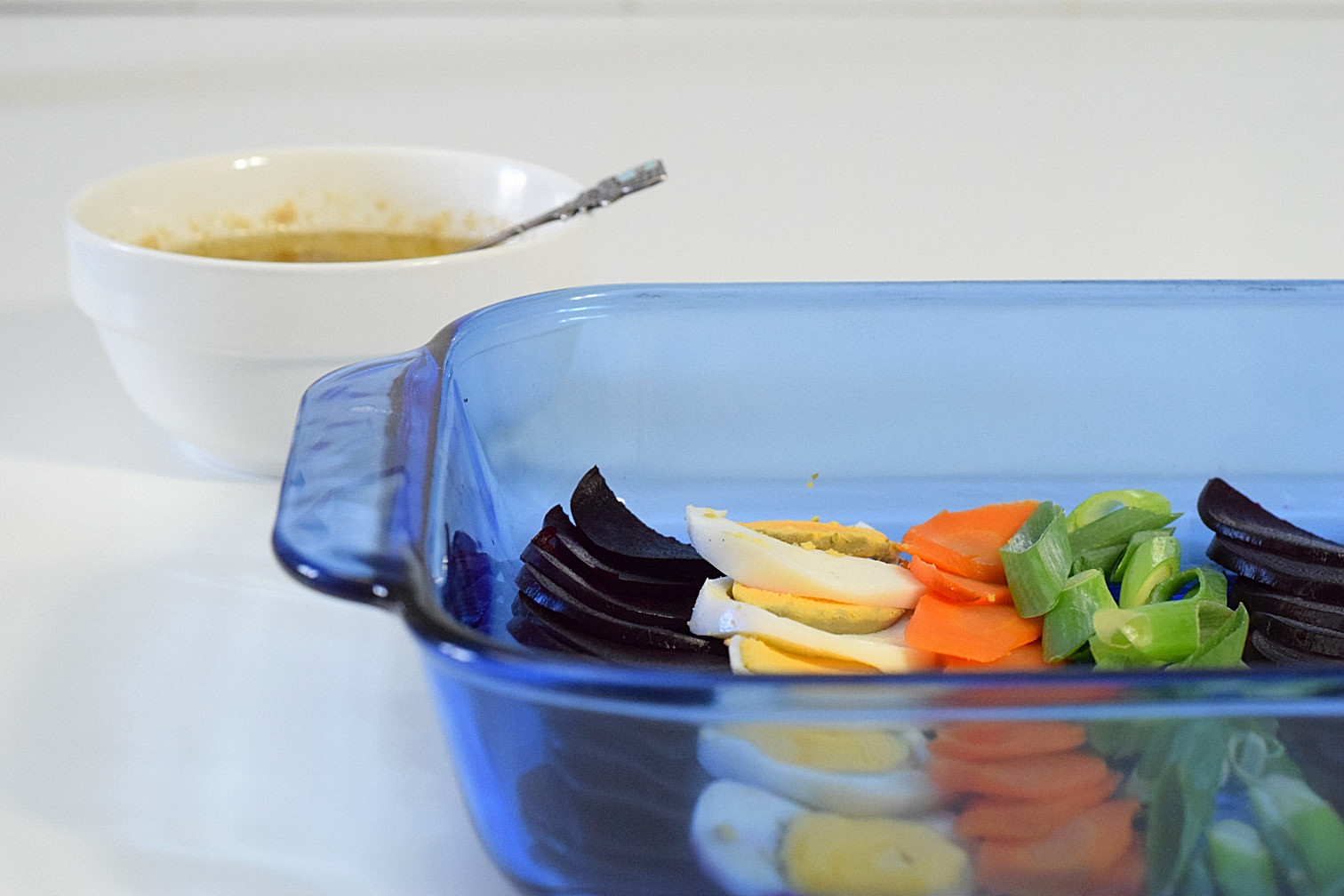 The vegetables can be any combination you want – raw, blanched or roasted. We prefer roasted vegetables, because that boosts their natural flavor. Our favorite combination is roasted beets and carrots with spring onions and hard-boiled eggs. The sweet beets and carrots balance the tangy anchovy sauce, and add to the richness of flavors. The hard-boiled egg grounds the dish and makes for a great, satisfying summer lunch. You can also try sweet pepper, fennel, celery and cauliflower – these are also used traditionally. Boiled potato would also be great.
What makes Bagna Cauda really shine is its simplicity and versatility. You can use almost anything you want, and serve it for whatever occasion. This is a great option to serve for unexpected guests and impromptu parties. It is always stunning and festive!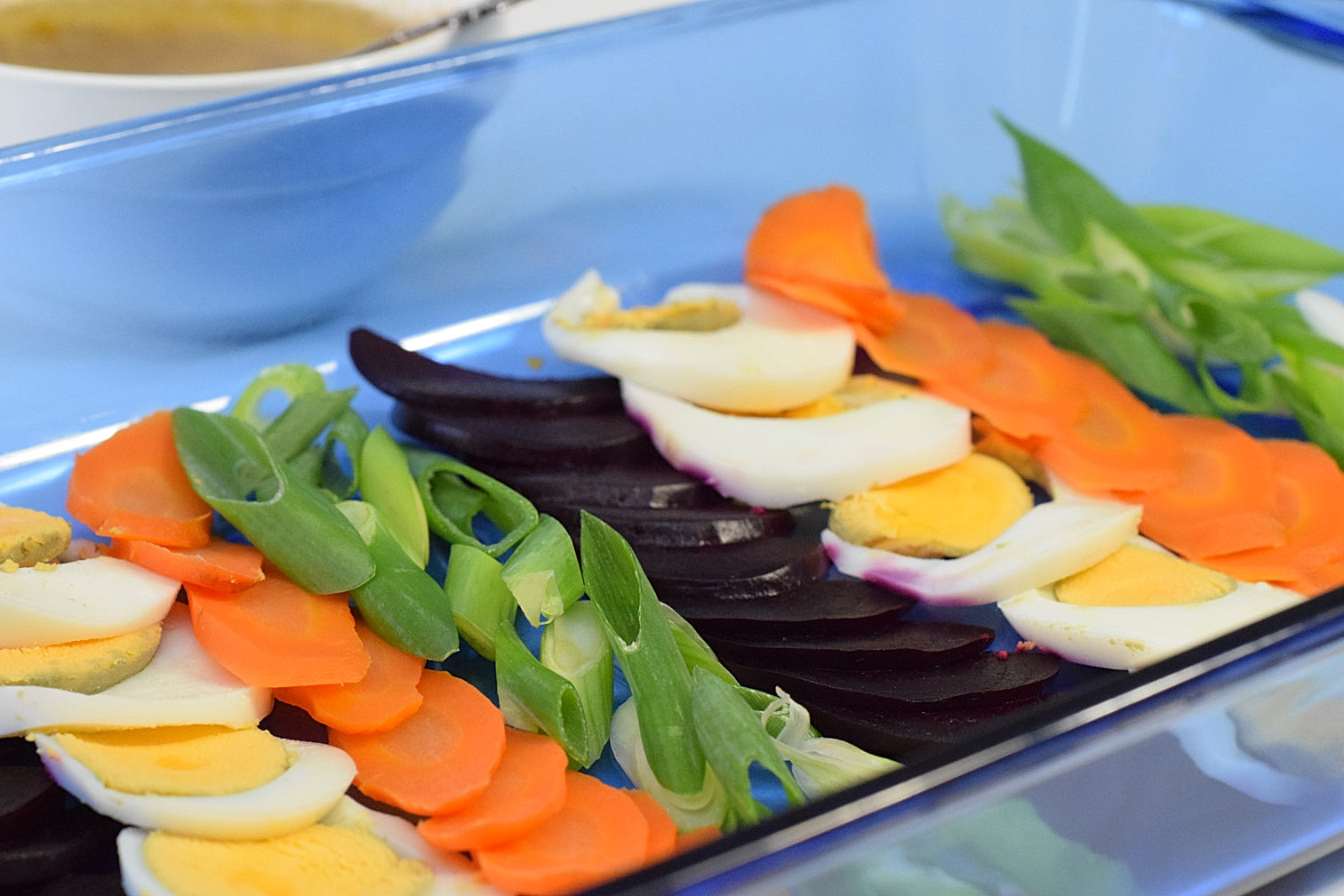 Bagna Cauda – Roasted Vegetables with Anchovy Sauce Recipe: serves 3
Vegetables (any other selection of raw, blanched or roasted vegetables can work)
1 medium-sized beet, roasted
2 carrots, roasted
4-5 spring onions, sliced
3 eggs, hard-boiled
For Anchovy Sauce
2 garlic cloves
½ cup olive oil
1 tablespoon butter, unsalted
6 anchovies, rinsed filleted and chopped
Sea salt to taste
How to make:
To roast the vegetables, wrap them in aluminum foil and place them in the oven for 40 mins at 200 ºC (375 ºF). Allow the vegetables and eggs to cool.
Peel the vegetables and eggs, and slice them thinly. Cut up the spring onions diagonally, and arrange everything in the serving dish, alternating rows of beets, eggs, carrots, spring onions and repeat.
To make the anchovy sauce, preheat the olive oil in a sauce pan and add crushed garlic, very finely chopped anchovies and butter. Reduce the heat, and simmer the sauce for 3-5 minutes. Remove from the heat, and serve immediately. Enjoy!
Cheers,
Natalie and Petr,
the Natural to Kitchen Island team