We love making this arugula berries salad with blue cheese on weekend mornings! Flavorful, vibrant and incredibly nutritious, the salad is a terrific, healthy start of the weekend.
The salad is a combination of superb ingredients. Crispy apples and juicy berries are packed with vitamins and antioxidants. Slightly salty and bitter blue cheese has a high calcium content. Walnuts are a perfect source of essential plant-based fatty acids. Garden-fresh arugula provides necessary phytonutrients, while sweet-and-sour cranberries are an energizing accent.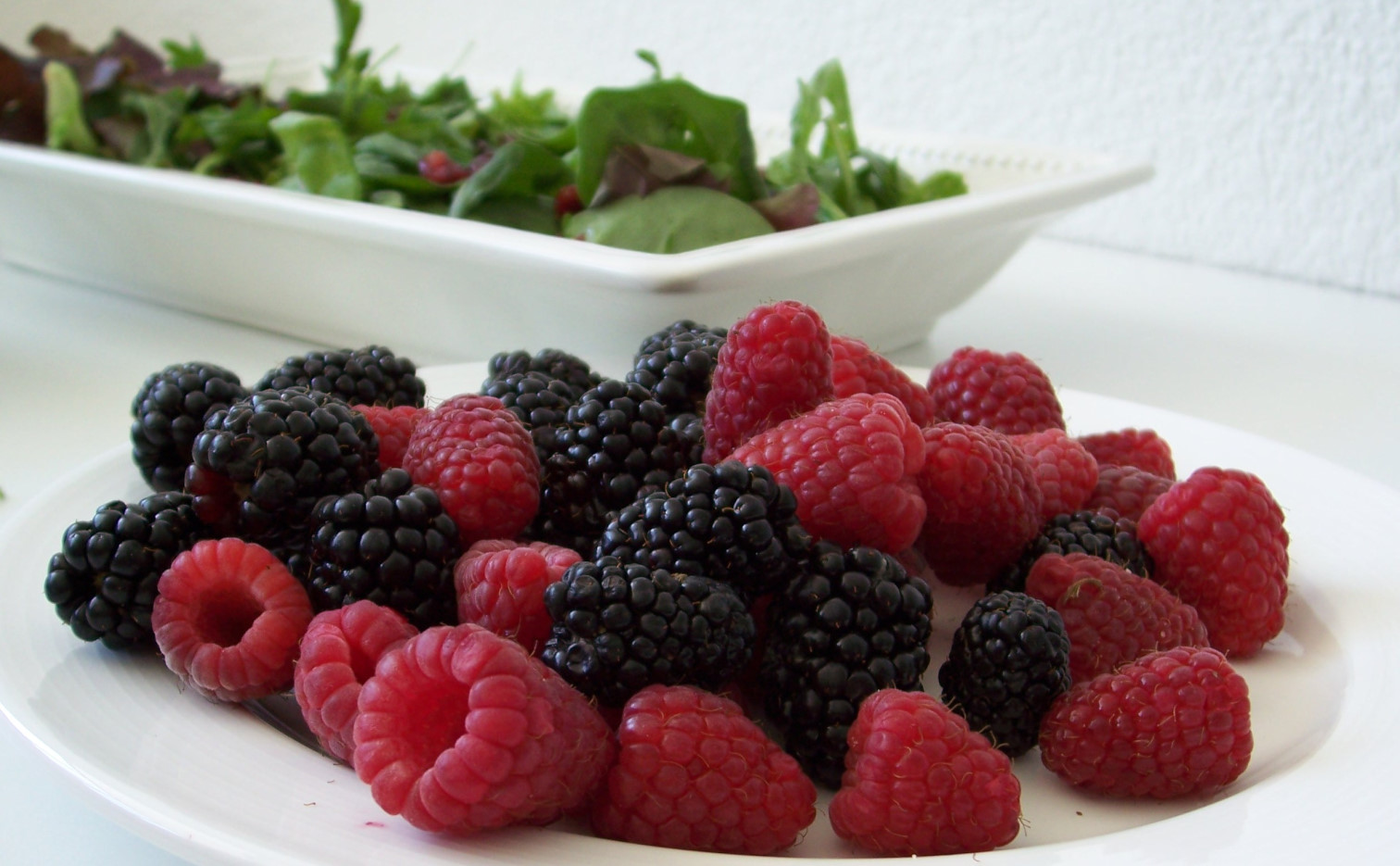 Any greens of your liking are equally great in this salad: spinach, mixed greens, arugula… If your goal is detoxifying and cleansing, dandelion greens are a good alternative. Speaking of blue cheese, it adds a slightly pungent twist of flavor, but you can skip it if you want to exclude dairy.
With the abundance of flavors, the dressing for the arugula berries salad can be simple. We mix olive oil with balsamic vinegar, add black pepper and a pinch of salt, and whisk it with a fork. For a more elaborate version, add some raspberries and blend the ingredients in a food processor.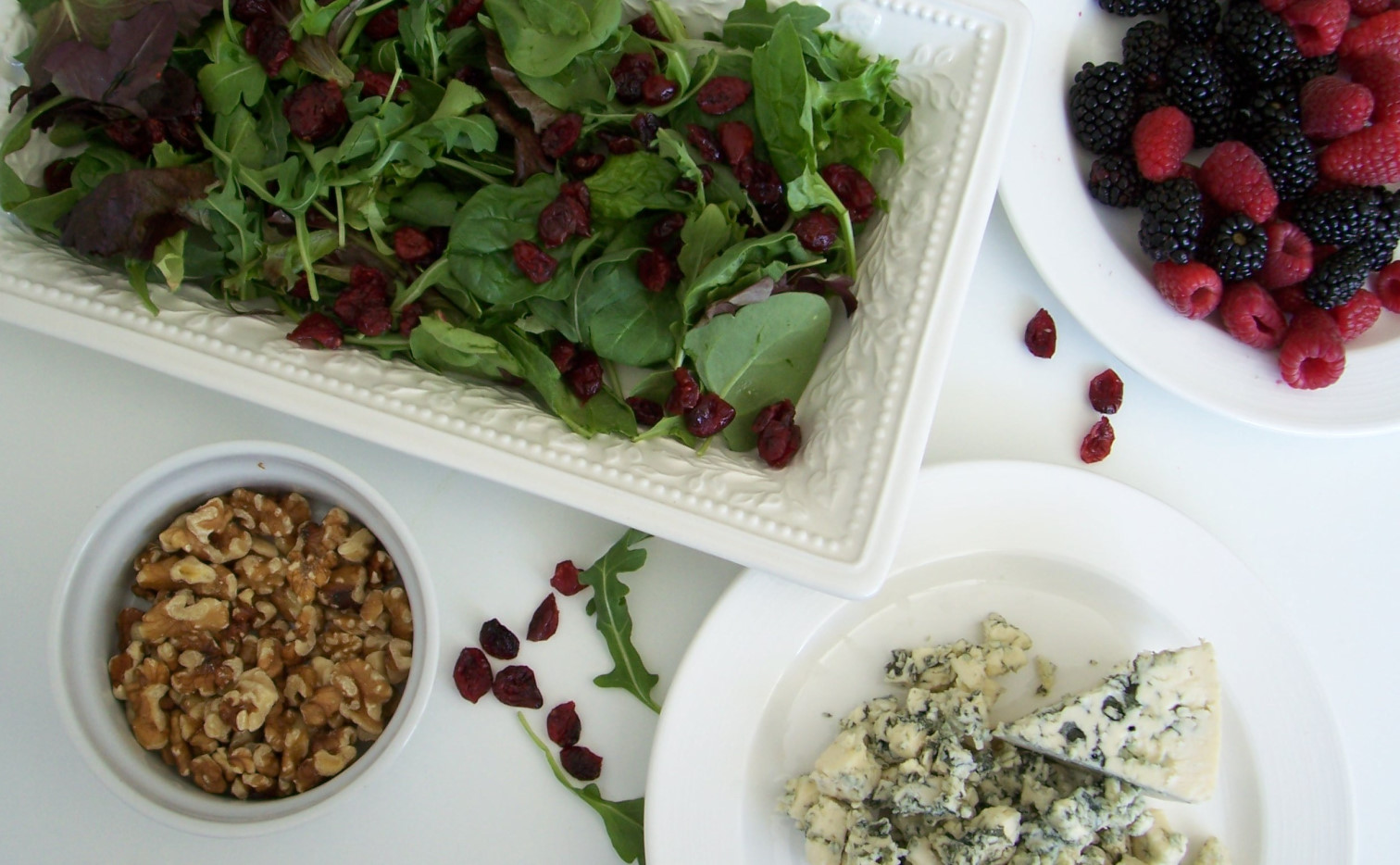 There is a little trick in the preparation of this salad as some ingredients are very fragile, particularly the blue cheese which has a tendency to dissolve into the dressing.  First mix arugula, cranberries, diced apples and walnuts. Add the dressing and toss well. Then add blue cheese and toss again, this time carefully. Finally, top with raspberries and blackberries and enjoy.
The arugula berries salad is perfect whether you need a bright start of your weekend or a vitamin-boosting lunch option. It also looks beautiful on the table, for special occasions.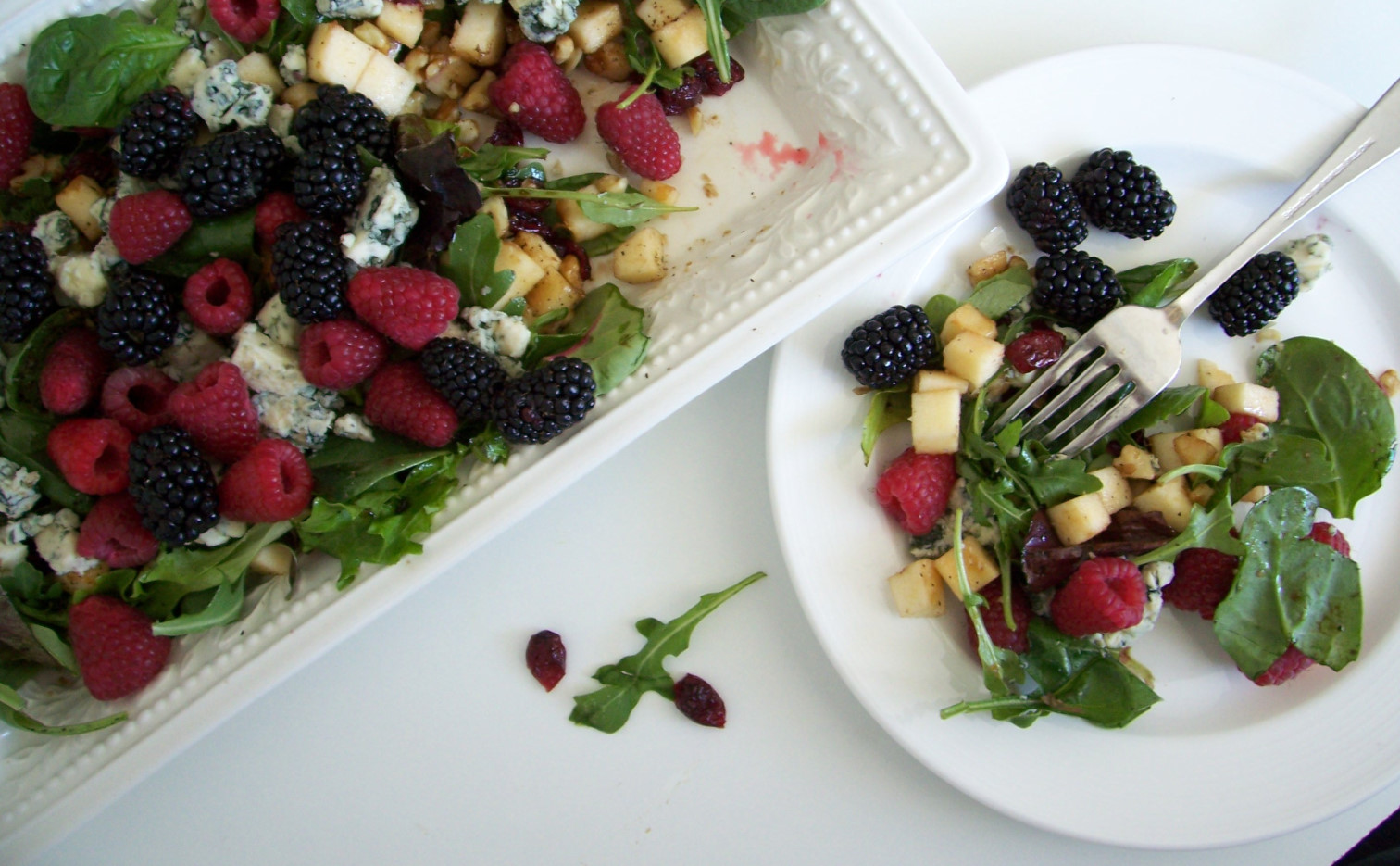 Arugula Berries Salad with Blue Cheese Recipe: serves 6
100 g crumbly blue cheese, diced (optional)
½ cup walnuts, chopped
½ cup dried cranberries (unsweetened)
Arugula (or other greens of your choice)
1 red apple, peeled and diced
1 small box raspberries
1 small box blackberries
For dressing:
1 tablespoon olive oil
½ tablespoon balsamic vinegar (or reduction)
Malabar black pepper and sea salt to your liking
How to make:
To make the dressing, whisk together olive oil, balsamic vinegar/reduction, black pepper and sea salt.
In the serving dish, combine the arugula, diced apple, chopped walnuts and cranberries. Pour in the dressing and toss well.
Add diced blue cheese and mix again, this time carefully.
Arrange raspberries and blackberries atop the salad and enjoy fresh!
Cheers,
Natalie and Petr,
the Natural to Kitchen Island team